Jalapeno Tortilla Chip Crusted Beer Brined Fried Chicken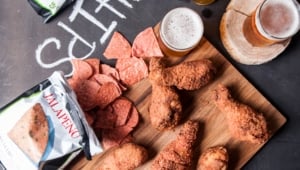 Jalapeno Tortilla Chip Crusted Beer Brined Fried Chicken
Chips, salsa and a beer have always been my version of comfort food. Food that I'd go-to on a regular basis as the perfect version of a grown-up snack that often had a way of turning into a meal of sorts. Something happened along the way. What started out as a beer and chips that sort of taste like every other beer and chips began to morph. Beer became craft beer. My beverage of choice went from one-note, to a huge spectrum of flavors and ingredients, a rabbit hole I still haven't found an end to. Chips, and to be honest most foods, took a similar course. I wasn't as excited by just "chips" anymore. I started to seek out craft chips along with the other craft foods that became a source of food-nerd excitement to me. What I ate mattered to me as much as what I drank, ingredients, flavors and the companies I was supporting with my dollars.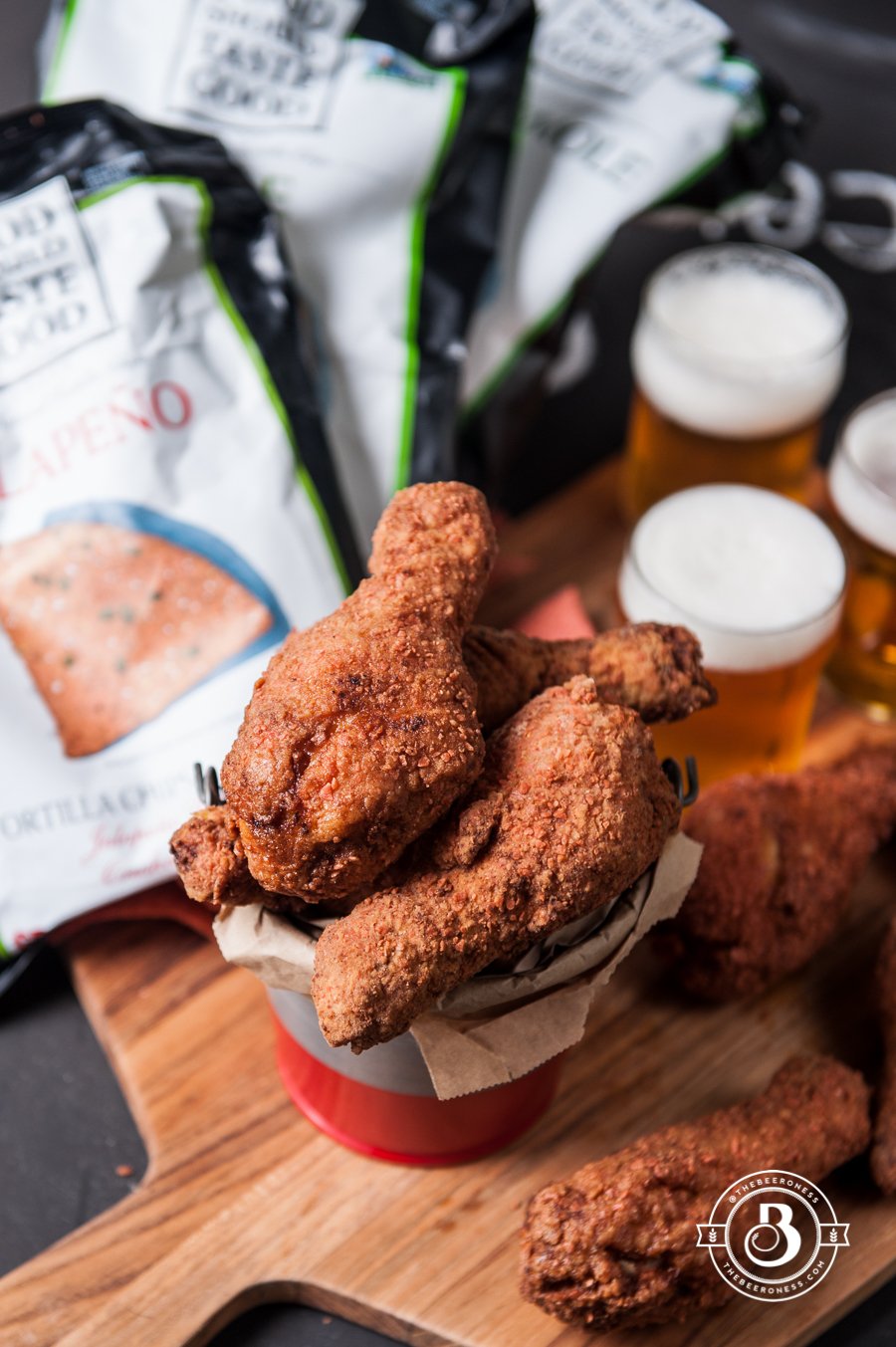 Companies like  Food Should Taste Good fall in line with this. Non-GMO, real ingredients with huge flavors just sort of spoke to me the way craft beer hits a cord. It's the food I've always loved, just taken up a notch. It's easy to see how well good food goes with good beer. Like how the nice crunch and slight heat of the Jalapeno Tortilla Chips is perfectly balanced with the bold hop flavor of a citrusy IPA.  It turns "beer and chips" into something that matters. Something you want to repeat and share.
And isn't sharing beer and food the reason we're here in the first place?
Jalapeno Tortilla Chip Crusted Beer Brined Fried Chicken
Pairs well with a citrusy IPA
Ingredients
3

lbs

chicken legs

1

tablespoons

kosher salt

1 ½

cups

buttermilk

12

ounces

pale ale

2

tsp

red chili sauce

2

cups

flour

1

tsp

black pepper

1

tsp

garlic powder

1

tsp

onion powder

1

tbs

brown sugar

1

bag

5.5 w oz FSTG Food Should Taste Good Jalapeno Tortilla Chips

oil for frying

canola, peanut or safflower
Instructions
Add the chicken in a single tight layer to a baking pan. Sprinkle with salt.

In a small bowl whisk together the buttermilk, beer and chili sauce, pour evenly over the chicken, cover and refrigerate for 8 to 24 hours.

In a large sized bowl stir together the flour, black pepper, garlic powder, onion powder and brown sugar.

Add the chips to a food processor, process until just crumbs remain, stir into the flour mixture.

One at a time remove the chicken legs, dredge in the flour mixture then gently re-dip in the buttermilk/beer marinade and then dredge in the flour mixture again, set on a baking sheet (double-dipping will give you a thick, crispy crust).

Allow the coated chicken to sit at room temperature for 10 to 15 minutes.

Add the oil to a large pot until about 6 inches deep, heat to 350 degrees using a deep fry thermometer clipped to the pan, adjust heat to maintain that temperature.

Working in batches fry the chicken until golden brown and cooked through, about 12 minutes each.
Notes
Note: to keep chicken warm between batches preheat the oven to the lowest temperate available (about 175F). Add the fried chicken to a wire rack set over a baking sheet inside the oven. Once the chicken is finished, add to the baking sheet until all chicken is fried. Serve once all the chicken is cooked.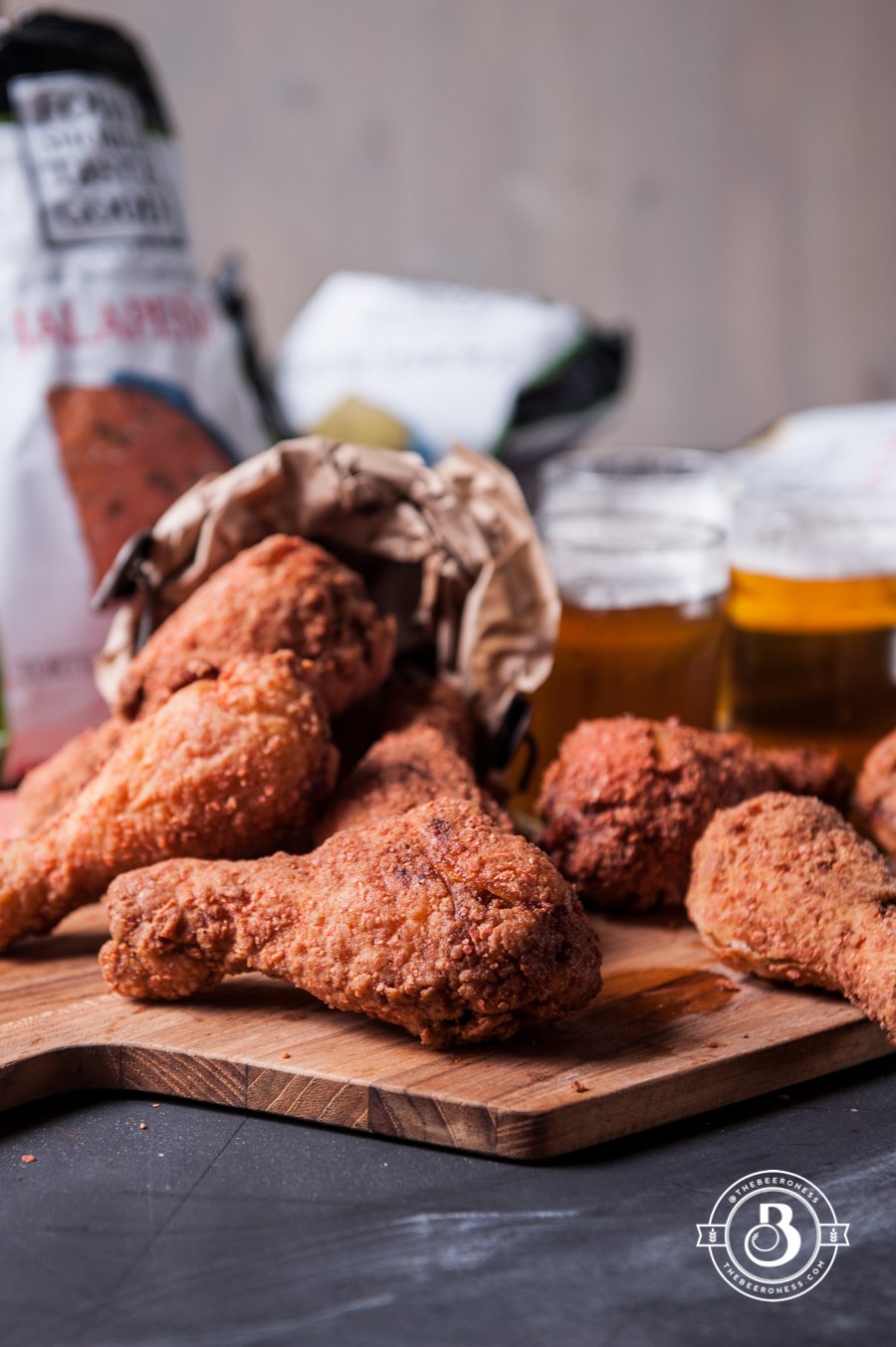 This post was sponsored by Food Should Taste Good. Partnerships with The Beeroness and outside companies are rare and only occur when the company's ideas, quality, and standards meet mine.
All ideas and opinions are my own.