Jalapeno Peach Martini
This knife is bad ass.
There are much more eloquent ways of explaining how fantastic this Wüsthof  knife is, like it's forged from a single piece of specially tempered high carbon steel to ensure outstanding strength, or that The slight curve of the blade makes the Chai Dao ideal for cutting, but that just doesn't get to the meat of the explanation.
This knife is bad ass.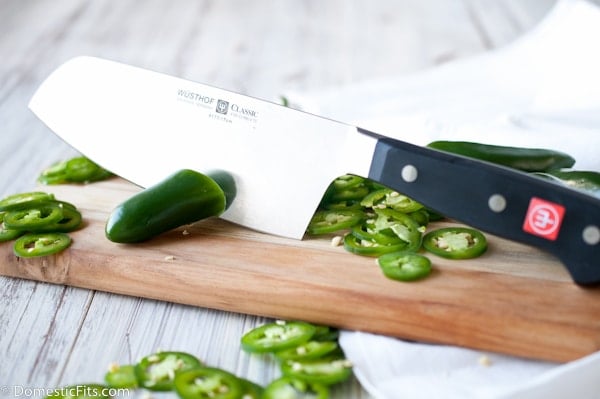 It's a strong cleaver that's the perfect size, large enough to slightly scare anyone in your immediate chopping vicinity, but not so large that it's unmanageable.  It's also sharp enough to slice jalapenos paper thin.
Although I don't think it's necessary to buy high end when it comes to all kitchen equipment, knives are the exeption. Knives are an important investment, a tool that will last long enough to pass down to your children, spend money on knives. Don't buy a cheap block with multiple cheap knives that you will inevitable have to replace in a year (we've all done that).
Instead, start to collect. Build your collections one at a time.  Start with the basics, and build. This is a great knife to add to your collection. If you are just starting, here are my recommendations:
Wüsthof Grand Prix Chefs Knife (my first big girl knife, I still use it all the time)
Wüsthof Grand Prix II Hollow-Edge 8 inch Chef′s Knife
Wüsthof Classic Ikon Paring Knife
Wüsthof Classic Chai Dao (Bad ass knife)
Because I had this knife, and was able to slice thin jalapenos, I made a cocktail. Maybe this doesn't scream MOTHERS DAY, and fit the theme of this weeks giveaways,  but I'm a mom and I love a good spicy cocktail and a sharp knife. Cocktails and knives are the new mothers day, I swear.
But maybe you wield the knife and start to chop things up with your bad ass knife before you drink that cocktail,  mkay?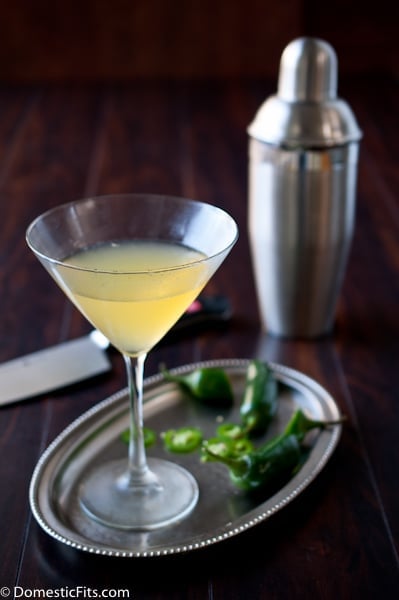 Jalapeno Peach Martini
Ingredients
2 ounces good quality vodka (I used Tito's Homemade Vodka)
½ ounce dry vermouth
2 ounces peach nectar
6 thin slices fresh jalapeno
Instructions
Fill a cocktail shaker with ice.
Add all ingredients, shake gently for about 10 seconds.
Pour through the strainer into a chilled martini glass.