Italian Eggs Benedict with Pesto Hollandaise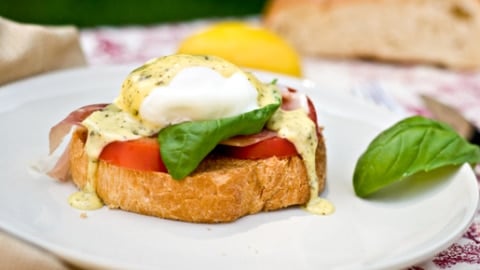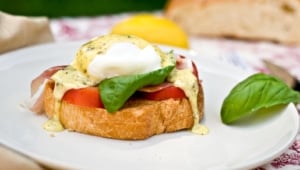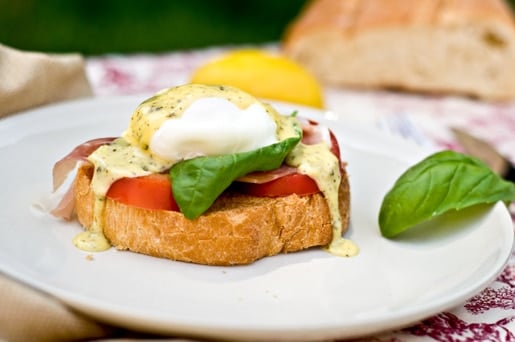 I worked in a breakfast cafe through college. This is the reason that I will never be able to eat Hollandaise sauce in a restaurant. Those of you who have also worked in breakfast joints may be nodding your heads in agreement, while those who haven't may have a puzzled look on your face. If you want a further explanation, this book does a pretty good job. I do, however, love Hollandaise and appease my cravings with a homemade Eggs Benedict at least once a month. I love a twist on a classic recipe (as you can clearly tell by my postings) and pesto goes well with just about everything.
Italian Eggs Benedict with Pesto Hollandaise
4 eggs
4 slices of crust Italian loaf bread
4 slices of prosciutto
4 slices of tomato
4 basil leaves
4 tbs melted butter
2 tsp pesto
4 egg yolks
2 tbs room temp water
1 tbs lemon juice
Poach the eggs, one at a time in simmering/boiling water. Remove with a slotted spoon after about 3 minutes or when the whites are solid and yolk is still soft and uncooked.
This recipe really comes down to the sauce. First, melt the butter with the pesto. Then, in a good quality sauce pan, add the yolks, lemon juice and water and whisk quickly and continually over low heat until it's frothy and doubled in size (this is an arm work out, be prepared). You don't want too much heat or you'll have scrambled eggs. If you need to step away for a second, or if it's getting to hot, remove from the heat. While continuing to whisk, slowly add the butter in a steady stream. Continue to whisk until thickened, and almost doubled. If your sauce gets too dry and thick, you can add a few tbs of water.
Slice four pieces off a loaf of crust Italian bread. Ciabatta would also work nicely.
Toast your bread lightly. I placed mine under a broiler for about 3 minutes. Top your bread with tomatoes, prosciutto, basil, poached egg and then a few tbs of your pesto hollandaise.