IPA Sriracha Chicken Wings + How To Get The Crispiest Baked Wings Ever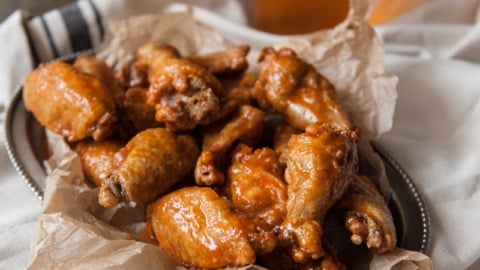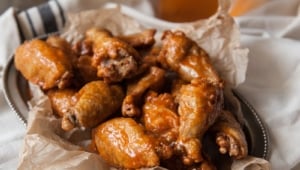 IPA Sriracha Chicken Wings + How To Get The Crispiest Baked Wings 
You've got to dig a little deeper.
At first blush, this seems like a cop-out. It's beer and chicken wings, it's such an obvious pairing you want to scratch your eyes out, scream "Milk and cookies, peanut butter and jelly, jalapeño and avocado! Give me something new!" But calm down, it's more than that. It's a revelation.
Really, it's because I'm a nerd. Which is what drew me to craft beer, the geeky side of beer: the what, the why, and the how of beer. It's the same with food. I don't just want to know how to brine a chicken, I want to know why it works.
I want to know what the difference between baking soda and baking powder, and I want to know how temperature affects meat. That's why I read Cooks Illustrated. It's not food porn, really there aren't too many pictures, it's food nerd porn. It's the why, it's not just the how.
Cooks Illustrated did a story on how to bake chicken wings in a way that the skin gets just as crispy as when you fry it. The fat is rendered, the skin is so crisp it makes a thump sound when you tap it with your nails. They nerd out on food in a way that makes me feel like I'm not alone. They tell you the kitchen fails, the reason they tried what they did, and what finally worked.
For this: baking powder that draws out moisture, low temperate to render fat, and high temperate to make the skin golden brown. If you're still reading this, you might just be as big of a nerd as I am. And next time we meet, I'll buy you a beer and we'll talk all kinds of food nerd talk.
IPA Sriracha Chicken Wings + How To Get The Crispiest Baked Wings Ever
Adapted from Cooks Illustrated
Ingredients
2

lbs

party wings

1

tbs

baking powder

½

tsp

salt

¼

cup

IPA beer

4

tbs

melted butter

¼

cup

Sriracha

1

tbs

honey

1

tbs

cornstarch

up to 1 teaspoon cayenne pepper
Instructions
Preheat oven to 250.

Add the wings to a large bowl. Sprinkle with baking powder and salt, toss to coat.

Place a wire rack over a baking sheet, brush with oil or spray with cooking spray.

Place the wings on the wire rack.

Bake in the lower section of the oven for 30 minutes. Move to the upper 1/3 of the oven, increase oven temperature to 425. Bake for 35-45 minutes or until golden brown.

In a large bowl stir together the beer, melted butter, sriracha, honey, cayenne pepper (as little or as much as you want for the heat level you want) and cornstarch.

Toss the wings in the sauce, serve warm.