IPA Pumpkin Cheesecake Bars with Beer Candied Pecans
 IPA Pumpkin Cheesecake Bars with Beer Candied Pecans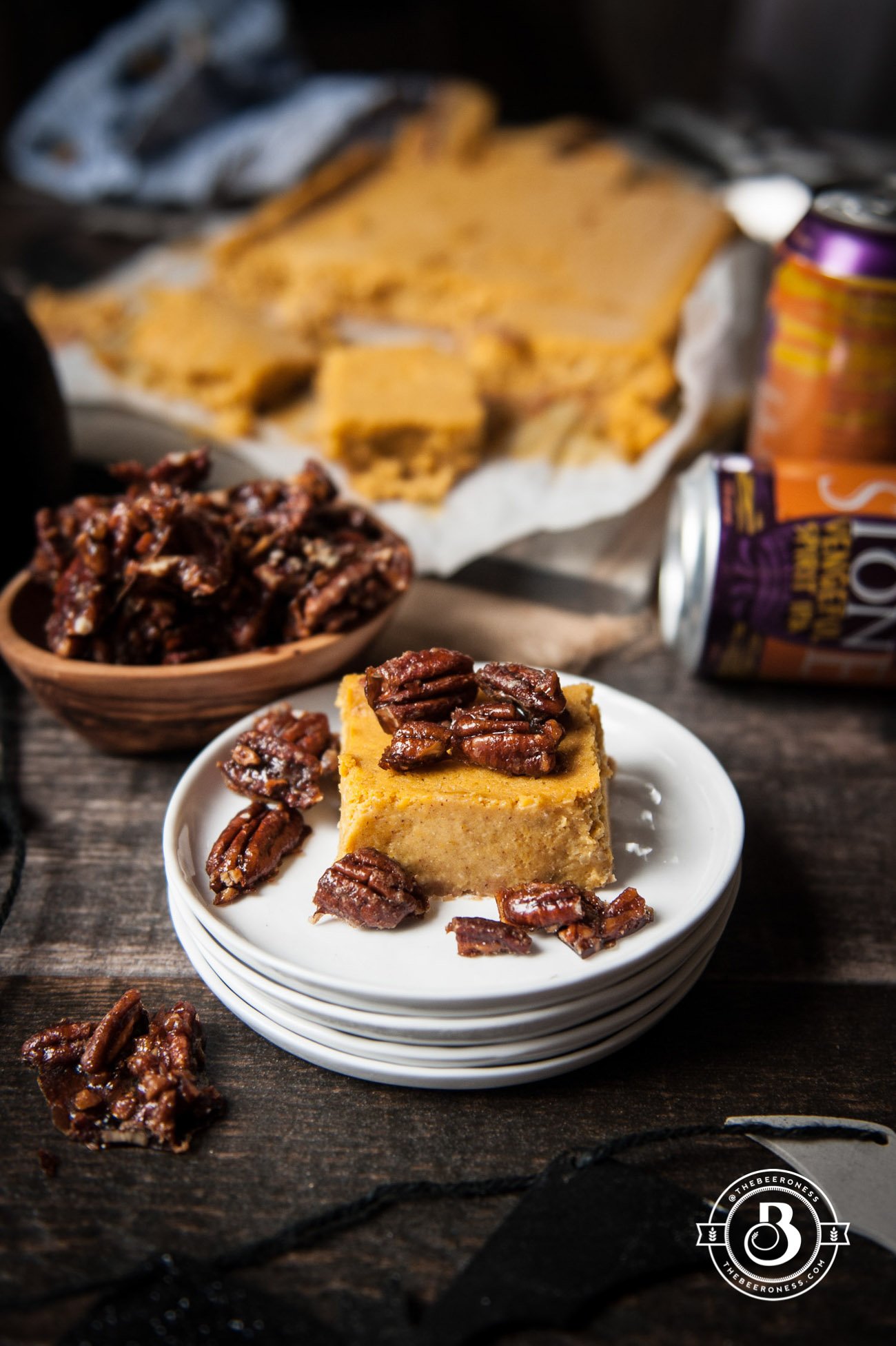 I know, I get it. You're already sick of pumpkin things and the season hardly started. I hear you, for me fall is all about hops. Spending last week running around the hop fields of Yakima, my love for hops has never been stronger (I'll tell you all about that trip soon).
But it occurred to me, as I'm pints deep in hops, that although pumpkin isn't the reason for the season when it comes to a true craft beer devotee, it's a flavor that goes remarkably well with hops.
I've spent years meh-ing pumpkin beers when really I'm just averse to a boring, overly malted pumpkin ale. Once you brighten it up with hops, clean malts, bright flavors and minus the hell out of the overly cinnamon spice mixtures, you can get yourself a really lovely beer.
I understand if you want to walk out the fall squash door and never look back, but maybe you just want a brighter, cleaner beer. Pumpkin or not, this IPA Pumpkin Cheesecake Bar recipe is great to try your hand at baking with an IPA, a feat much more difficult than it appears. Hops are fussy and aggressive and can be a bit too much at times. But the sugar and dairy give them a nice balance, this is a recipe that can take a punch.
I used Stone Vengeful Spirit, if you want to look for some yourself they have a handy Stone beer locator on their site.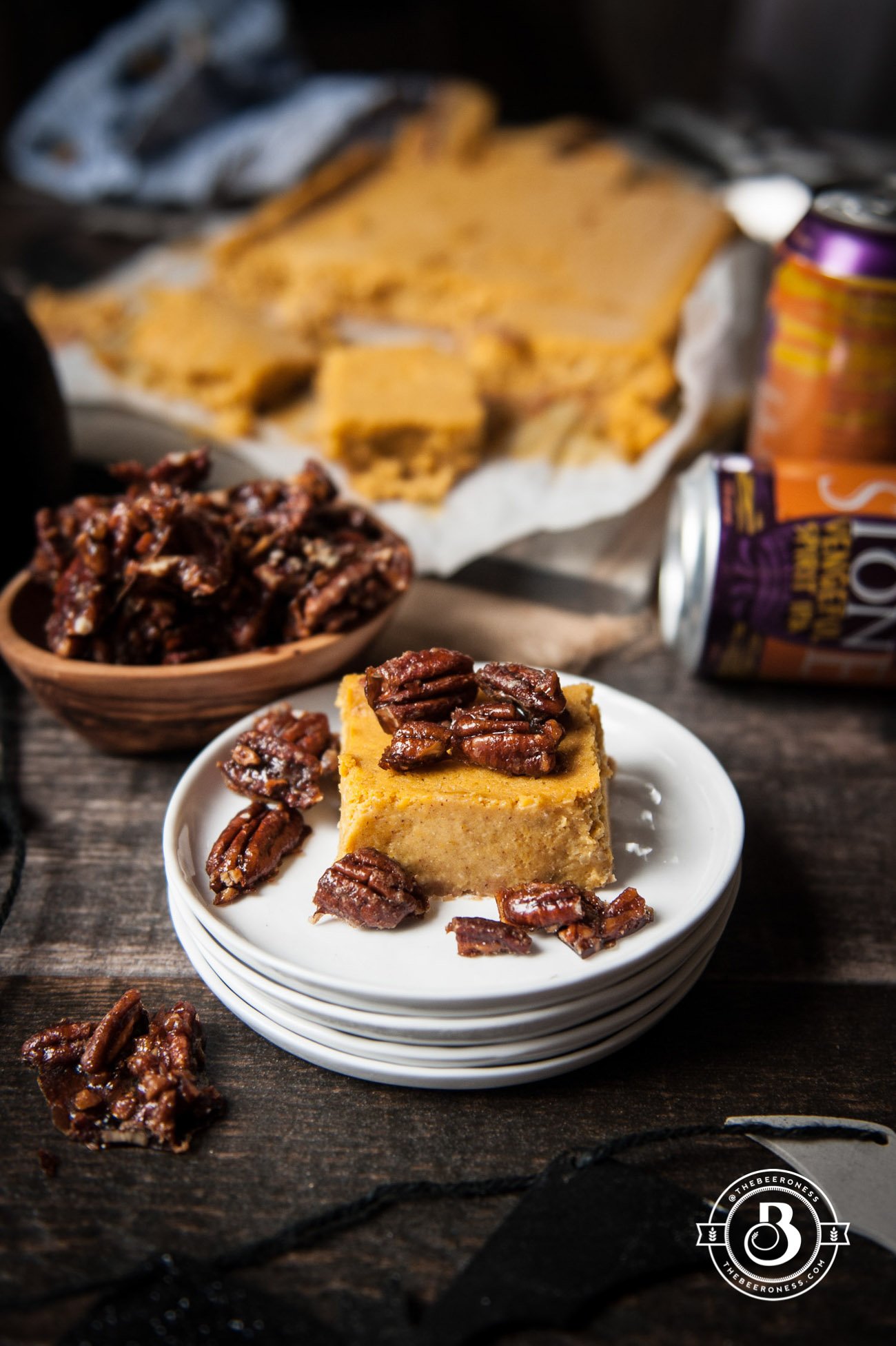 IPA Pumpkin Cheesecake Bars with Beer Candied Pecans
Ingredients
For the beer candied pecans:
1/2

cup

Stone Vengeful Spirit IPA

1

cup

brown sugar

packed

1

teaspoon

salt

divided

1

tablespoon

butter

2

cups

pecan pieces
For the cheesecake:
9

standard sized graham crackers

2

tablespoon

brown sugar

4

tablespoon

melted butter

¾

cup

brown sugar

1

cup

white sugar

16

oz

cream cheese

softened

4

eggs

2

teaspoon

vanilla extract

1

15oz can pumpkin puree

1

teaspoon

cinnamon

1/2

teaspoon

nutmeg

1/2

teaspoon

salt

1

cup

Stone Vengeful Spirit IPA

1/4

cup

flour
Instructions
Make the pecans:
Preheat oven to 250F.

In a large pot (it will bubble up furiously) over high heat add the beer and brown sugar. Stir until the sugar has dissolved.

Clip a candy thermometer on the side of the pan. Bring liquid to 235F degrees, remove from heat.

Add the butter, stir until combined.

Add ½ teaspoon salt and pecans; stir until the pecans have all been coated.

Pour pecans on to a baking sheet that has been covered with a silicon baking mat (or parchment paper that has been sprayed with cooking spray).

Spread pecans evenly over the sheet.

Bake at 250F for 15 minutes, stir and bake for an additional 15 minutes (if the pecans look foamy, stir until the bubbles have dissolved) remove from oven and sprinkle with the remaining salt.

Allow to cool to room temperature, break apart. (Can be made up to 4 days in advance, store in an airtight container in a cool, dry place).
Make the cheesecake:
Lower the oven temp to 300F

In a food processor add the graham crackers and brown sugar, process until only crumbs are left. While the food processor is still running, add the melted butter and process until it resembles wet sand.

Line a 9X13 pan with parchment paper making sure the parchment comes up and over the sides of the pan. Press crust into the bottom until well compacted.

In the bowl of a stand mixer, add the brown sugar, white sugar and cream cheese. Mix until well combined. One at a time, add the eggs and vanilla, mixing until well combined, scraping the bottom, before adding more.

Add the pumpkin puree, cinnamon nutmeg and salt, mix until very well combined.

Add the beer and stir until combined.

Sprinkle the flour over the bowl, stir on medium speed until just combined.

Pour over the crust.

Bake at 300F for about one hour or until the center no longer sloshes when gently shaken but just slightly jiggles (The secret to a great cheesecake is not to over bake it, it's better to slightly under bake it for a smooth mousse like texture).

Chill until set, about 3 hours.

Remove from pan using the parchment paper. Cut into squares, top with pecans.