IPA Pickled Jalapeños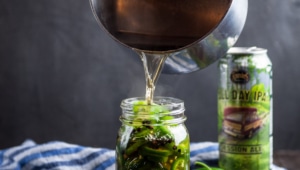 IPA Pickled Jalapeños, quick and easy pickled jalapeños made with beer
I'm in a shitty dive bar in what can nicely be referred to as an "up and coming" area of town, and the guy I've just met asks me the question I'm asked far too often. Maybe for lack of a better conversation starter or maybe there's supposed to be a right answer, either way, I don't have one.
"What's your favorite beer?" We all get asked this, everyone who's decided that the life for them is fighting to be a part of the craft beer world.
The question is much bigger than it seems. Because we have a favorite "I only like it for nostalgic reasons beer," or a "favorite because it's the one that got me into craft beer," or the, "my most recent discovery beer," or the, "my go-to beer when I'm throwing a party and need to fill the beer tub beer," but as for a hands-down favorite we really can't pinpoint one. So I steer the conversation to distribution laws.
Of course, this sounds ridiculous. It sounds like a colossal leap, but it isn't. Wherever I go, I want to drink the beer I can't get at home.
I want the beer that doesn't travel into my distribution zone, the beer that I've been hoping to cross paths with. I'll spare you the gory nerdiness of the details but the quick-and-dirty version is that often even really popular beer is only distributed in a few states, and only a small percentage of craft beers in the US get to more than half the states.
This means when you travel you have access to beer that you can't get where you live. In a world where almost everything can be obtained with one-click ordering and prime shipping, it's pretty great to actually have to get on a plane to have a specific pint. That's my favorite beer, the one I can't get at home.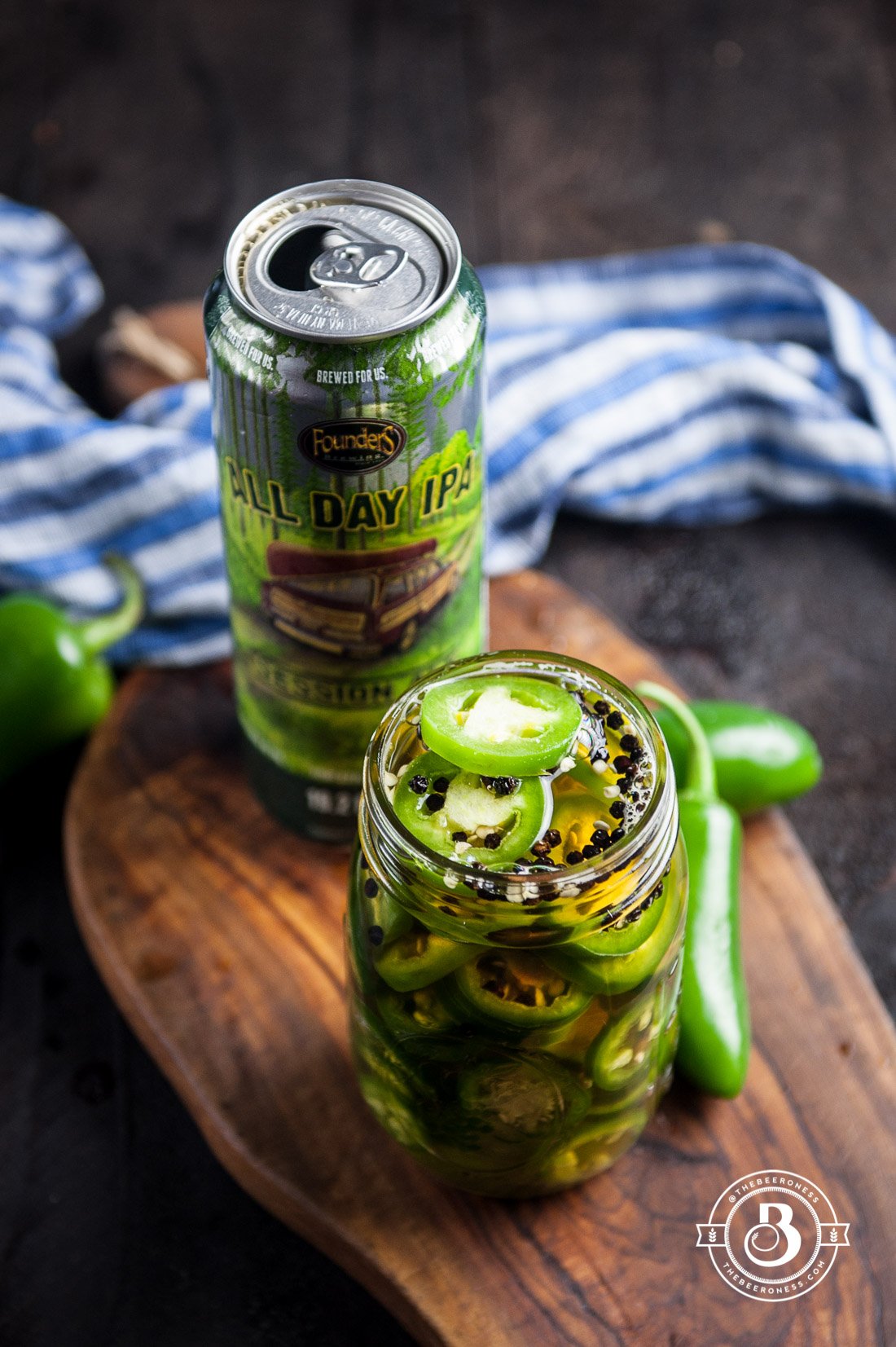 Until very, very recently Founders Brewing was on that plane-trip-needed-for-a-pint list. And luckily for those of us in the Pacific Northwest, I can now find it at the local markets. I still get a small thrill seeing it there, as if it must be some sort of magic accident. There is a good chance that this summer will be henceforth known as my "All-Day IPA Summer," now that one of my favorite session ales is so accessible.
Oh, and I'm going to be pickleing quite a few things with it. So settle in.
Come back tomorrow and I'll show you what I did with these. You're gonna want to see it. (it's this, check it out)
Ingredients
5-6 large jalapeno peppers
1 cup IPA beer
1 cup apple cider vinegar
3 tablespoons sugar
2 tablespoons salt
1 tablespoons black peppercorns
Instructions
Slice the jalapenos to desired width (some people prefer super thin slices, others prefer thick slices), add to a storage jar.
In a saucepan over medium heat add the beer, vinegar, sugar, salt and peppercorns, stir until sugar and salt have dissolved, remove from heat.
Pour the pickling liquid over the jalapenos. Cover tightly and refrigerate for 24 hours. Jalapenos will last for several weeks if stored correctly.
https://domesticfits.com/ipa-pickled-jalapenos/