IPA Cherry Tart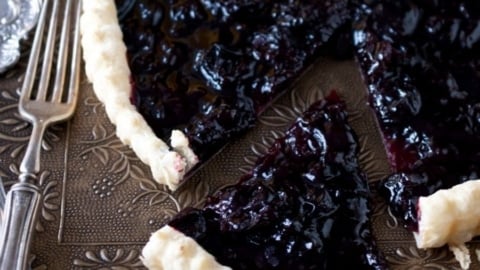 To be honest, I haven't always loved IPA's. It took me a while, although not as long as resolving my mint aversion, and now I can pretty firmly place myself in that Hop Heads category I used to shy away from. I discover that a dry hopped IPA gives me the delicate flavors of the hops that love, that are lost without the dry hopping process. I also found myself lurking on the Home Brew Talk website in a creepy way that usually lands someone in a face to face interview with Chris Hansen.
If I was going to homebrew, jump feet first into the mash tun world, I'm not sure if an IPA would be first on my list. My love of stouts would probably pull me in that direction first. But once I made it around to an IPA, it would most definitely involve dry hopping. And possibly Sriracha.
It's probably a good thing I don't homebrew, sounds like I'd waste a lot of money on crazy ideas.
IPA Cherry Tart
Ingredients
1

sheet puff pastry

thawed

3

cups

sweet dark cherries

pitted (I used Bing Cherries)

2

tbs

corn starch

1/2

cup

IPA

2/3

cup

sugar

1

egg

lightly beaten
Instructions
Preheat oven to 375.

Roll out the puff pastry on a lightly floured surface. Transfer to a tart pan with a removable bottom, press into shape, remove excess. If you don't have a tart pan, cover a baking sheet with parchment paper, place puff pastry in the middle, fold about 1 inch of the sides inward to form edges. Place puff pastry in the fridge until ready.

In a pot over medium high heat, add the cherries, cornstarch, IPA and sugar. Allow to boil until thickened, stirring occasionally, about 10 minutes.

Remove pastry from the fridge, prick all over with a fork, make sure the holes are small. Brush with lightly beaten egg.

Pour the cherries into the tart.

Bake until the pastry has turned golden brown, about 20 minutes.