Invisible Apple Cake with Beer Caramel Sauce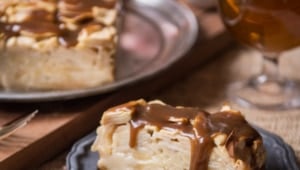 Invisible Apple Cake with Beer Caramel Sauce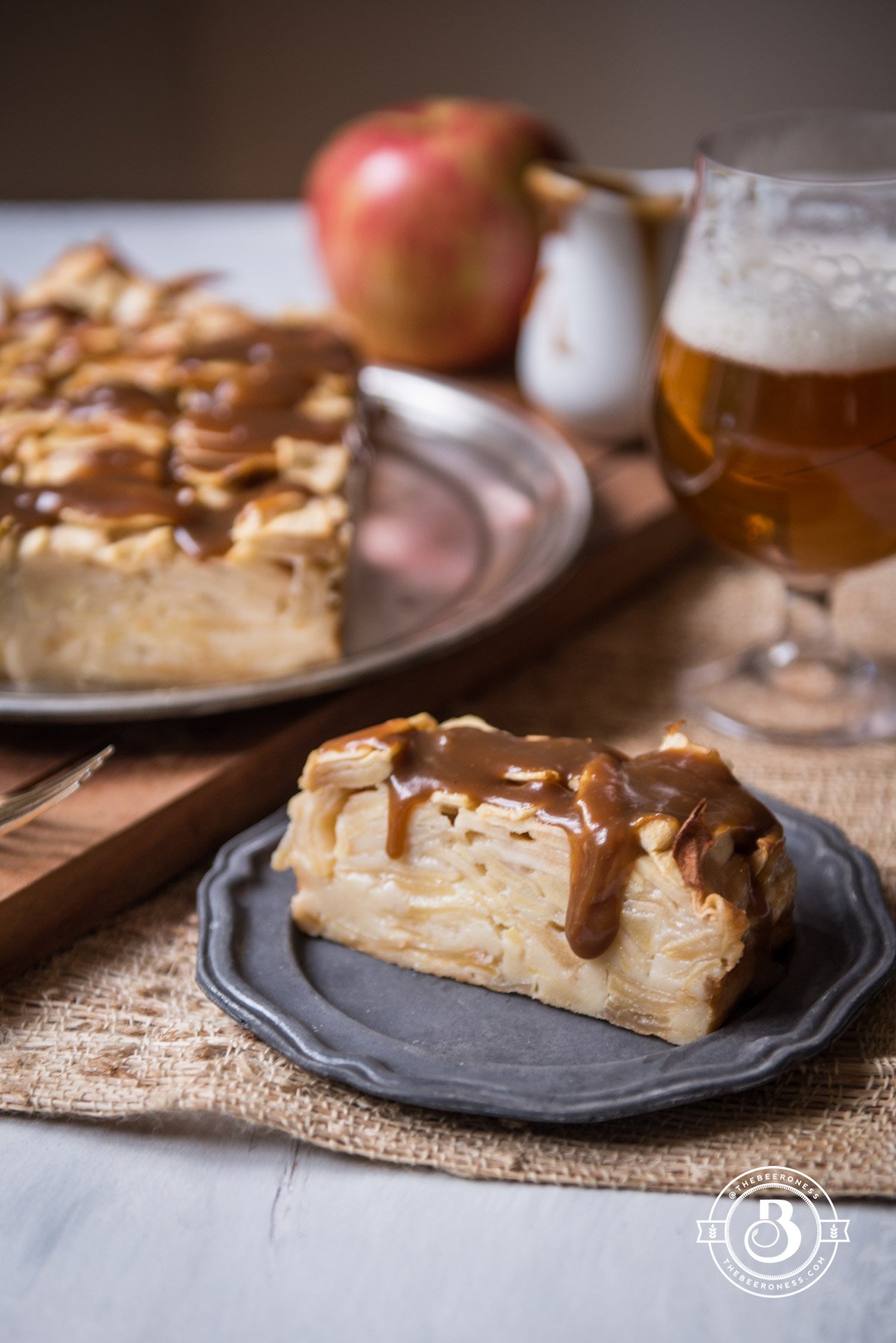 This is why you don't try to do things halfway. And by "you" I mean me, I'm talking to myself again. It happens, look away if you must.
On my way to dinner at a lovely couple's house, I decided to kill two birds (not literally, I swear) and bake a dessert for these two wonderful men, one that I could also photograph and give to you (work bird, dinner party bird: both dead). It was a great plan until I decided that I didn't REALLY need to cut into it to photograph it. You were just going to have to trust me about all those gorgeous apple layers.
The thing is, these are two guys that aren't just amazing humans they are also fantastic cooks and cocktail makers, people who have outstanding and beautiful taste. I didn't want to do what I normally do, which is cut up the thing, take pictures of the thing, put-back-together the thing, and then apologize for the thing once I arrived. So I was just going to take photos of the OUTSIDE of the cake, and bring it intact.
Which worked long enough to get myself out the door and over to dinner to enjoy beautiful cocktails and Thai food as well as an intact dessert. Until I got home and realized that I can't do that to you.
It also needs to be mentioned that this is 100% about my own neurosis, the lovely friends in question would have found a previously detached, photographed, and reattached dessert adorable and charming and encouraged me to do this, had I asked.
So I made it again, just so that I could cut it open and show you these layers. Then I ate it. Maybe that was my subconscious plan all along, I do things like that.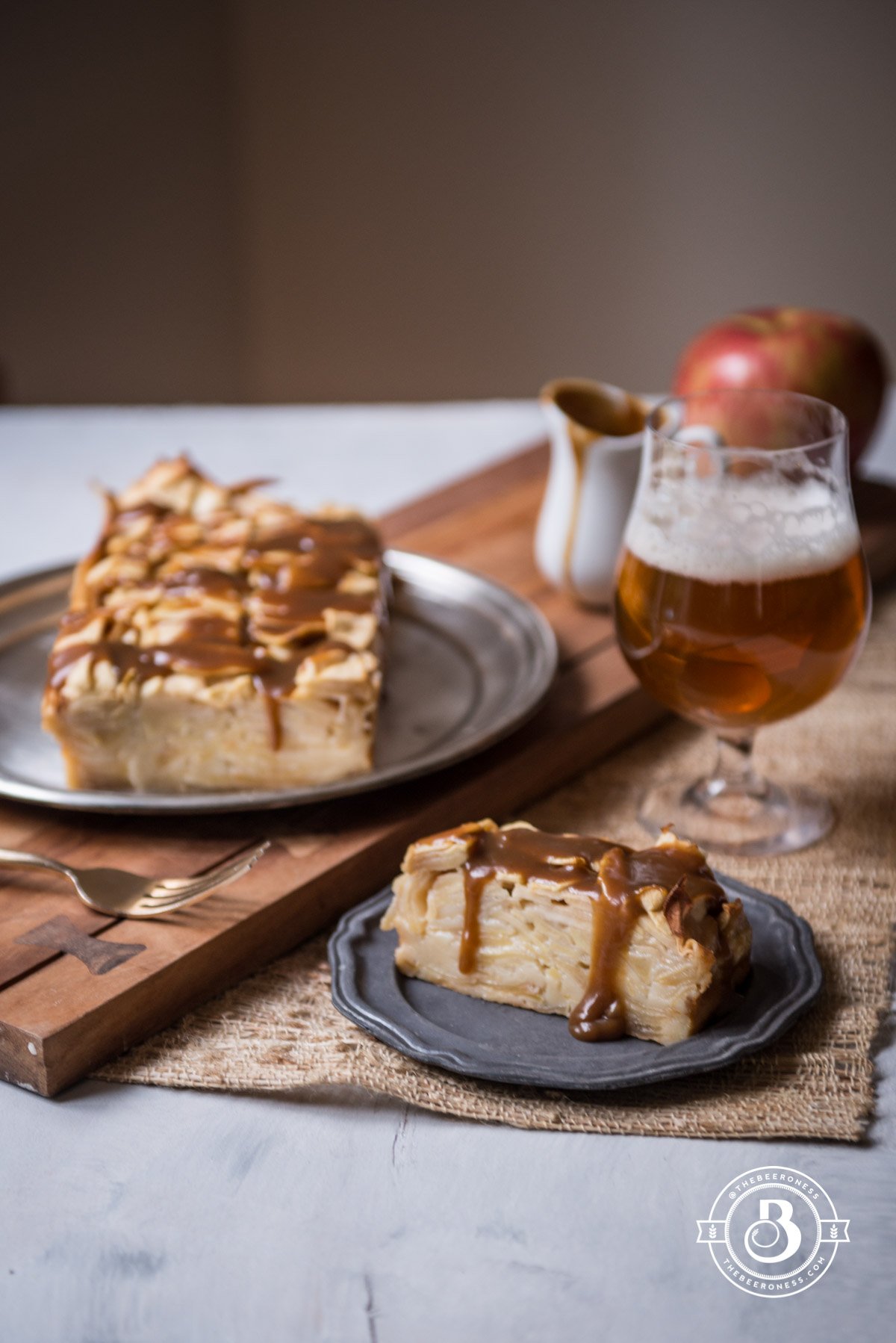 Invisible Apple Cake with Beer Caramel Sauce
Ingredients
For the cake

2 lbs (3-4 x-large) Honeycrisp apples
2 eggs
½ cup (100g) sugar
1/3 cup (72g) beer (pilsner, lager, pale ale)
3 tablespoons (42g) butter, melted
¾ cup (90g) all-purpose flour
1 teaspoon salt

For the sauce

½ cup (100g) brown sugar
1 tablespoon (14g) butter
3 tablespoons beer
1 teaspoon vanilla
½ cup (130g) heavy cream
Instructions
Preheat the oven to 350°F.
Peel and core the apples. Slice very thinly, set aside.
In a large bowl stir together the eggs, sugar, beer, butter, flour and salt.
Add the apples, toss to coat.
Line a large (10 x 5) loaf pan, or an 8x8 square pan with parchment, spray with cooking spray.
Add the apple mixture to a the prepared pan.
Bake for 60 minutes or until the cake as set. Allow to cool, remove from pan. Refrigerate until ready to serve.
Add the brown sugar, butter and beer to a saucepan over high heat. Boil for two minutes, remove from heat. Stir in the vanilla and heavy cream, return to heat and bring to a boil again. Boil for one minute, remove from heat, allow to cool.
Pour the caramel over the cake, slice to serve.
https://domesticfits.com/invisible-apple-cake-with-beer-caramel-sauce/