Instant Pot Duck Ale Chili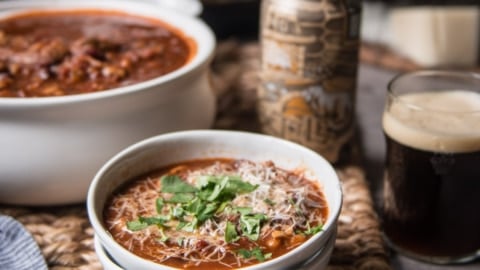 Instant Pot Duck Ale Chili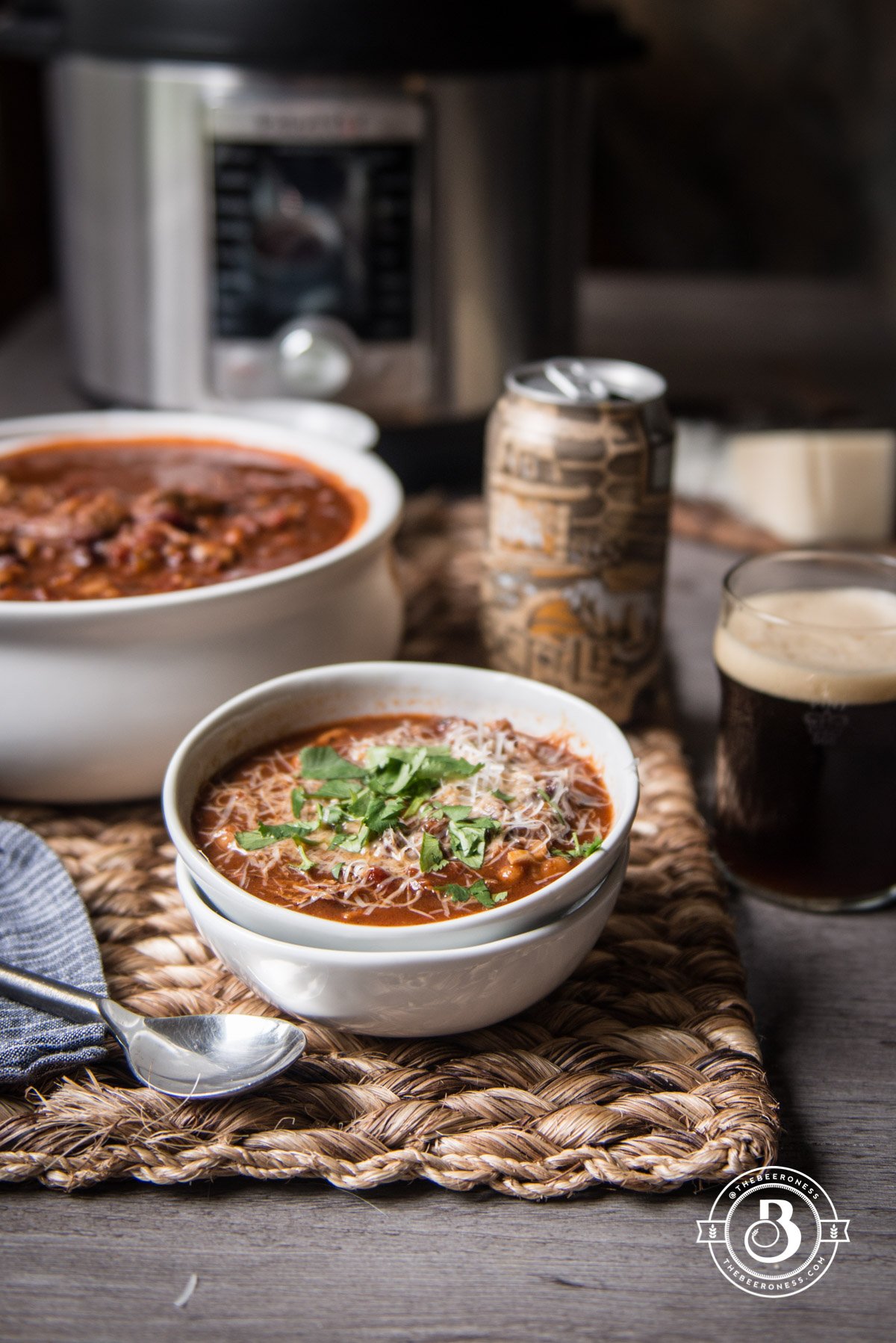 People ask me a lot of questions. Obviously, I have a weird life and weird job that warrants question asking from strangers and well-intentioned people at dinner parties that can't wrap their brains around this being a real job.
I get it, I still have a hard time believing that this is an actual job. After all, I just made it up. Then I figured out how to get paid for it. It was after hearing the advice, "it's better to invent a job than to find one." Challenge accepted.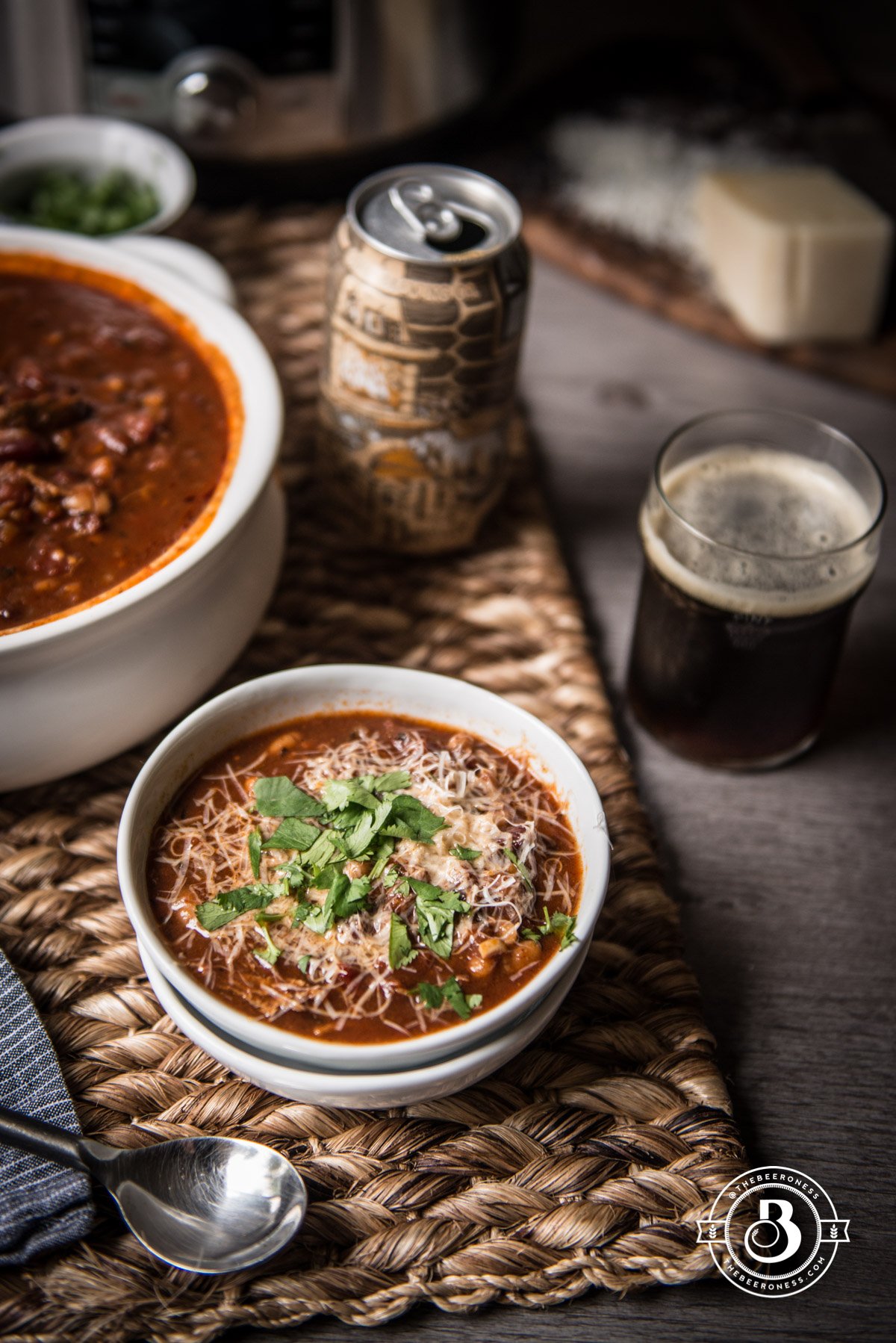 The question I never had a good answer for is: "What's your favorite beer?" Nope. I don't have one. I never will. Ever. But I do have a favorite meat. Duck. By far my favorite meat is duck. It's tragically underused, deliciously fatty, rich and fantastic.
So, once I was gifted this Instant Pot I obviously needed a beer-duck-instant-pot recipe. And seeing as how must of us will soon be watching the Super Bowl (rooting against rather than for a team? No?) Chili seemed a good fit.
The beer is the saddest part. It's an incredible brown ale that I instantly loved. It was sent to me by Odell Brewing. The sad part? It's not distributed in my state. So now that it's gone, it's out of my life *sad face* until I can make it to Fort Collins to stock up.
If you can get it in your own town, you're very lucky. Make some Duck Chili to celebrate.
Instant Pot Duck Ale Chili
Ingredients
1.5

lbs

duck breast

1

teaspoons

salt

plus additional for duck

1

cup

white onions

diced

5

large cloves garlic

mined

1

large can

28 oz fire roasted diced tomatoes

1

can

15oz kidney beans(rinsed and drained)

1

can

16 oz great northern beans (rinsed and drained)

6

oz

tomato paste

12

ounces

brown ale

stout will also work

1

tablespoon

Worcestershire sauce

1

tablespoon

dried oregano

2

teaspoons

ground cumin

2

tablespoons

chili powder

1

teaspoon

ground black pepper

1

teaspoon

Smoked Paprika

1

teaspoon

onion powder

1

teaspoon

red pepper flakes

½

teaspoon

cayenne pepper
Garnishes:
½

cup

chopped cilantro

1

cup

parmesan or mozzarella cheese

grated
Instructions
Score the fat of the duck breast, sprinkle liberally with salt, place inside the instant pot, off heat.

Turn the instant pot to sear, sear the duck breast, fat side down (no additional fat or oil is needed), until golden brown and most of the fat has been rendered.

Remove the duck, add the onions, cooking until they have softened, about 5 minutes.

Add the duck back into the pot along with the remainder of the ingredients (other than garnishes).

Turn instant pot to pressure cook, cook for 30 minutes. Allow the instant pot to release pressure, then open.

Remove the duck, shred using two forks, return to pot.

Serve along side garnishes.
Notes
**To make in a slow cooker, sear the duck breast in a pan (start the duck in a cold pan off heat to render the most fat), cook the onions in the duck fat. Add everything other than the beans (and than garnishes) to a slow cooker on low for 6 hours, add the beans in the last hour of cooking.
If the chili looks dry, add broth or water.