Individual Stout Mousse Cakes with Flambé Bourbon Beer Cherries (for two)
Individual Stout Mousse Cakes with Flambé Bourbon Beer Cherries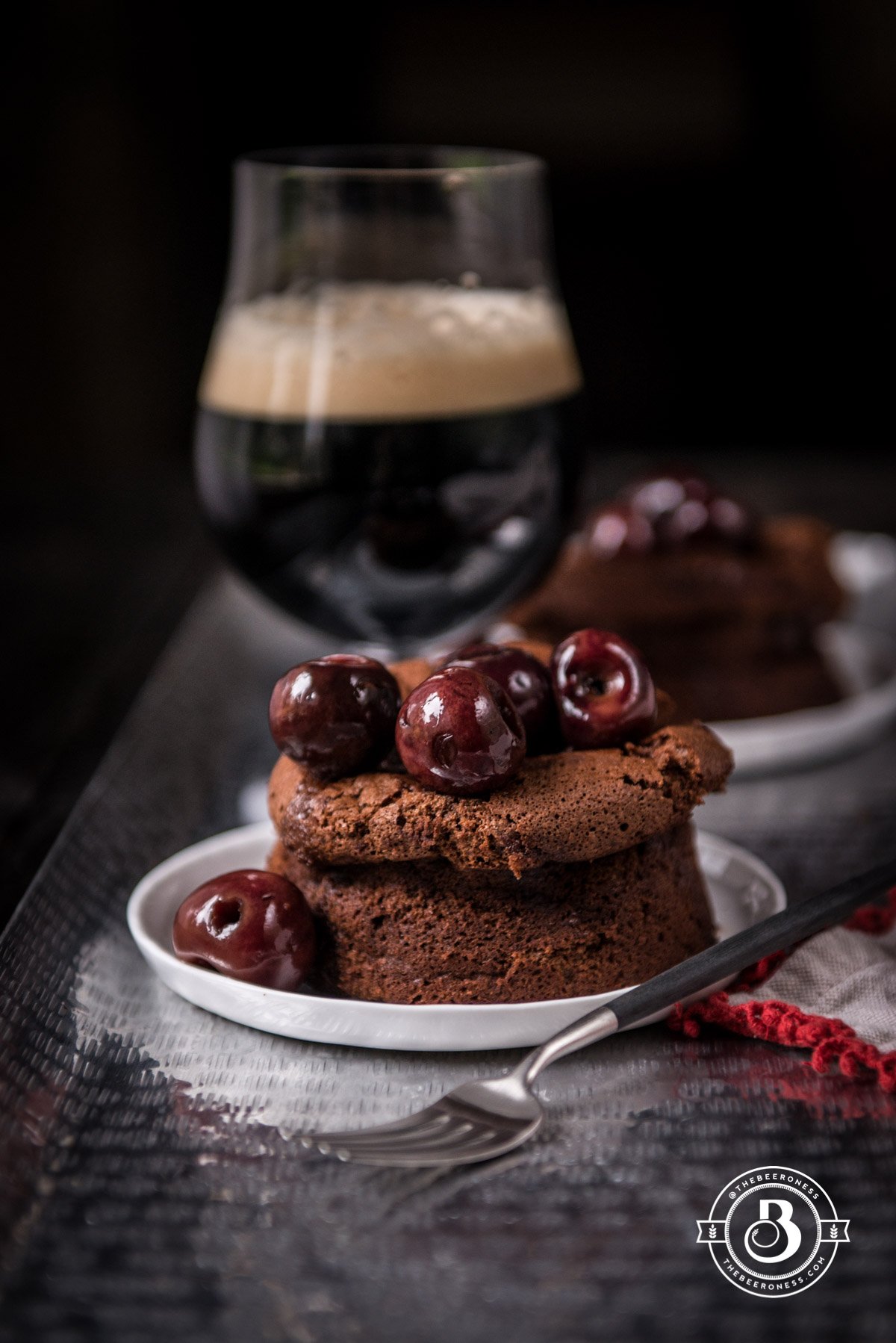 This is for you. Or really, it's for us. Because I decided a long time ago to redefine Valentine's day to be about more than just romantic love.
Valentines is about the people you love, all of them. Even the ones who never see you naked. Especially the ones who never see you naked (this leads me to the "how much inappropriateness can I shove into one paragraph?" line of thought).
You're single? Who cares, you love tons of people! Your mom, your neighbor, your bartender. You have plenty of people to love all over and share a beer with. That's what's important. The people we get to love and make a cake for.
I love you, for instance. Mostly because you make it possible for me to do my weird job. Where would I be if you didn't care that I make food with beer instead of just drinking it like a normal person? I know where I'd be, I'd still be doing this.
Which would be fine, but my weird job is amazing. It's more than I think I even deserve. So to thank you, I made you a cake. Feel free to share it with your mom, or your neighbor or your bartender.
Or, you know, that person who gets to see you naked. As if seeing you naked wasn't present enough!
Individual Stout Mousse Cakes with Flambé Bourbon Beer Cherries (for two)
Ingredients
For the cherries:
¼

cup

Bourbon

½

cup

brown sugar

½

cup

barrel-aged stout

1

cup

Bing cherries

pitted (thawed if frozen)

¼

cup

Cointreau
For the cakes:
4

tablespoons

57g butter (plus more for ramekins)

6

oz

bittersweet chocolate

62% cocoa content

¼

cup

32g stout

3

eggs separated

¼

tsp

cream tartar

¼

cup

50g sugar

1

tablespoon

6g cornstarch

1

tablespoon

8g flour
Instructions
Add the bourbon, sugar, and stout to a saucepan. Simmer until sugar has dissolved.

Add the cherries to a re-sealable jar, pour bourbon/beer mixture over the cherries. Allow to sit at room temperature for one hour. Seal and refrigerate until ready to use, can be made several weeks in advance.

Heat the oven to 375°F.

Place butter, stout, and chocolate in the top of a double boiler (or a metal bowl set over a pot of water) over gently simmering water. Stir frequently until melted, remove from heat and allow to cool slightly.

In the bowl of a stand mixer add the egg whites, salt, and cream of tartar, building up speed, beat on high until soft peaks form. While the mixer is running add the sugar a bit at a time, beat until stiff peaks form.

In a large bowl stir together the egg yolks, cornstarch, and flour. Beat on high until light and slightly fluffy.

Slowly pour the chocolate mixture into the egg yolk mixture, beating until completely combined, scraping the bottom to make sure the mixture is well incorporated.

About 1/3 at a time, gently fold the egg whites into the chocolate mixture using a spatula. Stir until egg whites are well combined with the chocolate mixture.

Grease two large (10oz) ramekins or oven-safe bowls with butter until well coated.

Add the batter evenly between the two ramekins.

Bake for thirty minutes or until the top has puffed and looks dry. Remove from oven and allow to cool to room temperature before removing from ramekins.

Add the cherries to a small pot or skillet. Pour the Cointreau over the cherries. Using a kitchen torch or long match, light the liquid on fire. Swirl until to distribute the flame. Allow to flambé for about 2 minutes, then add a lid to extinguish the flame. Pour the liquid and the cherries evenly over the cakes. Serve immediately.