Hopsta: The Hop Pasta Experiment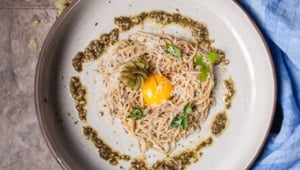 Hopsta: The Hop Pasta Experiment,  what happens when The Beeroness and Salty Seattle decide to make pasta together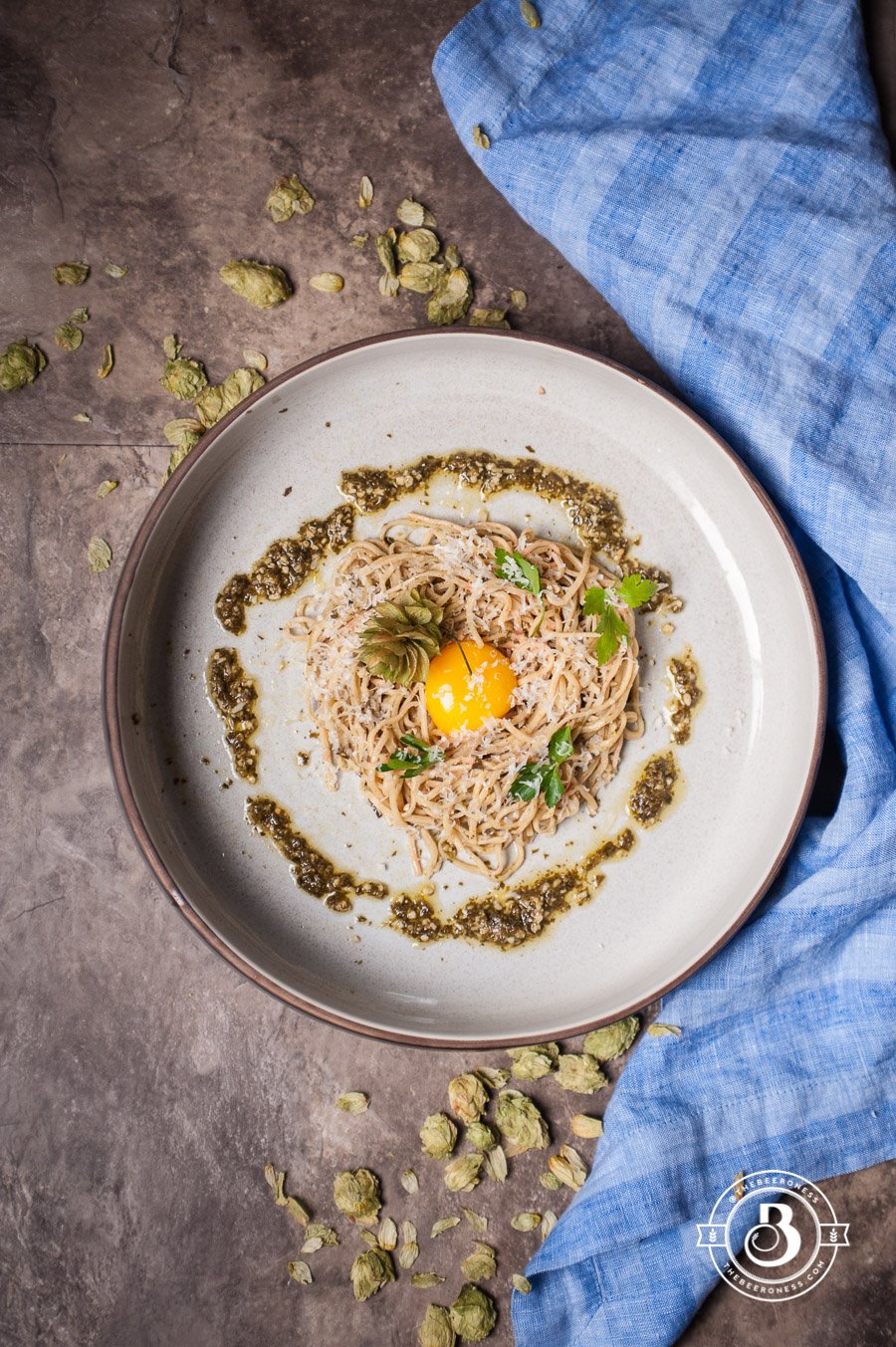 It's hard to say when we started to suspect that something had gone wrong. It might have been when we were pouring handfuls of dried hop cones into the Vitamix, or when the aroma wafting out of the pot of simmering pasta caused the Copper Castle to smell just so slightly like a brewery during the boil. But I know the moment we knew for sure.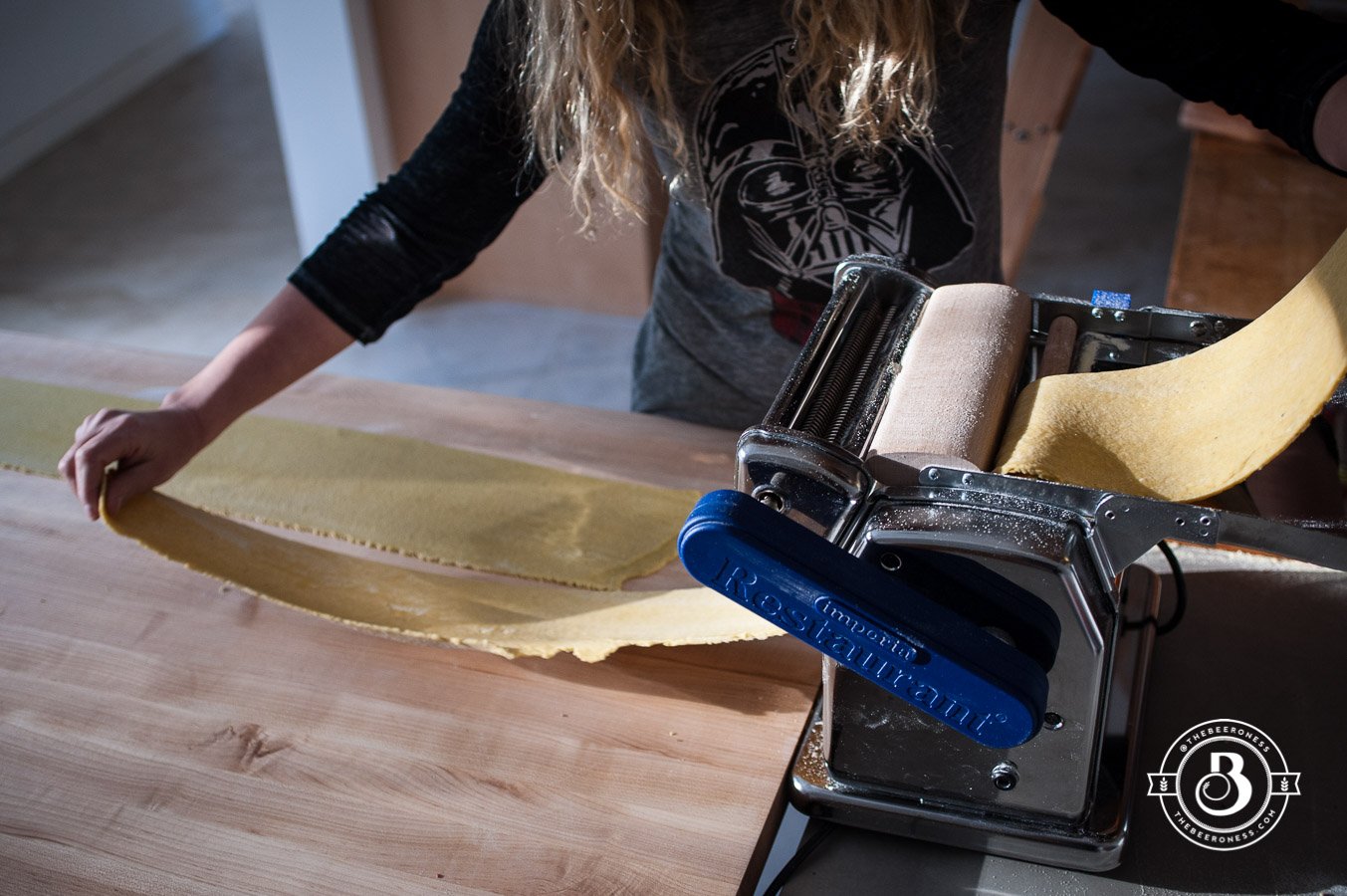 One of my very best friends happens to be one of the most creative and talented pasta chef if the Pacific Northwest (possibly the entire US). For proof of this fact, check this out. We decided, as we do sometimes, to make something a little crazy, invite people over and make them eat it. Most of these experiments go rather well, although you may end up eating a phallic shaped dessert, it will be delicious.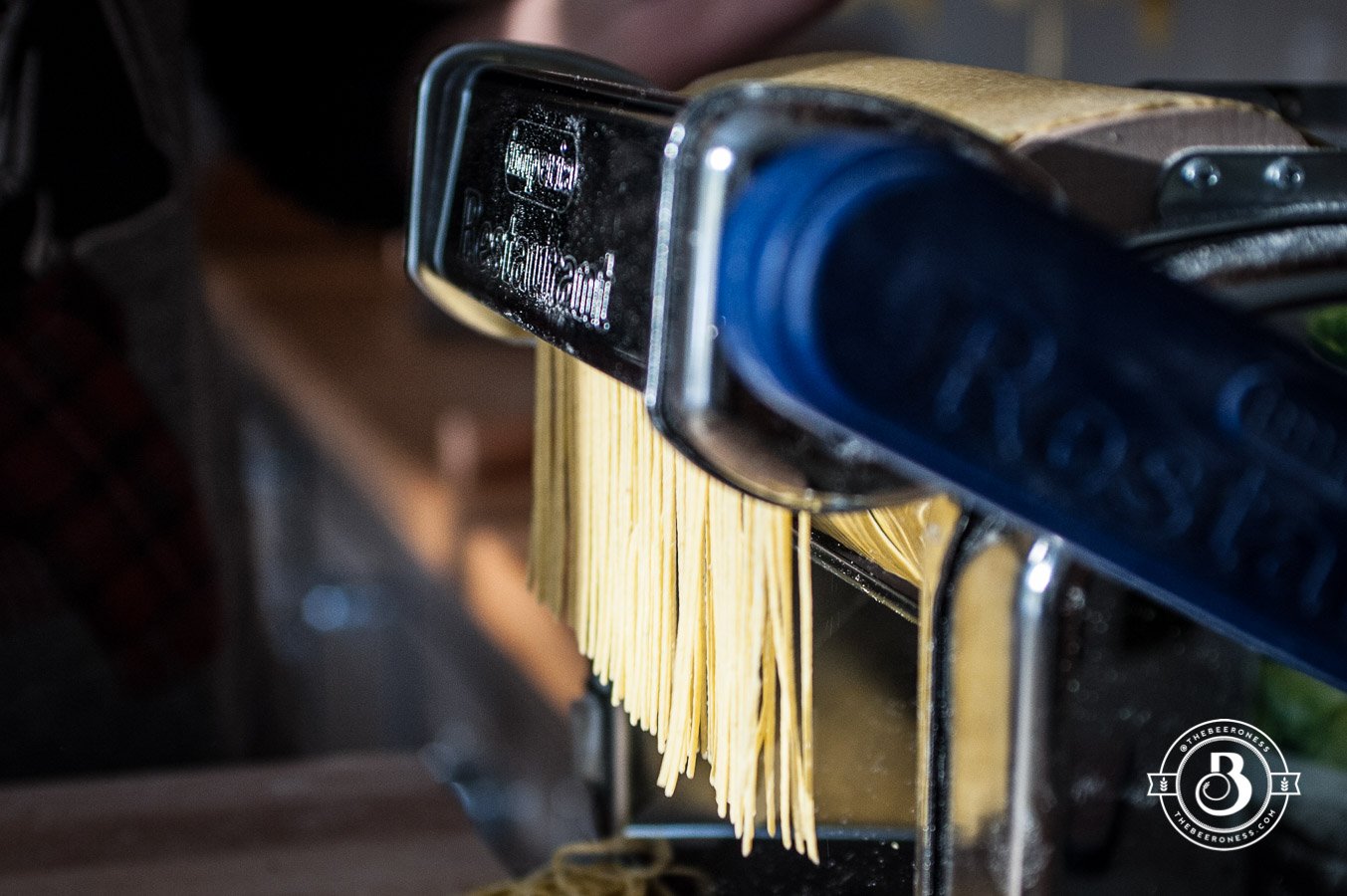 We put our combined culinary brain power together to bring on unsuspecting group of friends a Hopsta dinner. With Citra Hop Pappardelle with Lemon Cream Sauce, and Cascade Hop Linguini with Hop and Basil Pesto. It looked beautiful and smelled fantastic, if a little high IBU. We were hopeful.
We sat down to a gorgeous spread, wine, beer, friends gathered around family style bowls of pasta. We both take a bite and give each other the same look: "Wow. Way too much."
The first bite was great, until the finish. The hops came out with a vengeance, untamed by the cream sauce. IF you love a 100+ IBU, triple IPA, this was the pasta for you. If not, we've toned it down a lot. We cut the hops down to just 1 tablespoon to give you a hint of hops instead of a punch in the mouth.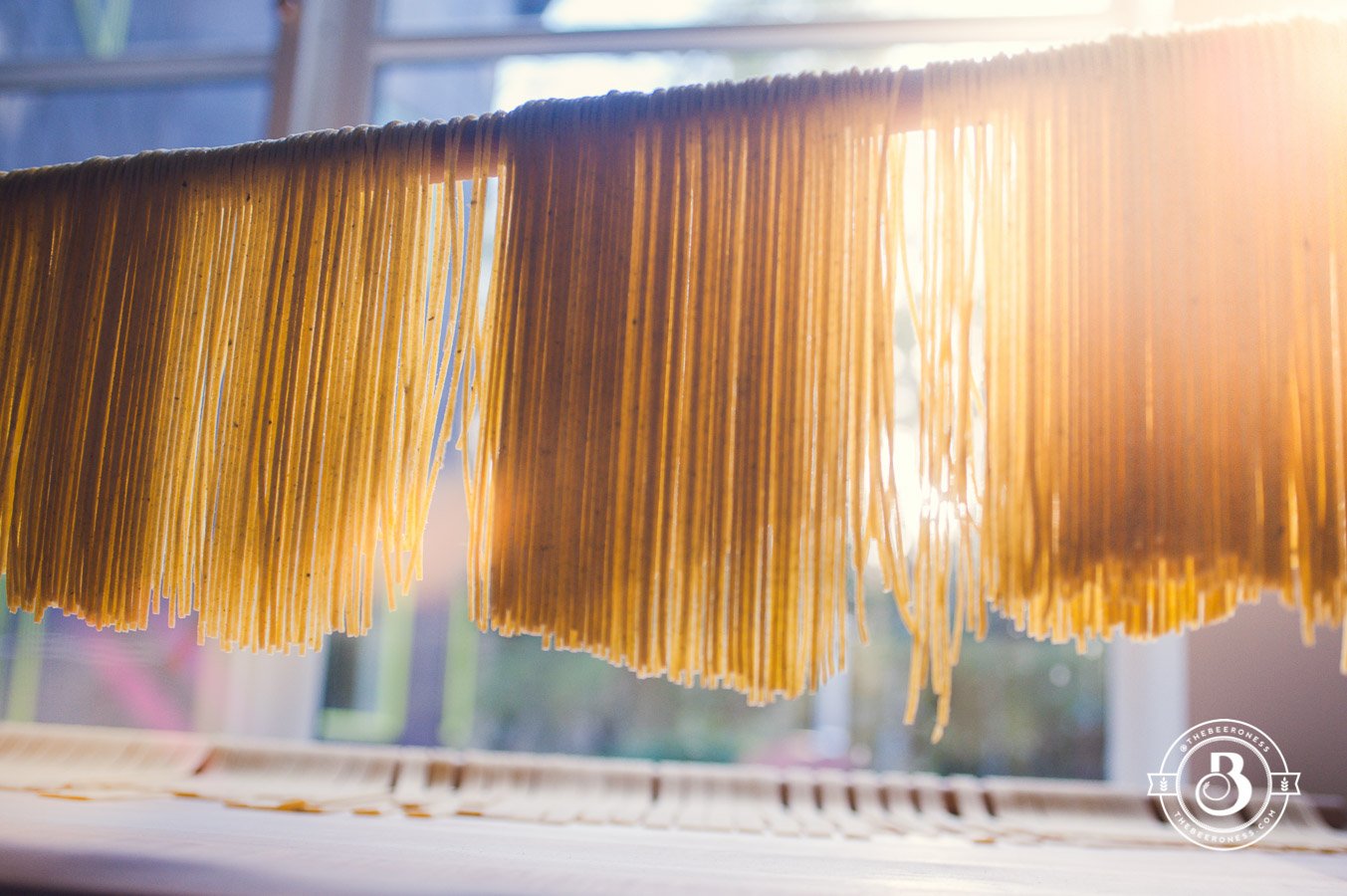 When you decide to forge a trail into the land of cooking with hops, you just have to learn by experience. And this was definitely an experience.
And if you like pasta, or food, or generally awesome things, you need to follow Linda on instagram.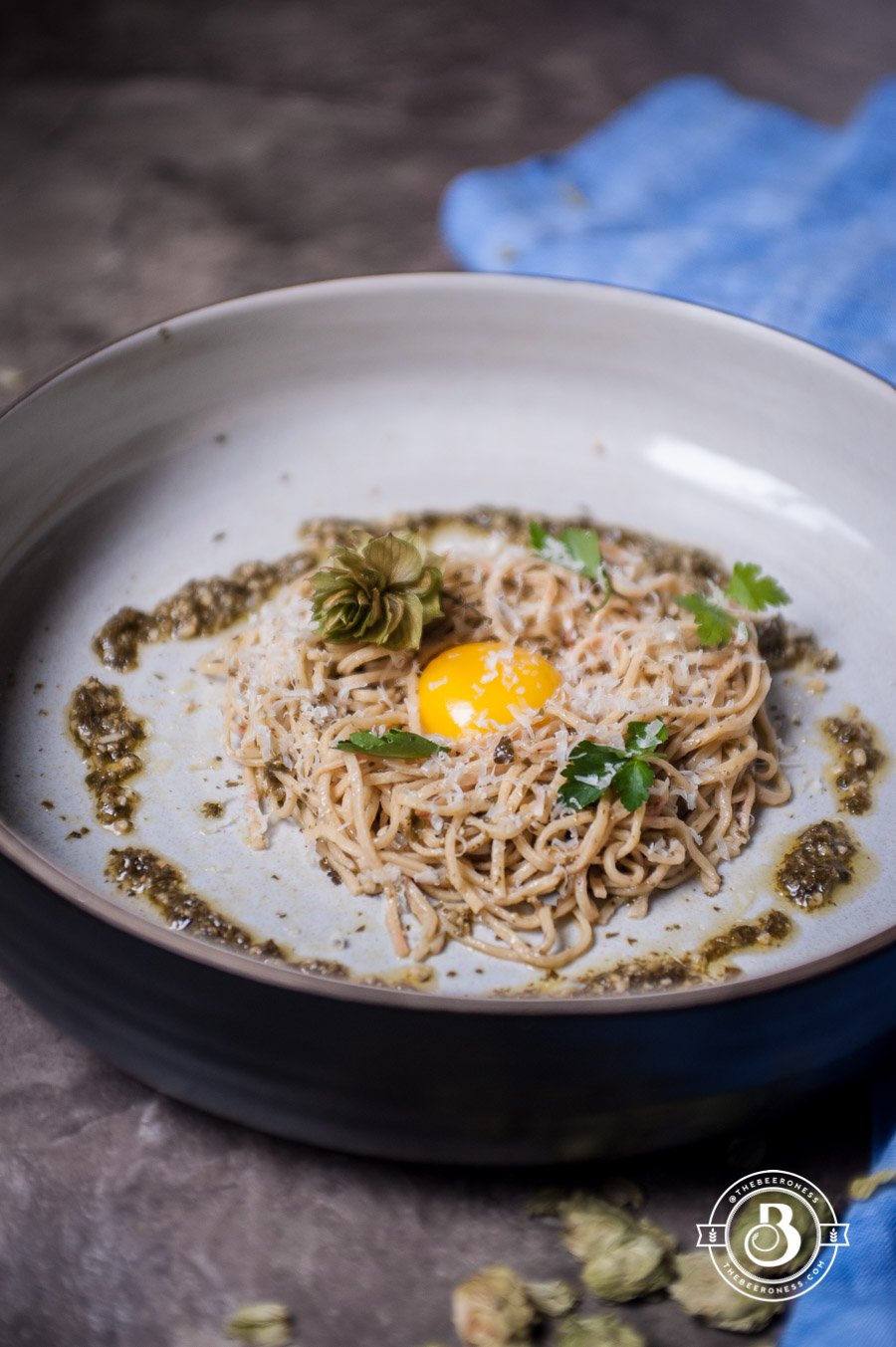 Cascade Hop Linguini with Hop and Basil Pesto
Ingredients
For the Hop Pasta:

4 ¼

cups

510g 00 pasta flour (or low protein AP flour)

4

eggs

1

tablespoon

11g Cascade hops (dried hop cones, not pellets)

pinch

salt
For the Hop Pesto:
2

cloves

garlic

blanched

¾

cup

112g pecans

1

cup

26g basil leaves, packed

2

tablespoons

22g Cascade hops (dried hop cones, not pellets)

2

ounces

parmesan

grated with a microplane

1

cup

olive oil

salt and pepper
Optional toppings:
1

egg yolk per plate

Parmesan grated with a microplane

Chopped parsley
Instructions
Add the eggs and hops to a blender or food processor. Blend until well combined.

Add the flour, salt and hop-egg mixture to a stand mixer fitted with a paddle attachment. Mix until well combined and the dough comes together.

Move to a flat surface, knead until smooth. Cover and allow to rest for 20 minutes.

Cut dough into 4 equal sections.

Flatten each dough section into a long oval. Pass through the pasta roller at the widest setting. Close the pasta roller one notch and pass through again. Close the pasta roller again pass the pasta through again. Continue to do this until the pasta is thin.

Pass the pasta through a linguini cutter to create noodles.

Allow to dry on a pasta drying rack or laid flat on a baking sheet for about 15 minutes.

Add pasta to a pot of boiling salted water until cooked through, about 5 minutes.

Add the garlic, pecans, basil, hops, and parmesan to a food processor. Process until well combined. Slowly add the oil. Salt and pepper to taste.

Toss the pasta with the pesto. Plate and top with additional toppings, if desired.
Notes
Dried hops are easy to get at local home-brew supply stores. Just ask for cascade hops, dried flowers, not pellets.