Honey Ale Sandwich Bread
 Honey Ale Sandwich Bread
The first time I tried to make bread I cried. Not in a "wow, this is so glorious and I'm moved to tears by its beauty," sort of way. I cried real tears of frustration and disappointment.
I felt like the yeast was mocking me, refusing to rise, nope-ing all over my plans for a beautiful loaf of sandwich bread. I decided that yeast hated me, and I couldn't do. It was a science experiment that had failed, and I walked away.
A few years later I decided that I was going to win, gawddamn it, yeast! I was going to figure it out and I was going to win at bread making. That yeast was going to be my bitch this time, not the other way around.
So I read. And then read some more. Then watched some videos. I figure out that it wasn't the yeast that was the problem, it was the liquid. I was using the wrong temperature. It was that simple.
After that, bread baking became a regular occurrence in my kitchen. Even though it took me years to not be slightly surprised when I saw the yeast start to rise, secretly convinced that I would fail again.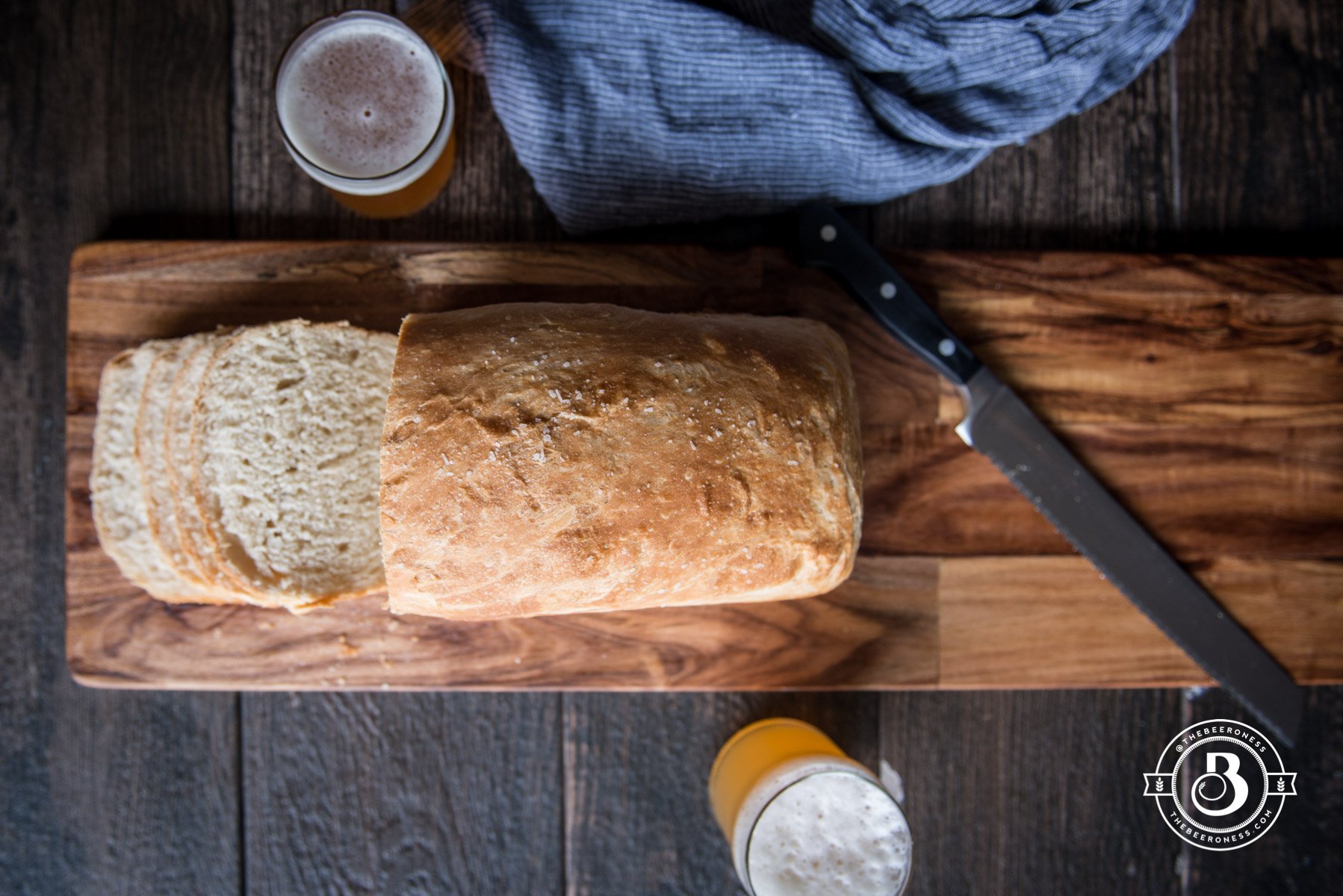 This loaf of sandwich bread came into my kitchen because I was too lazy to go to the store. It was easier for me to bake some bread than it was for me to get in my car and go buy some. Which reminds me of how far I've come in my yeast taming abilities. Even though I still think of it as some sort of magic when it does start to work the way I've politely asked it to.
Ingredients
½ cup (4oz) wheat beer, pilsner, pale lager (no high hop beers)
¾ cup (6oz) milk
4 ½ cups (540g) All-Purpose Flour
3 tablespoon (63g) honey
2 ¼ teaspoons rapid rise yeast
1 teaspoons (6g) salt
3 tablespoons (42g) soft butter
1 tablespoon (14g) melted butter
Instructions
Combine the beer and milk, heat to 120°F (always defer to the liquid temperature listed on the package of yeast, regardless of what the recipe says. Your yeast package says 105°F? Heat the liquid to that temperature.)
In a stand mixer stir together the flour, honey and yeast.
Add the warmed liquid, mix until combined, Stir in the butter and salt. mix with a dough hook for 6 to 8 minutes or until the dough comes together and starts to gather around the blade (dough will still be soft and slightly sticky).
Oil a large bowl, add the dough to the bowl (this works best with wet or oiled hands). Cover the bowl and allow the dough to rise in a warm place until doubled in size, about 1 hour.
Spray a large (10x5) loaf pan with cooking spray. Shape the dough into a log, transfer to the prepared pan.
Cover the pan, and let the dough rise for 60 to 90 minutes, or until it starts to rise just over the top of the pan. Towards the end of the rising time, preheat the oven to 350°F.
Brush the top with melted butter.
Bake for 35-40 minutes or until the top is golden brown. Allow to cool on a wire rack.
https://domesticfits.com/honey-ale-sandwich-bread/