Hefeweizen Honey Rolls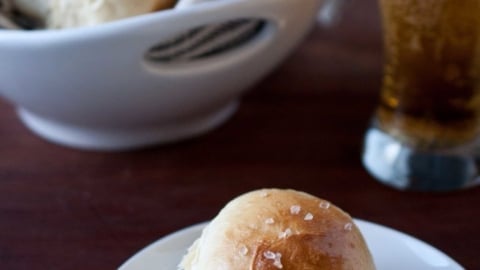 I have wandered into a complete obsession with making bread. It started slowly, and really, rather timidly. When I first started, I was afraid of yeast, and a wee bit convinced that it hated me.
I threw several mounds of fail dough in the trash after it refused to rise. I learned a few things long the way that I am more than happy to share with you and save you from the "What the EFF is wrong with this damn bread!" frustrations that I suffered.
First, check the expiration date.  Yeast expires in a biblical sense, it actually dies. Yeast is a bit of a living beast, and once it reaches it's expiration date, don't even think about it. It's not like that bottle of Ibuprofen in your  cabinet that expired last year but is probably still going to cure your headache. If the yeast has been in your cabinet a while, throw it out.
Salt kills yeast too. Don't let inactive yeast come in contact with salt. I learned this the hard way when adding salt to the cream before microwaving it.
Yeast will rise between 40 and 120 degrees. Any higher than 120 and it will be killed by the heat (unless you use rapid-rise which will work until about 130), stay away from the high end of the scale in case your thermometer is a bit off. If the yeast is colder than around 90, it will take a long time to rise. At 40 degrees, it will still rise, but it will take days. 110 seems to be a bit of a sweet spot, but I live in LA, and even when the East Coast is being ravaged by Frankenstrom, it was still 85 degrees yesterday. Bread rises faster when it's warm, slower when it's cold. Yeast types are not interchangeable without major recipe modifications. Use the yeast the recipe calls for.
Dry milk powder is a bit of a secret weapon when it comes to bread making. I discovered this in the Secret Ingredient section of King Arthur Flour, it may be to blame for my bread making fixation.  Your bread will be softer, taller and more tender. Buy a bag just to keep on hand for Thanksgiving and Christmas rolls, because if you are going to all of the trouble to make homemade rolls, you should really pull out all the tricks in your bag.
Beer. Of course, the beer. Bread is my favorite thing to make with beer. Even if you aren't a beer kind of girl, it gives your bread a lighter, slightly more leavened quality that makes it a perfect baking liquid. And because it's bread, a wheat beer is a natural choice.
Hefeweizen Honey Rolls
Ingredients
1/2

cup

heavy cream

1

envelope dry active yeast

5

cups

bread flour

1/4

cup

dry milk powder

1/4

tsp

salt

2/3

cup

wheat beer

room temperature

3

eggs

1/4

cup

honey

4

tbs

unsalted butter

softened to room temp
To Brush On Top:
4

tbs

melted butter

1

tsp

honey

1/2

tsp

coarse salt
Instructions
Add the cream to a microwave safe dish. Heat for 20 seconds, test temperature and repeat until cream is about 110 degrees. Add the yeast, set aside until foamy, about 5 minutes. If the yeast does not foam, it isn't good. Discard it and try again.

In the bowl of a stand mixer add the flour, salt and dry milk powder, mix until well combined.

Add the cream and the beer, mix until combined. It will look dry and shaggy.

Add the eggs, one at a time, mixing between additions.

Add the honey and butter and allow to mix until the dough forms a smooth and shiny ball that isn't sticky, about 8-10 minutes.

Coat the inside of large bowl with oil. Form the dough into a ball and add to prepared bowl. Cover the bowl tightly with plastic wrap and allow to rise in a warm room until doubled in size. This will take between 1 and 2 hours depending on the temperature of the room.

Punch the dough down, and knead lightly for about 1 minute.

Cut the dough in half, then cut each half in half. You will now have 4 equal size pieces. Cut each piece in half to create 8 equal sized pieces. Cut each of those in half to give you 16.

Roll each piece of dough into balls, place into a baking dish with a bit of space between each roll (you might need two baking pans to accommodate 16 rolls).

Cover and allow to rise until about doubled in size.

Heat oven to 400 degrees.

Combine the melted butter and honey. Brush the top of the rolls with honey butter mixture, sprinkle with salt.

Bake at 400 for 12-15 minutes until golden brown.