Ham with Bourbon, Maple, Bacon Glaze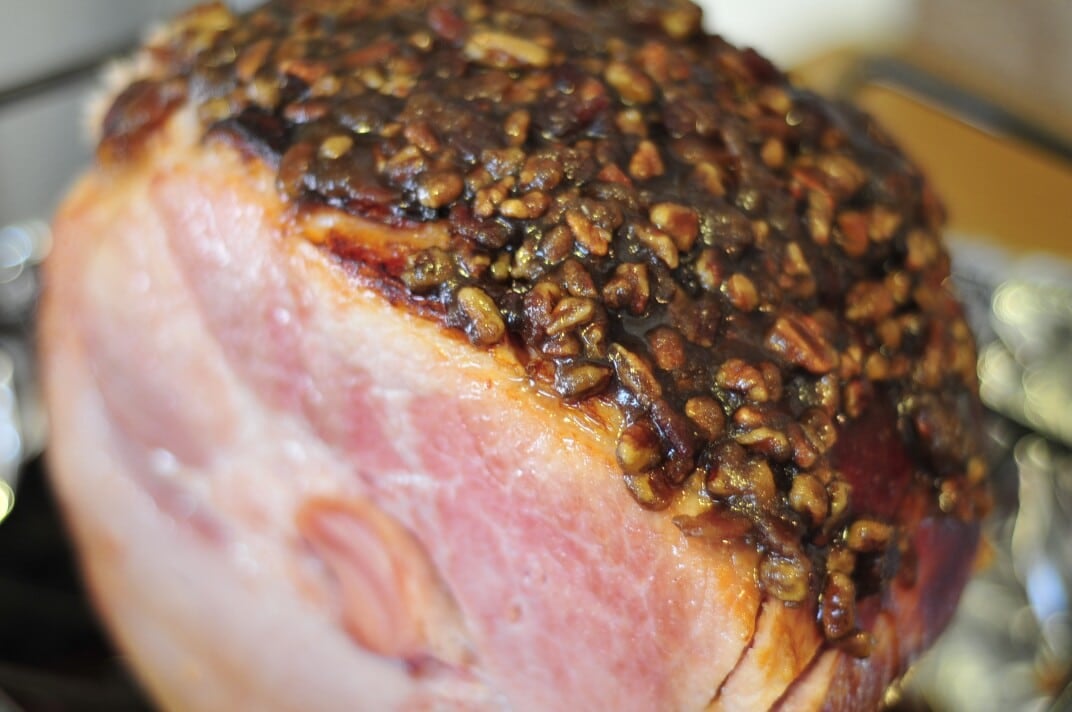 As I'm putting the final touches on my Easter Ham, I'm chatting with a friend of mine. A friend who wasn't spending the holiday with his family, well, because he's Jewish. It occurs to me, as I'm glazing my large hung of pork with smaller hunks of pork, how Un-Jewish Friendly this holiday is. Not only is it a celebration of the resurrection of Jesus, it's signature dish is Ham. SO, I apologize to all of my Jewish friends for the excessive use of bacon on this blog, and I promise my next post will be Kosher.
For those who would don an "I Heart Pork" t-shirt, this is my hands down favorite ham recipe. I was very happy with the end results and it was one of the few times I was able to eat a meal that I prepared without thinking of all the things I would change for next time.
Ingredients
1 10 lb ham
1 1/2 cup apple juice plus 1/2 cup, divided
4 strips of bacon
2 tbs butter
1/4 cup Bourbon (I used Buffalo Trace)
1 1/2 cups packed brown sugar, plus 2 tbs, divided
1 cup pecans
1/4 cup grade B maple syrup
1 tsp coriander
Place the ham in a roasting pan, fat side up. Add 1 1/2 cups of apple juice to the bottom of the pan. Cook at 325 for 1 1/2 hours (for a 10 pounder, or 9 minutes per pound).
Cut the bacon into small, 1/4 inch strips
In a sauce pan over low heat, melt the butter. Add the bacon and spread out in the pan, sprinkle with 2 tbs brown sugar. Cook slowly until the fat is mostly rendered.
In a small bowl, add the remaining 1/2 cup apple juice and the bourbon. In another bowl, add the brown sugar, coriander, maple syrup and pecans, mix well. A side note about Maple Syrup: Grading doesn't have to do with the quality, like some might assume. Syrup is graded according to color and translucency. Typically, grade A is much lighter (and mellower in flavor)  than grade B.
Add the bourbon mixture to the pan, increasing the heat to medium, and cook until reduced by 3/4. Reduce the heat to low and add the brown sugar mixture and stir until well combined and thick.
Once the ham has cooked for 1 1/2 hours, remove from the oven. Increase oven temp to 375.  With a sharp knife, score the ham in a diamond pattern.
Cover the top of the ham, and as much of the sides as possible with the glaze. Cook for an additional 20-30 minutes, or until glaze is dark and bubbly. Remove from oven and allow to rest for 10 minutes. Cut the ham in slices, from front to back, and spoon the pan drippings over the pile of meat, or put it in a gravy boat to serve along side.
The trick to cooking a juicy ham is to under cook it. Remember that ham comes to you already cooked, you're just heating it up and glazing it. If you cook it to the recommended 140-160 degrees, it will be dry and over cooked. Most meats will continue to cook, even up to 15 percent more, after you remove it from the oven.  If you want to thermometer cook it, shoot for closer to 110 degrees. Remember, its much better to serve slightly cold ham than dry overcooked ham.