Guinness Corned Beef Tacos with Pickled Cabbage Slaw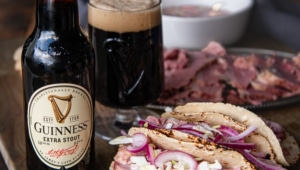 Guinness Corned Beef Tacos with Pickled Cabbage Slaw Diageo Beer Company USA, sponsored this post. Partnerships with The Beeroness and outside companies only occur when the company's products are ones I use and enjoy myself. All ideas, words, and opinions are my  own.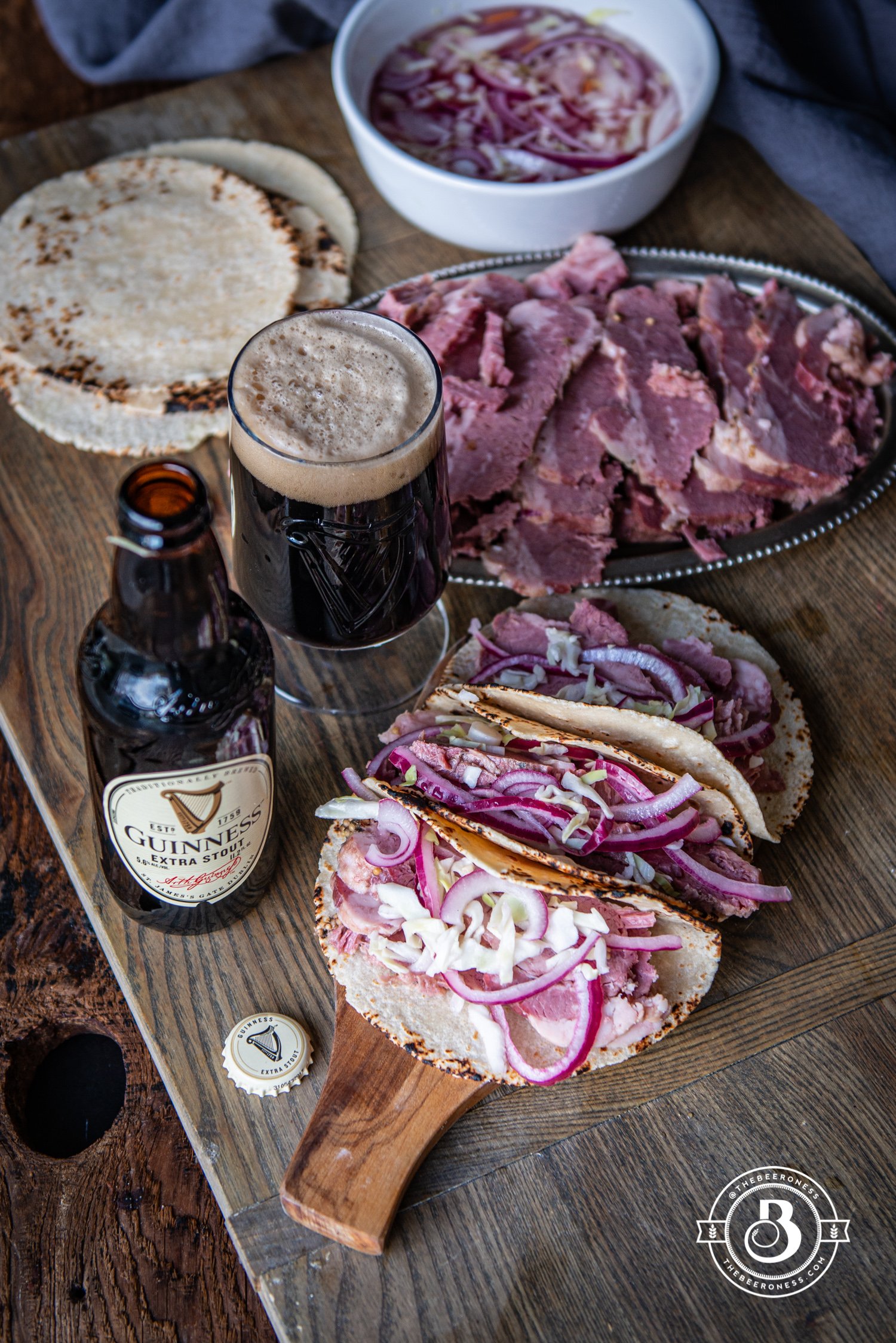 Every once in a while the stars align and a holiday falls on just the right day. Like when Halloween is on a Saturday or Cinco De Mayo is on Thirsty Thursday, it just clicks it up a notch.
This year, Saint Patricks Day is on Taco Tuesday, which will obviously necessitate Irish Tacos. What are Irish Tacos, you say?! Great question. Corned Beef and beer tacos, of course.
Guinness is the unofficial, official beer of Saint Patrick's day so I teamed up with them to give a beered up corned beef taco to make all your Saint Patrick Taco Tuesday dreams come true.
Guinness Corned Beef Tacos with Pickled Cabbage Slaw
Ingredients
For the Corned Beef *
4

lbs

beef brisket

1/2

cup

brown sugar

1

cup

kosher salt

3

tablespoons

curing salt

this will make the meat pink

3

tablespoon

whole allspice berries

1

tablespoon

whole cloves

1

tablespoon

ground ginger

2

tablespoon

mustard seeds

2

tablespoon

whole peppercorns

3

cups

of water

3

(12 ounces)

bottles of Guinness Extra stout

4

cups

ice

1

yellow onion

quartered
Pickled slaw:
2

cup

red cabbage

shredded

2

cup

savoy cabbage

shredded

½

red onion

thinly sliced

1/3

cup

lemon juice

2

cups

apple cider vinegar

2

tablespoon

kosher salt

3

tablespoons

sugar

2

teaspoon

whole cloves

2

teaspoon

black peppercorns
Instructions
In a large pot or Dutch oven, add brown sugar, curing salt, kosher salt, allspice berries, cloves, ginger, mustard seeds, peppercorns, along with the water.

Cook on high just until the salt and sugar dissolve, remove from heat. Add 2 bottles of stout (reserve the last bottle for cooking) and ice, stir until ice has melted and brine is cool.

Add the brisket, cover with a lid and refrigerate for 5 days and up to 10.

Remove from brine and rinse well. Discard the brine and clean the Dutch oven.

Place the brisket back in the cleaned pot, along with the onion, pour the remaining bottle of stout and then cover with cold water until the brisket is fully cover with about one inch of water above the beef.

Bring to a low boil, cover and reduce heat to maintain a gentle simmer. Simmer for 3 hours or until the meat is fork-tender. Move to a carving board, thinly slice against the grain.

While the brisket cooks, make the pickled slaw. In a saucepan over medium heat, add the lemon juice, vinegar, salt, sugar, ginger, allspice, cloves and peppercorns in a pot.

Bring to simmer just until the salt and sugar dissolve, remove from heat. Allow to cool to room temperature.

In a large bowl, add the cabbage and onion. Pour the cooled pickling liquid over the cabbage and onion, refrigerate for one hour and up to a week (this can be done well in advance).

Fill the tortillas with beef and top with pickled slaw.
Notes
To use a pre-cured corned beef, skip the curing step and go right to the cooking part in step 5 step.
You'll only need one bottle of Guinness Extra Stout, an onion  from the list of ingredients in the "for the corned beef" section, plus a cured, uncooked, corned beef brisket.