Grilled Street Corn with IPA Chipotle Cream + What's The Deal With Gluten Free Beer?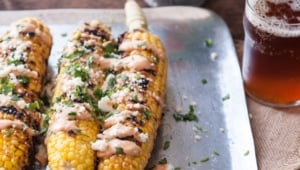 Grilled Street Corn with IPA Chipotle Cream + What's The Deal With Gluten Free Beer?
Beer's main objective is to taste great. To gratify an urge, quell a thirst, satisfy the drinker with a balance of it's necessary ingredients: water, hops, malt and yeast (and possibly a few not as necessary ingredients). But let's say the malt was different. The malt wasn't the malt you're used to. It wasn't malted barley, it was a different grain. The results were great, the beer tasted awesome.
Would you mind? Would it bother you if water, hops, malt and yeast was STILL water, hops, malt and yeast, but the malt was malted millet instead of malted barley? Would you even notice?
Let's back up.
Barely is traditionally what's used to make the malt in beer (for more info about that, read this). It's the only ingredient necessary to make beer that contains gluten, water, hops and yeast don't. Barley is a grain, but there are other grains, too. What if a brewer used a different grain to satisfy the malt ingredient?
Of course, it's more complicated than that, but that's the main premise: use a different grain that doesn't contain gluten instead. Nothing fake, nothing overly processed, just a different grain (to start with). If the beer still tastes great, does it matter?
Watch the Facebook Live Gluten Free Beer Taste Test
Gluten-free beer comes in two main categories:
Gluten Removed/Crafted to Remove Gluten
This beer is made the way a beer is normally made, brewed with barley (which contains gluten). An enzyme is added to break up the gluten protein and destroy it. The beer still contains gluten, but it's well below the 20 parts per million that the FDA requires to call something "gluten-free." The beer is made with a gluten ingredient, and some gluten may still exist. Some people have a reaction to it, some people don't. if you have a severe gluten allergy, proceed with caution. These beers are not allowed to put "gluten-free" on their label, but instead use "crafted to remove gluten," "gluten reduced" or "low gluten" instead.
Most popular: Stone Delicious IPA, Omission Pale Ale, Omission IPA, New Belgium Glutiny
Of the gluten removed beer I've sampled Stone Delicious IPA, and Omission IPA were my favorite.
Gluten FREE
In the past few years breweries have been cropping up across the country that brew only gluten-free beer. Beer that is artfully crafted with malted grains that don't contain the gluten proteins. As difficult as it is to make truly great tasting beer, the use of an alternate grain is a new level of difficulty and an interesting section of the market to explore.
If a beer is labeled as gluten-free, it is truly gluten-free. It was brewed with ingredients that do not contain gluten, such as millet, sorghum, corn, rice, or quinoa. A brewery cannot label a beer as "gluten-free" if it was brewed with any ingredients that contain gluten.
Ground Breaker Brewing in Portland, Oregon is not only a 100% gluten-free brewery, it also has a gluten-free pub attached to the tap-room. Their IPA won a silver medal at GABF last year.
Holiday Brewing in Colorado is new on the scene, opening their completely gluten-free facility in February of 2016. With a growing legion of fans, and an impressive list of beer, this is a brewery to watch.
Glutenberg in Montreal, Canada is a growing presence in the United States. With distribution in more than 15 states and several solid beer styles to choose from, this a brewery worth checking out if the need for gluten-free beer arises.
Ghostfish Brewing in Seattle, Washington isn't just a force to be reckoned with, it's set the bar higher than any gluten-free brewery has before. Sweeping this year's US Beer Championships with 3 medals, and taking home 2 of the three top medals at last years GABF, this beer isn't just "good for gluten-free," it's simply delicious, well-crafted beer. As a person without any gluten issues, this is beer I would order if I saw it at a taproom. It's great beer, made with great, high-quality ingredients. My favorites are Grapefruit IPA and Watchstander Stout. Gluten allergies or not, this is beer worth seeking out.
My favorite gluten-free beer is Ghostfish Grapefruit IPA, necessitating a gluten-free recipe, to be enjoyed alongside your gluten-free beer.
Grilled Street Corn with IPA Chipotle Cream + What's The Deal With Gluten Free Beer?
Ingredients
4 tablespoons melted butter
1 teaspoon salt
6 ears of yellow corn, shucked
3/4 cup sour cream
1 or 2 chipotle chilies in adobo
3 tablespoons IPA beer
4 wt ounces (about ½ cup) crumbled cotija cheese
¼ cup chopped cilantro
Instructions
Preheat grill to medium high. Add the corn to a baking sheet.
Drizzle with melted butter, sprinkle with salt.
Grill over medium high heat until grill marks appear on all sides.
In a blender add the sour cream, chipotle chilies (1 for lower heat, 2 for more heat), and IPA beer, blend until smooth. Add additional beer for thinner sauce.
Add the corn to a serving tray, drizzle with sauce, sprinkle liberally with cotija and cilantro. (roll corn to coat in sauce, if desired).
https://domesticfits.com/grilled-street-corn-ipa-chipotle-cream-whats-deal-gluten-free-beer/