Super Juicy Grilled Pork Tenderloin (only 4 ingredients!)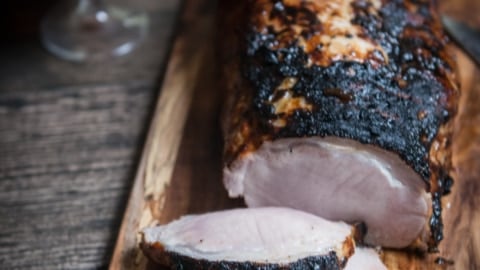 Super Juicy Grilled Pork Tenderloin (only 4 ingredients!)
Grilled Pork Tenderloin with Hoisin Glazed and Beer Brine. Just 4 ingredients to a perfectly juicy pork tenderloin!
This is for you. All of you who've ever avoided pork tenderloin because it'd dry. I feel you, I was you. In the wrong hands and with too much heat, these long and lean cuts of meat can do you wrong.
But it doesn't have to be that way. Getting a tender, juicy, flavorful hunk of pork comes down to this: get it drunk.  Not you, the meat. Or both, it's your life.
Any lean white meat (I'm looking at you, chicken breasts) needs a good long soak in salt and beer. It'll tenderize and falvorize (that's totally a word, I swear) your meat in a way that cooking it right out of the package never can.
Don't be shy with the brine, let that sucker sit in there for days! As soon as you get it home from the market, put it away in a salty soak and it'll be ready when you are. poultry really only has about 24 hours in a brine before it starts to get mushy and mealy, but pork is tougher and can stay in a brine for days without issue.
Hoisin is the perfect glaze. It's got the rich umami flavor as well as a great sweetness that caramelizes well on the grill. Not a hoisin fan? Feel free to glaze with your fav. Barbeque sauce works well, want to try it with this Stout Beer Barbecue sauce? You should. Let me know how it goes, tag me on Instagram, (it totally makes my day).
Grilled Pork Tenderloin with Hoisin Glazed and Beer Brine
Ingredients
2

lbs

pork tenderloin

2

tablespoons

kosher salt

12

ounces

pale ale

pilsner or wheat beer

¾

cup

hoisin sauce
Instructions
Sprinkle the pork on all sides with salt. Add to a shallow dish or a large Ziploc bag. Pour the beer over the pork. Remove as much air as possible before sealing the bag (or cover dish with plastic wrap).

Brine for 24 hours and up to 3 days.

Remove from the brine, rinse well, pat dry.

Heat the grill to 500°F.

Brush the pork on all sides with hoisin, add to the grill. Grill on all sides until the internal temperature reads 145°F.

Remove from grill, allow to rest for 5 minutes. Slice and serve.
Notes
Don't over cook! The FDA recently lowered it's reccomended cooking temp for pork from 165°F to 145° probably because they were sick of their moms dry, overcooked ham.
You stil want a slight hint of pink in the center, not pure white and fiberous.