Grilled halloumi Sliders with IPA Avocado Chimichurri
Grilled halloumi Sliders with IPA Avocado Chimichurri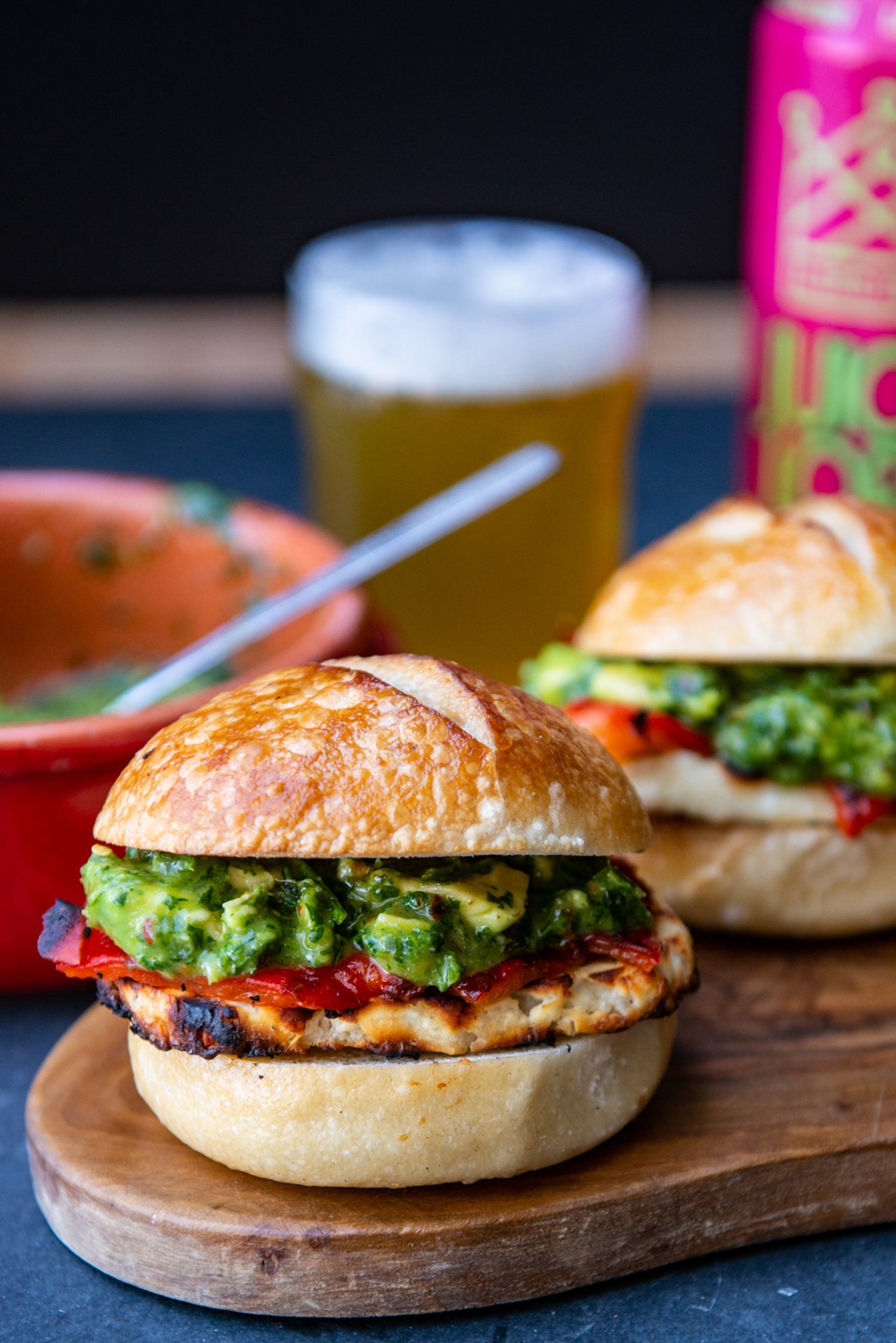 Don't look at me like that. I know, I KNOW! I grilled another thing. And I don't even feel bad about it. It's cheese you can grill (actually grill unlike those misnamed, misleading sandwiches that should be called "pan friend cheese" so no one gets their hopes up).
This is cheese that doesn't melt so you can throw it on the grill and use it in sandwiches to shock and amaze your friends who will be confused but intrigued. And confused intrigue is the best state in which to eat sandwiches, this is a fact.
It's followed closely by perplexed abandon followed by bemused suspicion. Don't quote me on this, or try to prove I'm wrong, just grill some things that aren't usually found over an open flame, open a beer, and feed your friends already. It's the best way to spend an afternoon.
Grilled halloumi Sliders with IPA Avocado Chimichurri
Ingredients
For the chimichurri:
1

cup

cilantro leaves

packed

1

cup

parsley leaves

packed

½

teaspoon

salt

1

teaspoon

red pepper flakes

3

tablespoons

red wine vinegar

3

tablespoons

IPA beer

½

cup

olive oil

1

large avocado

diced
For the sliders:
8

ounces

halloumi cheese

cut into ½ inch slices

1

large red pepper

3

tablespoons

olive oil

6

slider buns
Instructions
Add the cilantro, parsley, salt, red pepper, vinegar, and beer to a food processor, process until well combined. While the food processer is running, slowly add the olive oil.

Add the diced avocado to a bowl, pour the chimichurri mixture over the avocado, and gently stir to combine.

Heat the grill to medium-high.

Drizzle the halloumi and red pepper with olive oil. Add the halloumi and red pepper to the grill. Cook the halloumi on both sides until grill marks appear, about 3 minutes per side.

Cook the red pepper until the skin has blackened.

Scrape the skin off the red pepper, remove the stem and seeds, and slice.

Fill the slider buns with cheese, top with sliced red peppers, and avocado chimichurri.