Grilled Guacamole
 This grilled guacamole isn't just a product of my grill junky status, grilling avocados is a fantastic idea and the perfect way to get some of that wonderful smoke flavors into your favorite summer dip. After all, the 4th of July is right around the corner, and next to Thanksgiving, it's America's favorite reason to take a day off work, eat too much food, and spend the day with people we love.
Of course meat was made for the grill, but vegetables have an ever better transformation when cooked with fire. When comes to grilling, anything goes, don't forget about how amazing fruit is when it has a bit of char, or even slices of pound cake. Don't discount pizza, it's quick and fabulous off the grill.
Try something new next time you break out your grill, who knows, you might just find a new way to impress your guests.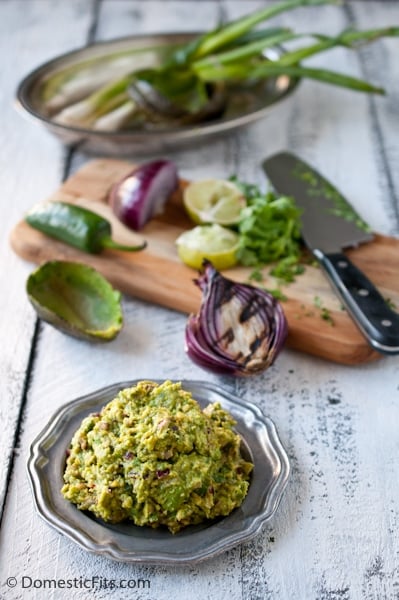 What I'm making for 4th of July:
Roasted Potato, Bacon and Blue Cheese Salad
Ingredients
6 cups (6-8 large peaches) yellow peaches, sliced (peeled if desired)
1/2 cup brown sugar
1/3 cup white sugar
½ tsp cinnamon
1/4 cup flour
3 tbs cornstarch
pinch salt
1/3 cup hoppy wheat beer
1 sheet puff pastry, thawed
Egg wash (1 egg, 1 table spoon water, beaten)
Directions
Preheat oven to 400.
Add the peaches to a large bowl. Sprinkle with brown sugar, white sugar, cinnamon, flour, cornstarch, and salt. Use your hands to stir the peaches until they are fully coated with the dry ingredients and all of the dry ingredients have been moistened.
Pour the beer over the peaches, gently stir to combine.
Place 4 oven safe bowls (1 cup size) on a baking sheet. Divide the filling evenly among the bowls.
Roll the puff pastry out on a lightly floured surface, cut into 4 squares. Cover each bowl with a square of puff pastry. Brush with egg wash.
Bake at 400 for 18-22 minutes or until golden brown.
https://domesticfits.com/grilled-guacamole/
Copyright �© TheBeeroness.com