Grilled Beer Soaked Rosemary Potatoes (with a grill or without)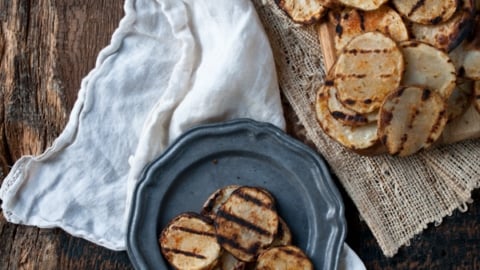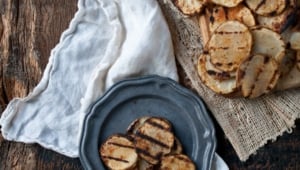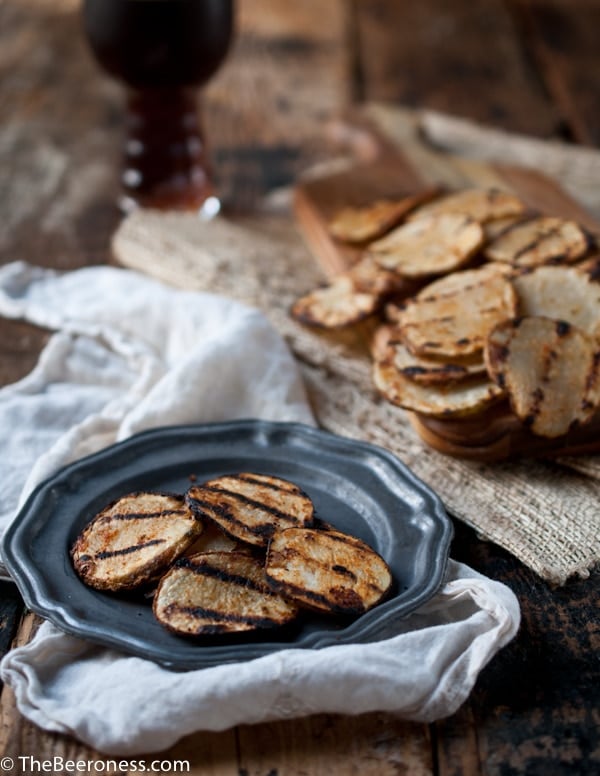 I'm not crazy. There is an actually practical reason to soak your potatoes in a beer brine before they hit the grill.  Potatoes are mostly water, held in by the starch. Using the water extracting powder of salt you can help remove the water and give your potatoes a crispier outside with a creamy middle while cooking.
And let's talk about that cooking. For well over a year I've been taunting you with grill recipes, like grilled Beer & Buttermilk Sriracha Chicken, and Beer Marinated Steak with Porter Gorgonzola Butter, but what if you don't have a grill? First, you should buy one, but if you can't swing it, a grill pan is a great alternative. I went nearly two years without a grill and I used my grill pan weekly as a substitute.
Because no matter what life throws your way, there is something about grilled food and cold beer that makes it seem like all is right in the world again.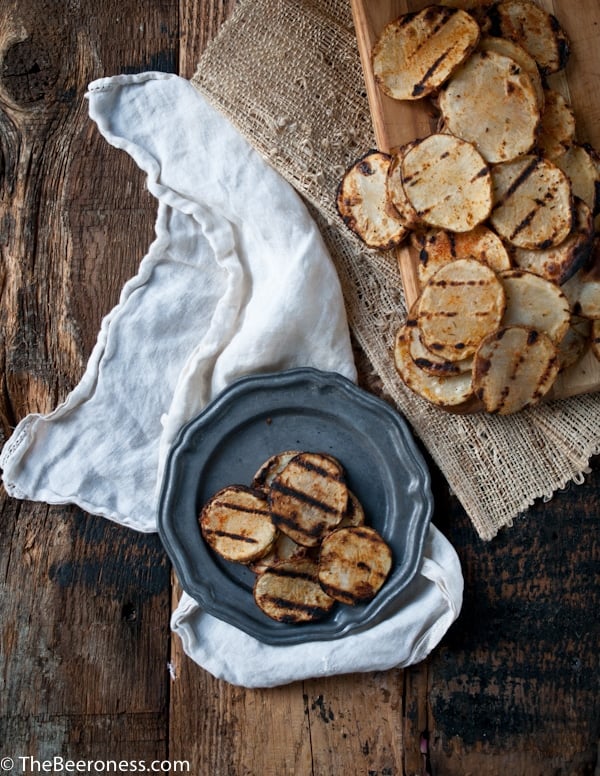 Grilled Beer Soaked Rosemary Potatoes
Ingredients
12

ounces

pale ale

1

tbs

kosher or sea salt

2

lbs

russet potatoes

sliced into ¼ inch rounds

2

tbs

olive oil

1

tsp

garlic powder

1

tsp

onion powder

1

tsp

paprika

1

tsp

sea salt

½

tsp

black pepper

½

tsp

white sugar

2

tsp

chopped fresh rosemary
Instructions
In a large bowl stir together the salt and beer. Add the potato rounds and add enough water until potatoes are fully covered.

Chill for at least 2 hours and up to 12.

Remove from the brine and allow to dry completely on a stack of paper towels.

Add the potatoes to a bowl or baking dish. Drizzle with olive oil and sprinkle with spices, toss until well coated.

Preheat the grill (or a grill pan) to medium high.

Place the potatoes on the grill (working in batches if necessary), until grill marks appear, about 3 minutes. Flip and continue to cook until fork tender, about 3 additional minutes.