Grilled Beer Marinated Prosciutto Wrapped Filet Tip Skewers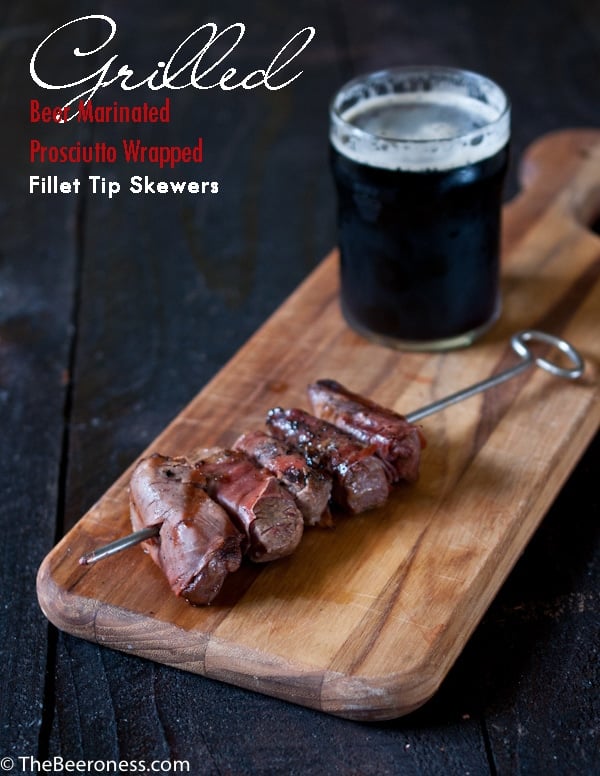 Don't roll your eyes at me. I'm not even sorry that I keep making you skewers.
I'm in a mood to put meat on sticks these days, and the grill is officially open. I've also discovered that filet tips are perfect for getting soaked in beer, stabbed with a metal skewer and thrown on a hot grill. Which makes them my new meat best friend.
Let's talk about those tips I speak of for a second. When you decide it's a good day to throw a Hot Meat Party (normal humans call these "barbecues") and invite your friends to partake in said hot meat for the price of some (hopefully good) beer or other edible offering, you should choose your meat carefully. You want something that's going to impress, but feeding an army of hungry beer thieves takes a lot of meat. Tips can often be less expensive than buying a whole filet and better flavor than buying a cheap cut.
Beer marinading is a must with Hot Meat, the natural meat tenderizing properties of beer give the meat an added ability to stay tender and full of flavor even when exposed to high levels of grill induced heat. It also makes your beer bearing friends so impressed with your grill skills, they'll bring better beer next time.
Grilled Beer Marinated Prosciutto Wrapped Filet Tip Skewers
Ingredients
12

ounces

porter

2

tablespoons

Worcestershire sauce

1

tsp

onion powder

½

teaspoon

plus 2 teaspoons kosher or sea salt, divided

1

lbs

fillet tips

cut into cubes

3

wt oz ounces prosciutto
Instructions
In a bowl or baking dish stir together the porter, Worcestershire, onion powder and ½ teaspoon salt.

Add the filet tips and marinate for 6 to 12 hours.

Preheat the grill.

Remove the filet tips from the marinade, discard marinade.

Place the filet tips on a stack of paper towels, top with more paper towels, allow to dry for about ten minutes.

Salt the filet tips on all sides with remaining salt.

Wrap the filet tips in prosciutto, thread onto metal skewers (or pre soaked wooden skewers)

Grill on all sides until desired level of doneness, about 4 minutes per side for medium.