Grilled Beer Butter Lobster Tails with Thai Chimichurri
Grilled Beer Butter Lobster Tails with Thai Chimichurri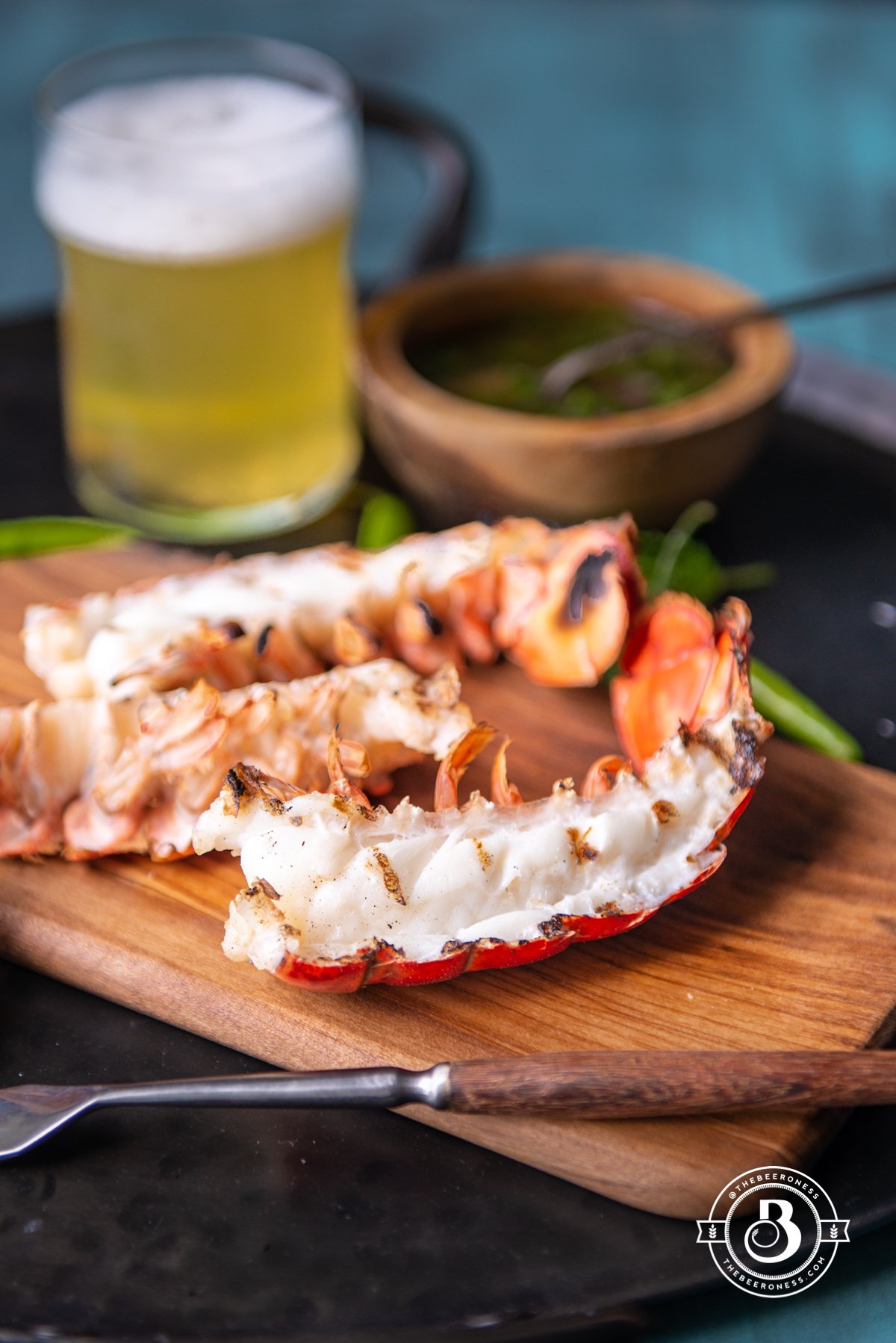 Just decide right now to make this. Just trust me, especially if you don't have a lot of lobster-cooking experience. It's not hard and you won't screw it up, I promise. Lobster tails have had all the hard tasks already done for you. All the scary, stare-a-beast-in-the-face-while-you-kill-it, dirty work has already been completed by the time you step into the picture. You buy just the tail, and it's all ready for you.
This leaves you with the easy part. Just cut it in half, brush it with some beer butter, and toss it on the grill. Well, don't literally toss it, you're not an animal, place it there. PLACE it on the grill and drink your beer and it'll be almost done by the time you realize what you're doing. YOU are making yourself something fancy because it's important to make small occasions, like a Tuesday in the summer, feel important.
It's also important to have something to look forward to, so just decide to make this and your whole week just got better.
Grilled Beer Butter Lobster Tails with Thai Chimichurri
Ingredients
For the Lobster:
4

lobster tails

4

tablespoons (57g)

butter

melted

¼

cup (57g)

IPA beer

½

teaspoon

garlic powder

½

teaspoon

salt
For the Thai Chimichurri:
4

Thai chilies

chopped

¼

cup

minced fresh cilantro

3

large fresh mint leaves

minced

2

teaspoons

fresh ginger

grated with a Microplane

1

large garlic cloves

minced

2

tablespoons

minced shallot

2

tablespoons

lime juice

3

tablespoons

olive oil

½

teaspoon

salt
Instructions
Preheat the grill to medium-high.

Cut the lobster tails in half down the center lengthwise. Remove the vein that runs down the center.

Stir together the butter, beer, garlic powder, and salt. Brush the inside of the lobster tails liberally with butter.

Place lobsters on the grill cut side down, close the lid of the grill, grill for 4 minutes.

Turn the lobsters over, brush again with the butter mixture. Close the lid of the grill and cook for 5 more minutes or until cooked through.

Stir together all the chimichurri ingredients.

Serve the lobster tails along side the chimichurri.