Grilled Artichokes with Crab Filling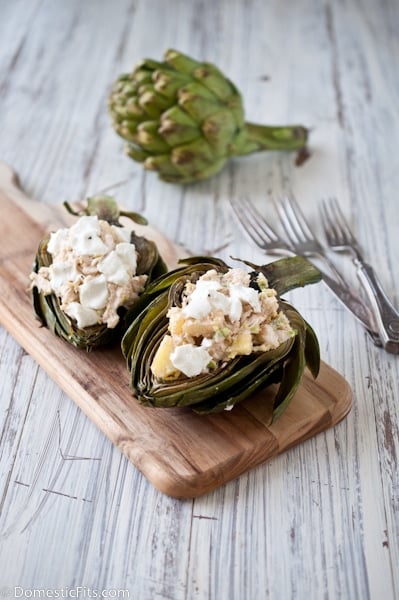 My grill broke last summer. We were in the middle of a move, and I still held onto the hope that we could fix it, so it wasn't replaced. In Southern California, grillin' isn't just a summer activity, it's a year long love affair, making an entire 13 months sans grill a really long time to deprive myself of the chard glory of fire cooked food.
We just replaced it this past weekend and I can't get enough of it. I had been trying to satisfy my urge to grill via my grill pan. Although it is a pretty fantastic pan, after making this corn on my stove top in a grill pan I couldn't take it anymore, I had to have the real thing. I think I've officially reached Grill Junky status, lets hope I can keep it under control.
Hope you don't mind too much, but I'll be posting my grilling adventures over the next few weeks. And probably well into fall.
My favorite pinterest board right now is my Grillin' like a Villain. Feel free to post links to grilled food I should be aware of!
Chicken and Beer Summer Stew
Ingredients
2 tbs olive oil
4 chicken thighs, cut into cubes
salt and pepper
1 red pepper, julienned
2 carrots, peeled and sliced into coins
1 shallot minced (about 1/4 cup)
1 tbs flour
1 cup white ale
1 ear of corn
½ cup shelled English peas
1 tbs fresh lemon juice
¼ cup heavy cream
¼ tsp turmeric
½ tsp salt
5 leaves of basil, sliced into ribbons
1 loaf crusty Italian bread for serving
Directions
Heat olive oil in an enamel cast iron pot or Dutch oven.
Sprinkle salt and pepper on chicken cubes.
Once the oil is hot but not smoking add the chicken, cook until browned on all sides, about 8 minutes. Using a slotted spoon, remove chicken from pot.
Add red peppers, carrots and shallots (plus additional oil if the pan is dry), cook until vegetables have started to soften, about 8 minutes. Add the garlic and cook for about 30 seconds.
Sprinkle with flour, add the beer, scrapping to deglaze the pot, making sure the flour is well combined without lumps.
Add the chicken back into the pot along with the corn and peas.
Reduce heat to maintain a low simmer, cover with the lid at a vent and allow to simmer for ten minutes.
Stir in the lemon juice, remove from heat.
Stir in the cream, turmeric, salt and pepper. Sprinkle with basil.
Serve with bread.
https://domesticfits.com/grilled-artichokes-with-crab-filling/
Copyright �© TheBeeroness.com