Grilled Angel Food Cake with Beer Macerated Strawberries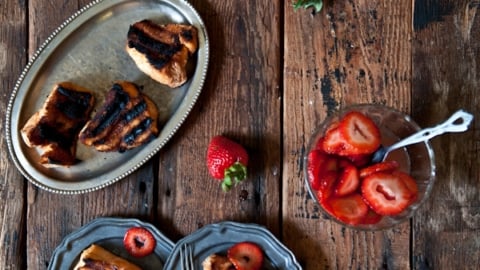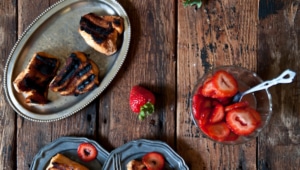 I'd give up most of the cooking equipment in my house in exchange for my grill.
I went two years without one and once I bit the bullet and bought a new one, even I'm amazed at the sheer magnitude of food that can grilled. Clearly cake is a good illustration of that. But I'm also fairly smitten with grilled corn with sriracha butter, and grilled salad (for real), and even pizza (especially pizza).
Because grilling isn't just about the food, it's about the process, it's about the atmosphere, and it's about the fact that you can. Winter has lifted, you are now free to cook your food outdoors over an open flame. It's healthy, but that's not the point. And of all the beer related food, grilling just demands beer.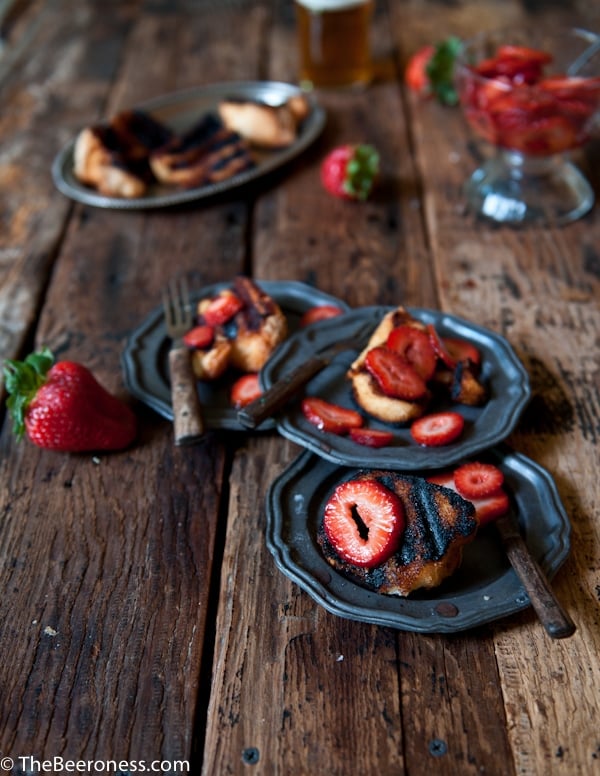 Grilled Angel Food Cake with Beer Macerated Strawberries
Ingredients
1

pint

strawberries

1/4

cup

pale ale or Belgian ale

1/3

cup

granulated sugar

1

angel food cake

½

cup

melted butter
Instructions
In a medium sized bowl stir together the strawberries, pale ale and sugar. Refrigerate for at least an hour and up to 12 hours.

Preheat the grill to medium high.

Cut the angel food cake into 2 to 3 inch slices.

Brush with melted butter.

Grill on each side until grill marks appear, about 2 minutes per side.

Spoon the strawberry soaking liquid over the cake, top with strawberries.
Notes
The melted butter will give more of a charred grilled quality, if you want to lessen that, skip the butter and just add the cake to the grill.
I have this grill, it's fantastic (affiliate link).