Goat Cheese Crostini with Beer Pickled Jalapenos and Mangos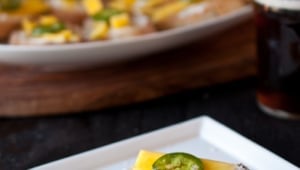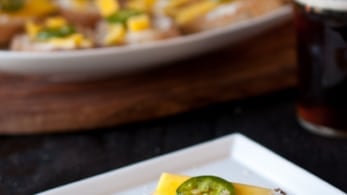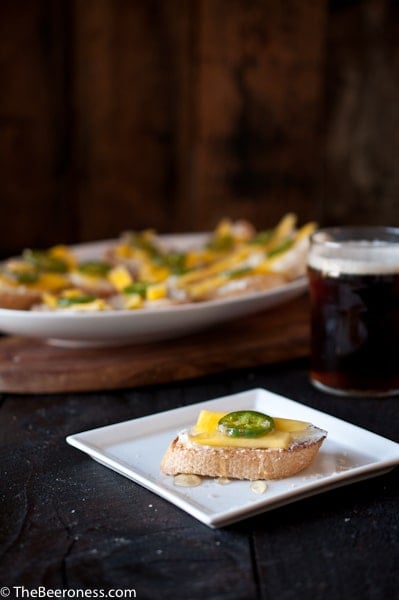 I told you about the time I almost died in Morocco, and the time I was in Dublin without a place to stay during St. Patricks day, but what about the time I was stuck in the drug smuggling capitol of Spain?
(As an aside, it bears mentioning that I apparently did little with my early 20's other than accumulate ridiculous travel stories and the debt that goes along with them.  There are worse things.) 
I was on my way back from Fez, Morocco, a terrifying and beautiful experience, clutching the second half of my round trip ticket between Tarifa, Spain and Tangier, Morocco. The sun was setting over the port and I was shivering under a red fleece travel blanket with my sister, desperate to get back to Spain and still jittery from a 7-hour bus ride through the wild country side of Morocco.
And then a large white ferry boat appeared with the words TANGIER TO TARIFA 30 MINUTES painted on the side pulling into the dock in front of me. Handing my ticket to the port official, and a quick chat with him about how thrilled I was to get back to the charming Spanish town of Tarifa, walking on to that boat felt like I was being salvaged from a scrap yard.
The 30-minute ride turned into 45-minutes and then an hour. Slowly, as the time change pushed us past midnight, the TANGIER TO TARIFA boat started to pull into a port that looked nothing like the quaint Spanish town I remembered. As my sister and I met each other with puzzled looks, we heard an announcement over the crackling loudspeaker.
First in Arabic, then in Spanish, then in English, it ended with, "…Welcome to Algeciras."
It was past midnight, I'd just left a country that almost killed me twice and I had no idea where I was. My sister and I locked eyes, and burst out laughing. It was hilarious, mostly because of sleep deprivation, that I had no idea where I was but at least I probably wouldn't be killed by a mob of young Moroccan men.
We both pull out our respective guide books.  Hers had one sentence about our new destination, "The best thing to do in Algeciras is to leave."
Mine was a bit more diplomatic, "Be careful while in Algeciras, it's the drug smuggling capital of Spain, avoid this spot if possible. If you find yourself here, leave as quickly as you can."
Both of these commentaries on our new local added to the hilarity of our situation. We probably should have been panicked, or upset, or at the very least concerned, we were delightfully amused.
After an overly concerned inspection agent ravaged my backpack, even sniffed my shampoo bottles, I was through customs about the time the clock hit 1 am. The guide books were no help, the Algeciras chapters might as well have just said YOU'RE SCREWED on every page, we decided to wander the streets until we found a hotel or hostel that looked like we probably won't need IV antibiotics after a nights stay.
The least terrifying place we could find apparently figured us for American drug dealers, we must have had that  Brokedown Palace look, and questioned us for twenty minutes. "Why are you in this town? Why so late? Show the passports. Open your bags."
We finally had a room. Two beds, four walls, one door and a window. Sanctuary.
After double checking the locks and climbing into the uncomfortable bed, I found sleep quicker than I ever had before or since.
The next morning I was determined to follow the advice of those who had gone before me. I wanted to leave as quickly as possible, I loved Spain and wanted to see more of it, more of the places that would imbed themselves in my soul. On the way towards the exit, the hostel looked really beautiful and peaceful by the early morning light. Before I left I found a small breakfast set out for the weary travelers. Bread, cheese and fruit. It felt perfect. It was exactly what I needed to feel renewed, like I could take on another day of uncertainty and road travel. It made me glad I was in a strange town with a strange story to tell.
Something about the right combination of good bread, cheese and fruit that makes you feel whole.
Goat Cheese Crostini with Beer Pickled Jalapenos and Mangos
Ingredients
3/4 cup apple cider vinegar
3/4 cup pale ale beer
2 tbs sugar
1 tbs salt
2 ice cubes (about 2-3 tbs water)
2 large jalapenos, thinly sliced*
1 large mango, peeled and sliced julienne
1 sour dough baguette, sliced
4 wt oz Chevre goat cheese
3 tbs raw honey
2 tsp smoked maldon salt
Directions
In a pot over medium high heat add the vinegar, beer, sugar and salt. Stir until the sugar and salt have dissolved, remove from heat.
Add the ice cubes and stir until melted and the liquid has reached about room temperature.
Add the jalapenos and mangos to a small bowl (use separate bowls if you want the mangos not to be spicy, if you pickled them together the mangos will also have heat), pour the liquid over the jalapenos and mangos, cover and refrigerate for at least 1 hour and up to overnight.
Preheat the broiler on your oven.
Arrange the bread slices on a baking sheet. Place under the broiler until lightly golden brown, about 2 minutes. Flip the slices over and place back under the broiler until browned, about an additional 2 minutes. Remove from oven and allow to cool.
Spread each slice with goat cheese.
Drain the jalapenos and mangos.
Add two to three slices of mangos and jalapenos to each bread slice.
Drizzle generously with honey then sprinkle with smoked salt.
Notes
It's impossible to tell how hot a pepper will be. If you are worried about the heat level, remove the seeds. Most of the heat in a pepper is contained in the seeds and seed membrane in the middle of the pepper. Removing all or some of the seeds and membrane will give you an ability to control the heat.
https://domesticfits.com/goat-cheese-crostini-beer-pickled-jalapenos-mangos/
Copyright �© TheBeeroness.com