Fried Coconut Almond Shrimp with Apricot Dipping Sauce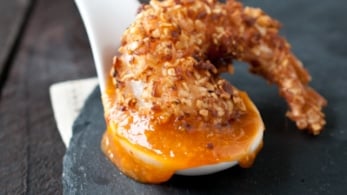 When I edit photos, I just pick the ones that I think are the stand outs (often only one or two) edit those, export and review what I've done.
It wasn't until I pulled this set up in review that I saw that it seemed to tell the story of shrimp desperation. Maybe it's just me, spending too much time behind this computer with limited human interaction, but this is what I see:
First, the recently transformed shrimp, fresh out of a scorching oil bath, sees potential solace in an a pool of amber liquid.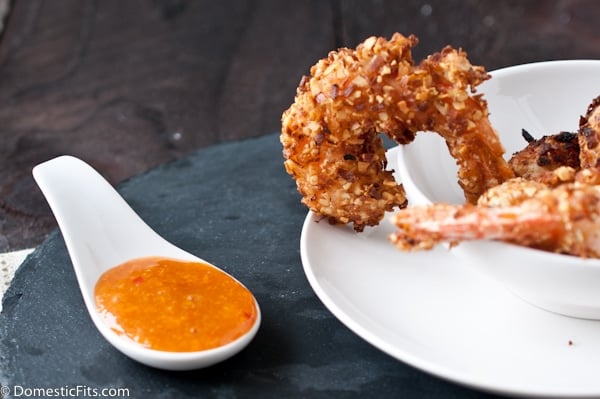 He makes his move, hesitant at first, he throws himself towards the cool pool of dipping sauce that will surely quench the scorching heat that radiates in his coconut crusted core. He's close, but there's still a ways to go before he can dip his heated middle in the apricot flavored oasis. He pushes on, hoping a few more flips will land him in his sticky sanctuary.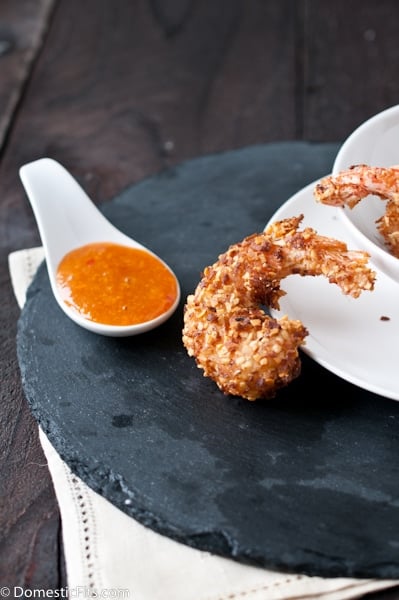 He pulls all the strength he can muster after his recent collision with the deep fryer and launches forward, landing cleanly in the middle of the delicious basin. It's not enough, he wants more. He takes a moment to gather his strength.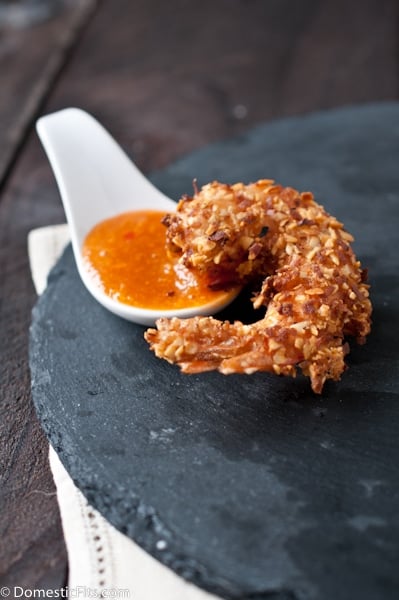 One more explosive shove and he's there, right in the middle of the refreshing wellspring. He lets out a deep sigh.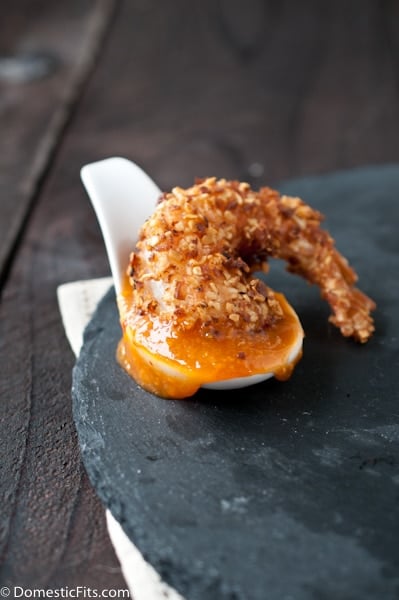 It's ok to judge me for that. I've mostly spared you all from the incessant rambling of my haywired brain, but today has been a long day, you'll have to forgive me. And my shrimp crazed ramblings.
But I do hope you come back tomorrow, I'll have a lovely cocktail for you that will go well with this delicious shrimp.
Beer Marinated Flank Steak with Avocado Cilantro Cream Sauce
Ingredients
2 lbs flank steak
1/2 tsp salt
1/2 tsp black pepper
2 tbs lemon juice
1 cup pale ale
1 garlic clove, minced
2 tbs brown sugar
1 tsp cummin
1/2 tsp chili powder
2 tbs low sodium soy sauce
2 tbs Worcestershire sauce

For the Avocado Cilantro Sauce

1 avocado, peel and seed removed
¼ cup cilantro
2 cloves garlic
2 tbs oil
2 tbs pale ale
¼ tsp salt
Directions
Salt and pepper the steak on all sides, place in a resealable plastic bag. Whisk together the lemon juice, garlic, beer, cummin, chili powder, brown sugar, soy and Worcestershire sauce, pour over the steak, seal the bag well.
Refrigerate for 4-6 hours. Remove from marinade and pat dry.
Grill on a preheated grill until medium rare, about 6-8 minutes per side. Remove from grill, allow to rest for 5 minutes before slicing.
To make the sauce add the remaining ingredients to a blender or food processor, process on high until smooth. Serve steak topped with avocado sauce.
https://domesticfits.com/fried-coconut-almond-shrimp-with-apricot-dipping-sauce/
Copyright �© TheBeeroness.com