Fried Beer Chicken Sliders with Beer Pickled Peaches and Jalapeños
Fried Beer Chicken Sliders with Beer Pickled Peaches and Jalapeños. Fried chicken is SOOOOO good with pickled peaches!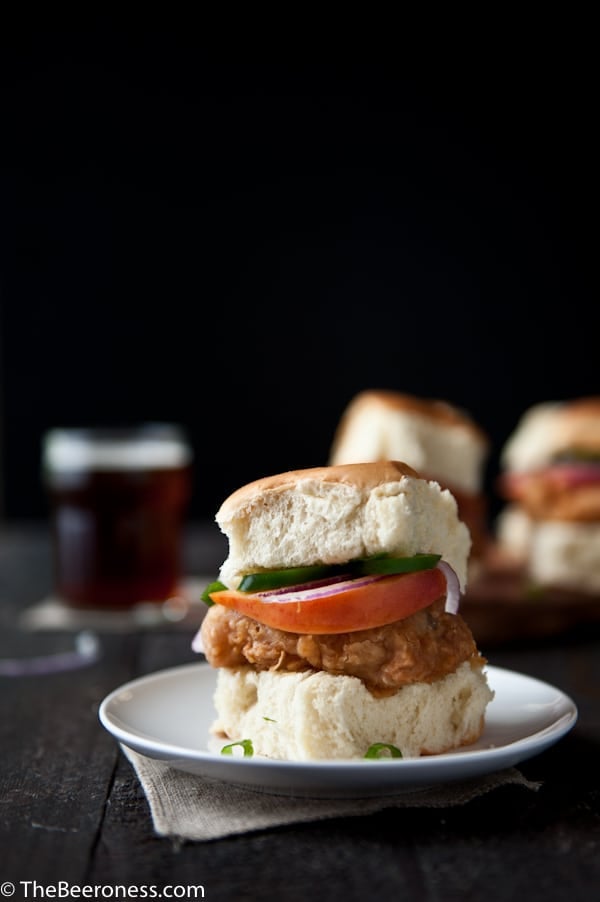 Slider has always been one of those skeevy words that I've tried to avoid. Like, well, the word "skeevy," or the unfortunate times I'm forced to use the word "moist." Like the way "wooded area" is almost always followed by "dead body" or how the word "penetrate" should never be used outside a seventh grade health class as a way to horrify kids into keeping it in their pants for a few more years.
I need a viable replacement word, something more appropriate for a miniature version of a delightful sandwich. I also need replacement words for the multitude of swear words I use on a daily basis, but one thing at a time. I'm much more motivated to find replacement words for "slider" and "moist," those are much less fun to say than my drunken sailor vocabulary.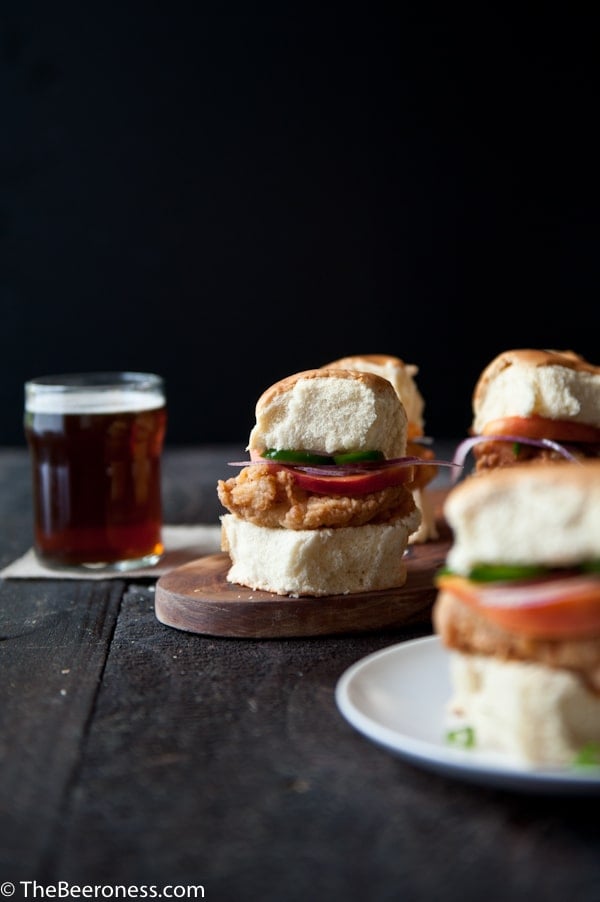 Fried Beer Chicken Sliders with Beer Pickled Peaches and Jalapenos
Ingredients
For the Peaches:
3/4

cup

apple cider vinegar

2

tablespoon

sugar

1

tablespoon

salt

3/4

cup

pale ale beer

2

ice cubes

about 2-3 tbs water

1

large peach

slightly under ripe, firm, sliced
For the Sliders:
2 ½

lbs

boneless skinless chicken thighs

12

ounces

pale ale

1

cup

buttermilk

2

cups

flour

1

tablespoon

brown sugar

1

teaspoon

onion powder

1

teaspoon

black pepper

pinch

cayenne

canola or peanut oil for frying

1

jalapeno

thinly slices

¼

cup

chopped green onion

¼

cup

thinly sliced red onion

12

Hawaiian rolls

split
Instructions
In a pot over medium high heat add the vinegar, sugar and salt, stir until the sugar and salt has dissolved, remove from heat. Stir in the beer and ice cubes, allow mixture to cool to room temperature. Add the peaches to a bowl, pour the pickling liquid over the peaches, cover and refrigerate for 1 hour and up to three days.

Add the chicken to a large bowl or baking dish, cover with beer and buttermilk. Cover and refrigerate for at least 6 hours and up to overnight.

Heat 4 to 6 inches of oil in a large saucepan, using a deep fry thermometer, adjust heat to maintain 350 degrees.

In a shallow bowl combine the flour, brown sugar, onion powder, black pepper and cayenne.

One at a time remove the pieces of chicken from the buttermilk, toss in the flour until well coated, dip back into the buttermilk mixture and then toss again in the flour until well coated. Drop gently into the hot oil, frying until golden brown and the center reaches 165 on a meat thermometer, about 6 minutes.

In a small bowl combine the jalapeno, green onion and red onions.

Split the buns, add a piece of fried chicken, one to two pickled peaches and 1 tablespoon onion jalapeno mixture.