Fiery Thai Kettle Chips and Sweet Potato Burgers with Beer Sweet Chili Cream Sauce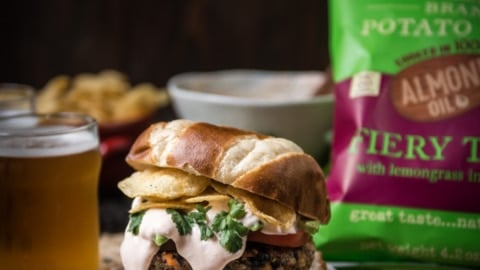 Fiery Thai Kettle Chips and Sweet Potato Burgers with Beer Sweet Chili Cream Sauce
I was a vegetarian for 3 years. Mostly because I grew up on a farm, and I saw how the sausage was made. It didn't stick, but what did stick is my true and complete love for non-meat burgers (and yes, I still love burgers of the meat-based variety, I just see them as two different things).
The flavors you can get from a patty made with a bowl full of produce is rather staggering, and this burger is easily my favorite.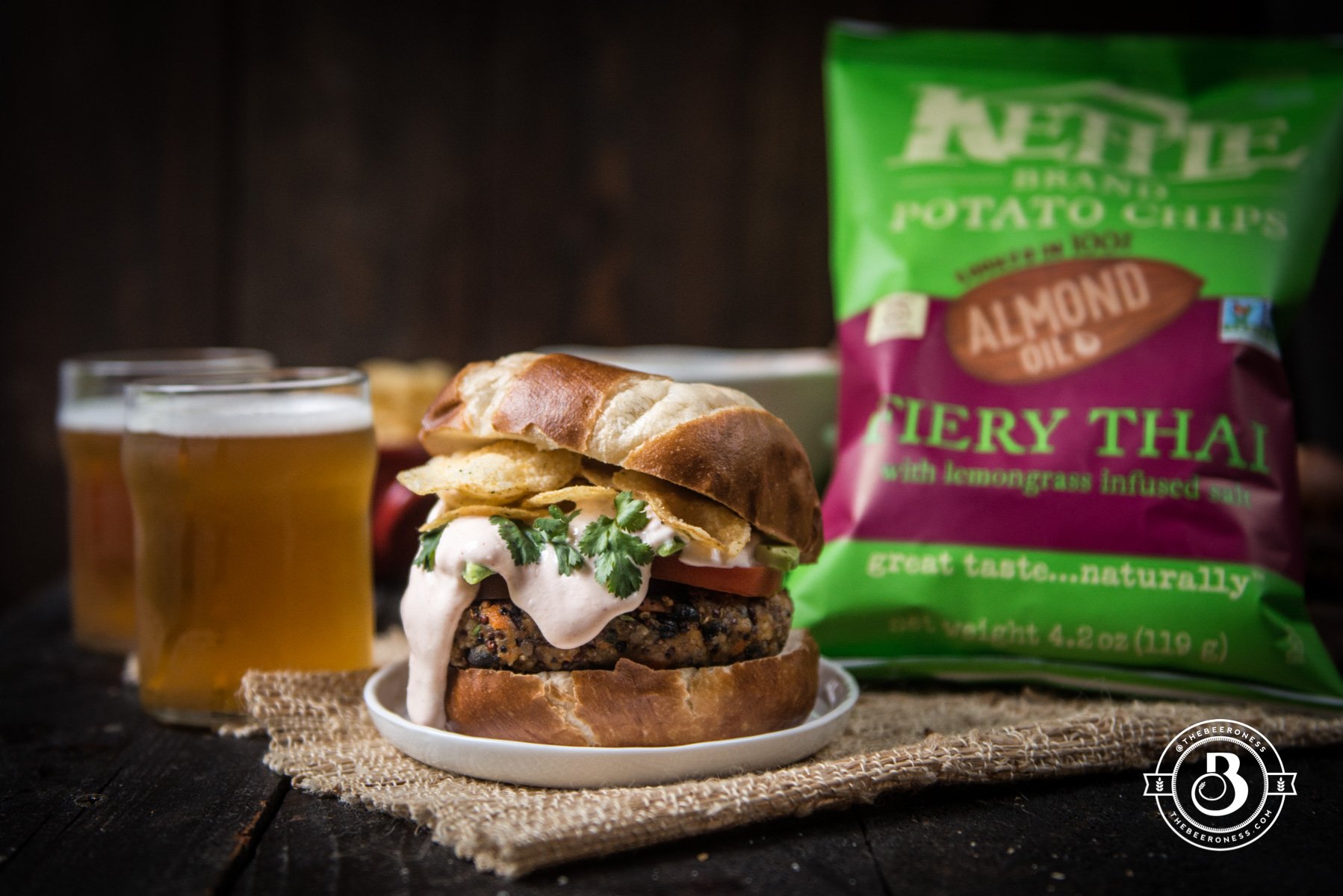 I'd love to take credit for the depth of flavors, but it's due in no small part to these chips. Even when turned into crumbs and buried in a ton of other bold flavors, you can taste the heat and the lemongrass from the Kettle Brand Fiery Thai potato chips!
The burger also just so happens to pair beautifully with a winter ale. The malt and spices of a good winter ale will taste fantastic with the flavors of sweet potatoes, smoked paprika, and lemongrass.
I'm not going to lie to you, you can always see right through me. I ate these burgers for three meals in a row. I even put an egg on a patty, added some avocado and sweet chili sauce and ate it for breakfast. And I'm not even sorry about it.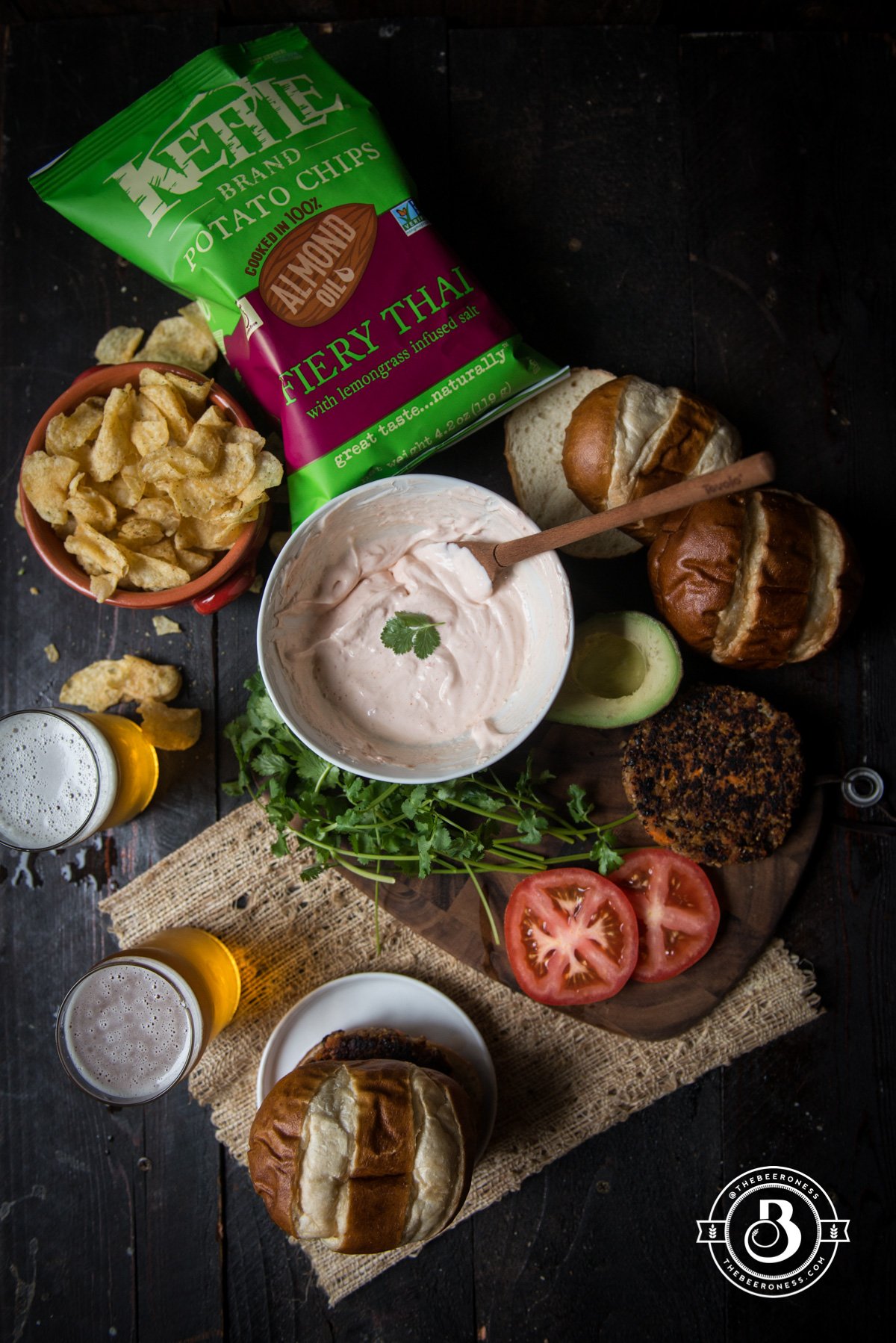 Fiery Thai Kettle Brand Chips and Sweet Potato Burgers with Beer Sweet Chili Cream Sauce
Ingredients
For the Burgers
1

lbs

sweet potatoes

3

tablespoons

olive oil

divided (plus more as needed)

1

4.2 oz bag of Kettle Brand Fiery Thai Potato Chips

¼

cup

rolled oats

1

cup

quinoa

red or black, cooked (1/3 cup pre-cooking volume)

1

can black beans

rinsed and drained

2

tablespoons

cilantro

minced

2

tablespoons

green onions

minced

1

teaspoon

garlic powder

¼

teaspoon

smoked paprika

3

tablespoons

beer

winter ale, rye, Bock

6

hamburger buns

1

large avocado

sliced

1

tomato

sliced

Additional potato chips for garnish

if desired
For the Sauce:
1

cup

sour cream

¼

cup

Thai sweet chili sauce

1

tablespoon

beer

winter ale, rye, Bock

1/8

teaspoon

cayenne pepper

½

teaspoon

salt

½

teaspoon

garlic powder
Instructions
Preheat oven to 375° F.

Peel the sweet potatoes, then cut into cubes. Add to a baking sheet, drizzle with 2 tablespoons olive oil. Roast until the potatoes are fork tender, about 20 minutes (boiling the potatoes will add too much moisture to the filling).

Add the potato chips and the oats to a food processor, process until just crumbs remain.

In a large mixing bowl add the chip crumbs, sweet potato cubes, cooked quinoa, black beans, cilantro, onions, garlic powder, smoked paprika, and beer. Mix until well combined. Form into 6 large patties, about ¾ inch tall.

Heat remaining olive oil in a skillet over medium high heat, cook the patties until golden brown on each side, adding more olive oil to the pan when it starts to dry.

In a small bowl stir together the sauce ingredients.

Plate burgers in the buns topped with avocado slices, tomato, sauce and potato chips (if using), serve immediately.

To make in advance, make the burger patty mixture, add to an air tight container, chill for up to three days before using.