Everything Bagel Beer Butter and Potato Dinner Rolls
You HAVE to make these: Everything Bagel Beer Butter and Potato Dinner Rolls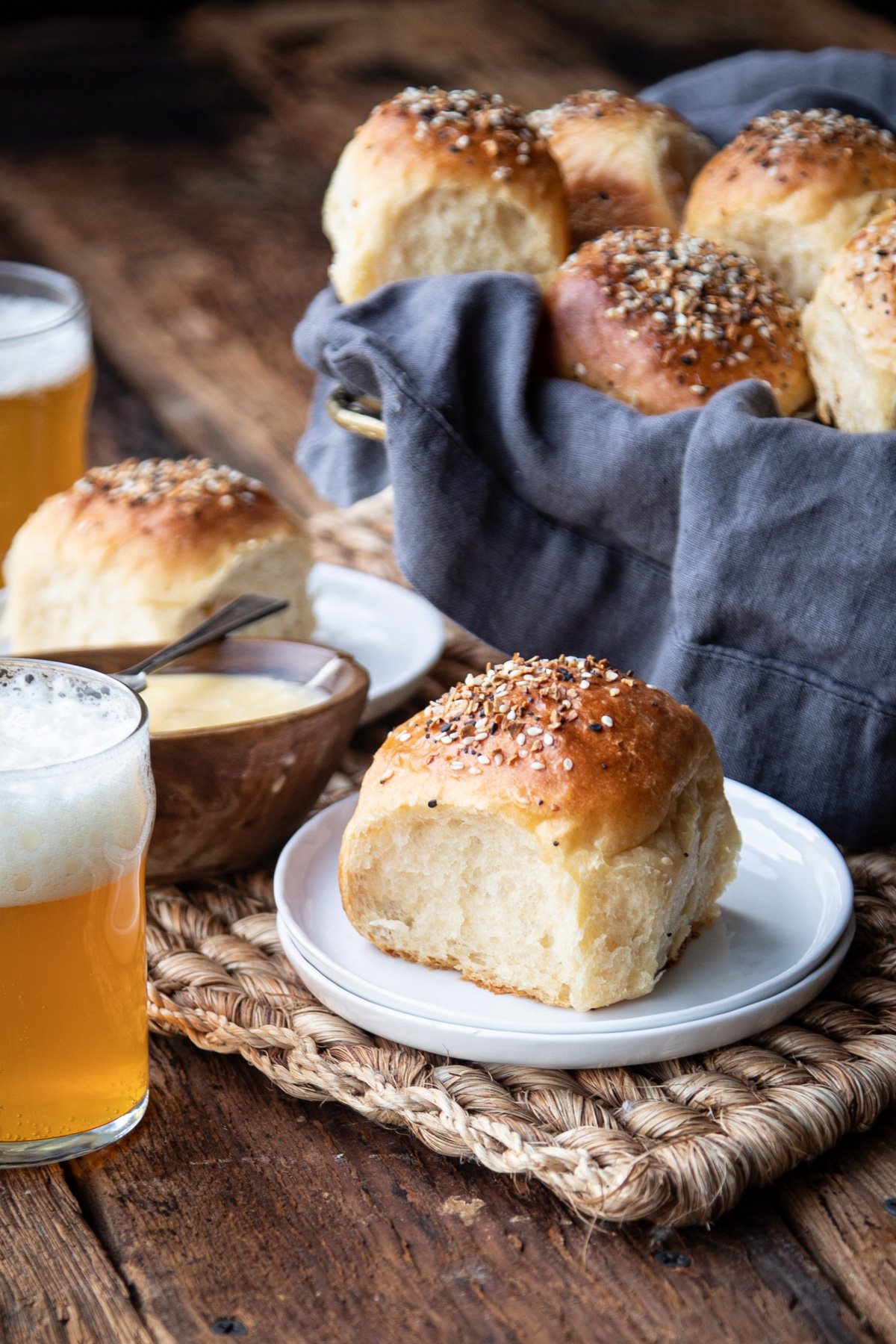 If you were forced (yes FORCED) to rank all Thansgiving foods by how much you want to binge eat them, where would rolls rank? And why would turkey not even make the top 5?
Rolls easily rank #1 for me (beer doesn't count, it's the free space in the middle of this bingo board). Then mashed potatoes, followed by pie. Turkey still doesn't crack the top 3, even when I beer brine it and confit it, which is my absolute favorite way to make it.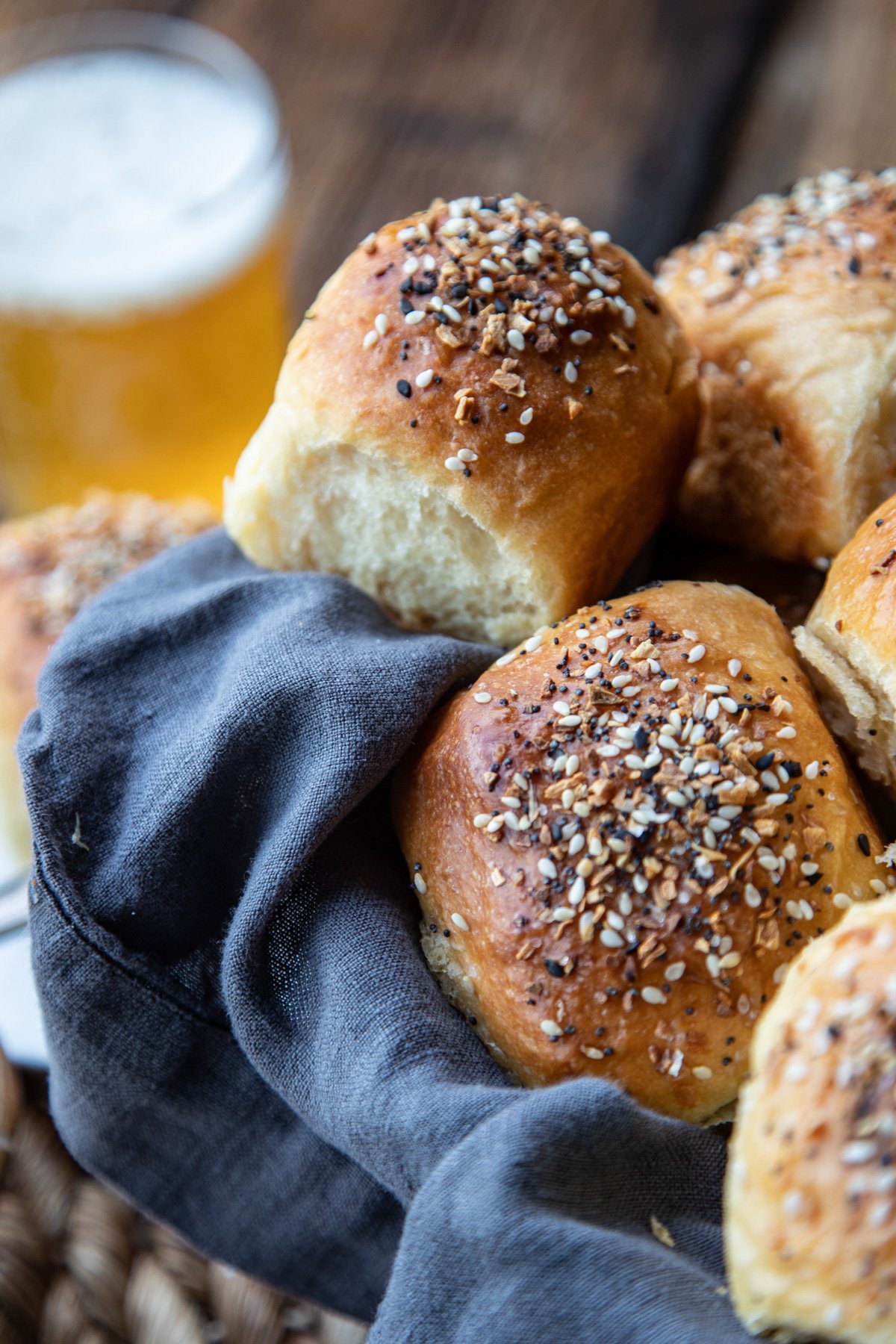 These potato and beer infused rolls are my go-to when it comes to holiday carb fueled food celebrations. Soft, pillowy, and perfect for the next day leftover-sliders-food-fest. Call me crazy, but I vastly prefer leftovers to the actual meal, especially since it's almost guaranteed that you'll eat them in your pajamas and that just makes everything taste better.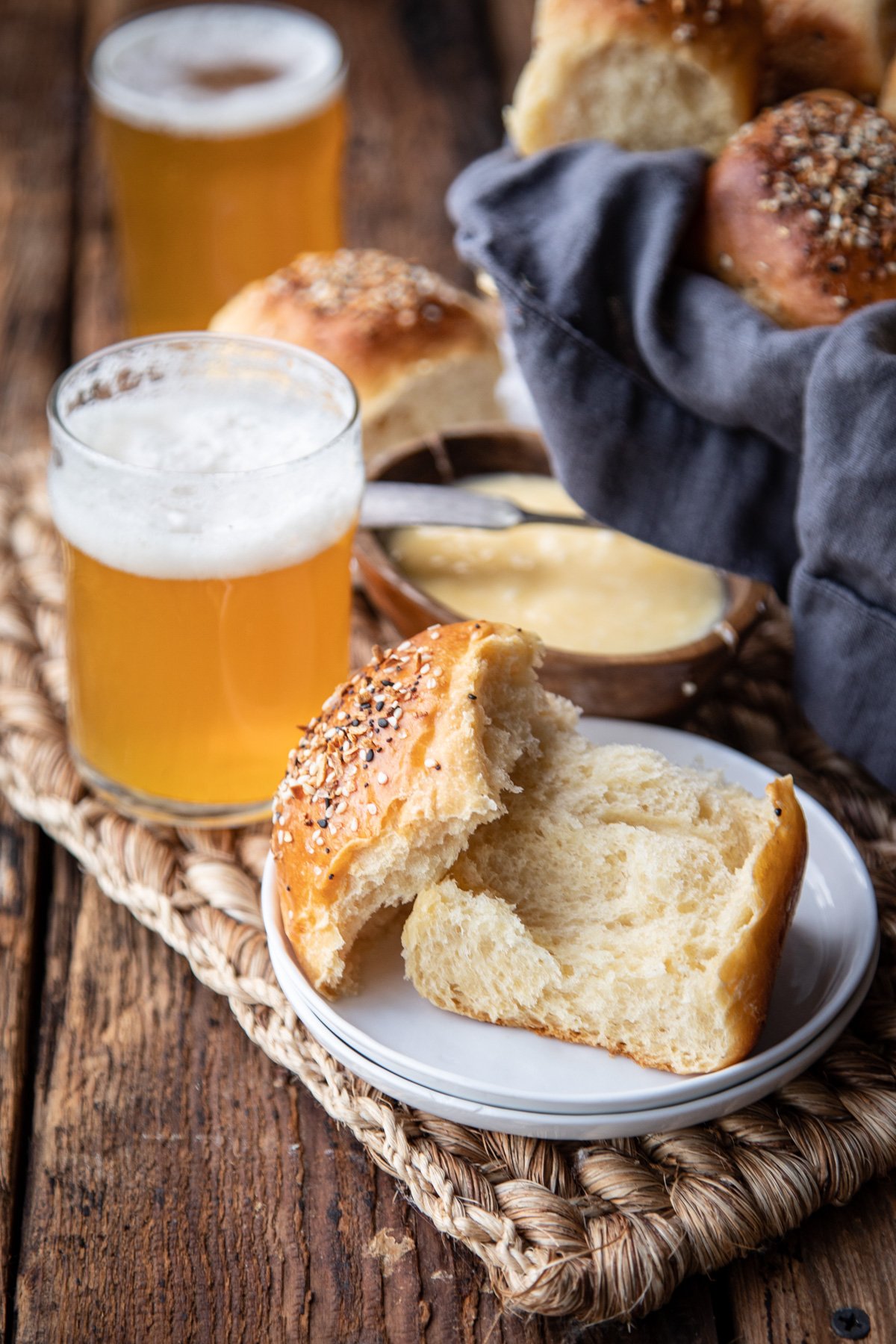 Everything Bagel Beer Butter and Potato Dinner Rolls
Ingredients
½

cup

(114g) butter

½

cup

(114g) whole milk

½

cup

(114g) wheat beer

1

tablespoon

(21g) honey

3

cups

(360g) all-purpose flour

1

packet

2 ¼ teaspoons Rapid Rise yeast

1

teaspoon

garlic powder

1

teaspoon

onion powder

⅓

cup

(40g) potato flakes

1

teaspoon

salt

1

large egg room temperature

Egg wash

1 egg, 1 tablespoon water, beaten

2

tablespoons

everything bagel seasoning mix
Instructions
Melt the butter in a microwave safe bowl. Add the milk, beer and honey. Heat until 120°-130°F (if your yeast packet mentions a different temperature, use that temperature instead).

In the bowl of a stand mixer, stir together the flour, yeast, garlic powder, onion powder, and potato flakes.

Add the beer mixture, stirring on medium speed until most of the flour has been moistened. Add the salt and egg, stir until well combined and the dough gathers around the blade.

Oil a large bowl. Using wet hands, move the dough to the bowl. The dough will be very soft and sticky.

Cover and allow to rise until doubled in size, about 45-60 minutes.

Preheat oven to 350°F.

On a well-floured surface add the dough. Cut into 12 equal sized pieces.

Roll into tight balls, add to a 9x13 baking pan sprayed with cooking spray.

Cover and allow to rest until doubled in size.

Brush with egg wash, sprinkle with seasoning mix.

Bake uncovered until golden brown, about 25 minutes.

Serve warm.