Easy Homemade Sandwich Bread
We do this resolution thing every year, and although I love a good goal setting exercise, we can tend to favor resolutions that are a bit self-deprecating. Maybe you don't need to hate yourself of that credit card debt or those extra pounds. Maybe our resolutions should be about learning something new, tapping into those great talents we already have and exploring them. Or expanding on interests we already have.
I want to make more food from scratch. I'm already a person who eats very little processed food, but sandwich bread is something I've always bought from the store. I buy good bread, but there is always a long list of ingredients most of which I'm not completely sure what it is and one of which may or may not be made from human hair (so gross).
A few weeks ago I started to make my own from scratch. As part of my Sunday routine (a day I'm almost always in the kitchen anyway) it's become easy, simple, even second nature. It's also infinitely better tasting and a fraction the price.
And I know all the ingredients, it's a win all the way around.
Step one: 
Add the flour, yeast and sugar to a stand mixer (sugar feeds yeast so add it to make sure your yeast is nice and active).
Step Two:
Add the milk and water to a microwave safe bowl and heat to 120 to 130 degrees on a cooking thermoeter. This is for Rapid Rise yeast. If you use regular Dry Active yeast, just heat it to 110 (the package will say what temperature is best for the yeast you're using). Add the warm liquid to the stand mixer and mix on high. once most of the flour has been moistened, add the oil and the salt.
Step three:
Beat on high until the dough has started to gather around the hook and is no longer sticky, this will take about 8 minutes.
It will look like this for a while: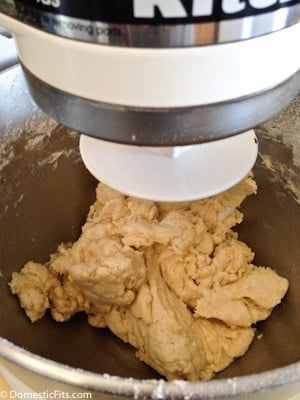 Keep mixing until it looks like this:
Step Five:
Add to a lightly oiled bowl, cover and allow to sit in a warm room until doubled in size, about an hour.
Step Six:
Knead a few times on a lightly floured surface. Form into a long rectangle (you want the width of the rectangle to be about the length of your loaf pan.)
Step Seven:
Preheat your oven to 350.
Roll the rectangle into a log and add to your loaf pan. Cover and allow to rise until about doubles in size.
Step Eight:
Brush with melted butter and bake at 350 for 30-35 minutes or until golden brown.
Ingredients
1/3 cup corn kernels
2/3 cup brown sugar
2 tbs light corn syrup
½ cup imperial stout, plus 2 tbs, divided
4 tbs butter
1 tsp coarse sea salt
Directions
Preheat oven to 250.
Place the corn kernels in a brown paper bag. Fold the top over. Place in the microwave (long side down), microwave on high for 4 minutes. When the popping starts to slow to about one pop per one second, remove from microwave. Measure out 7 cups of popcorn (if there is less than 7 cups, pop additional kernels in the same manner, if there are more than 7 cups, reserve the remaining popped corn for another use).
Spray a large baking pan with cooking spray.
Add the corn kernels to the baking sheet in an even layer, place in the oven until the caramel sauce is ready.
Add the brown sugar, light corn syrup, ½ cup stout and butter to a saucepan over high heat. Stir until the sugar dissolves, stop stirring. Allow to boil for 7 minutes, without stirring. Remove from heat, immediately stir in the remaining 2 tablespoons stout.
Spray a silicon spatula with cooking spray (except the handle).
Gently pour the caramel sauce over the corn, stirring to coat.
Bake for 20 minutes at 250, stir, and bake for an additional 20 minutes.
Remove from oven and spread evenly onto a sheet of parchment or wax paper, sprinkle immediately with salt. Allow to cool, until hardened. Store in an air-tight container.
https://domesticfits.com/easy-homemade-sandwich-bread/
Copyright �© TheBeeroness.com
Adapted from King Arthur Flour Classic Sandwich Bread Recipe