Dynamite Sushi and Beer Dip
Dynamite Sushi and Beer Dip
I know, I know. Don't look at me like that. I know this is absurd. It's not even really "sushi." But don't sit there and tell me that you don't love those baked scallop rolls that taste more like nachos than they taste like legit sushi as much as I do.
It's the guilty pleasure of Western sushi joints, filled with warm, creamy, sriracha laced seafood and it's amazing. I'm hoping that all the legitimate sushi connoisseur and  Japanese chefs will forgive how I've bastardized their favorite cuisine. Mostly because it's really good.
It's supposed to be an appetizer, something you bring to a game-day-party or girls-beer-night. That was my plan. But then I decided that since it started to snow again today, it's also survival food and I should just eat it for lunch. So I did. Please don't hate me.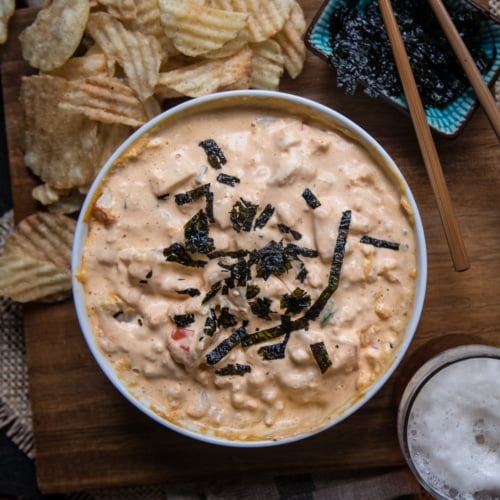 Dynamite Sushi and Beer Dip
Ingredients
8

oz

cream cheese

softened

¼

cup

mayonaise

3

tablespoons

sriracha

¼

cup

pale ale beer

2

tablespoons

green onions

½

teaspoon

salt

½

lbs

scallops or bay scallops, chopped

½

lbs

bay shrimp

½

teaspoon

Nanami Togarashi Japanese chili pepper seasoning*

4

imitation crab sticks, chopped

4

sheets

roasted nori snacks, thinly sliced
Instructions
1. Preheat oven to 350°F.

2. Add the cream cheese, mayo, sriracha, beer, salt and green onions to a mixing bowl. Use a hand mixer to beat until smooth.

3. Stir in the scallops, shrimp, crab, and Nanami Tograshi. Add to an oven safe serving bowl.

4. Bake for 18-20 minutes or until warmed through.

5. Sprinkle with Nori, serve with chips.
Notes
*Nanami Togarashi is sold in the Asian section of most super markets, it often comes in a small red and white glass container.