Dulce de Leche Beer Cinnamon Roll Knots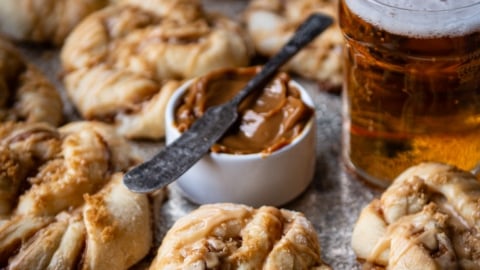 Dulce de Leche Beer Cinnamon Roll Knots (step-by-step) with photos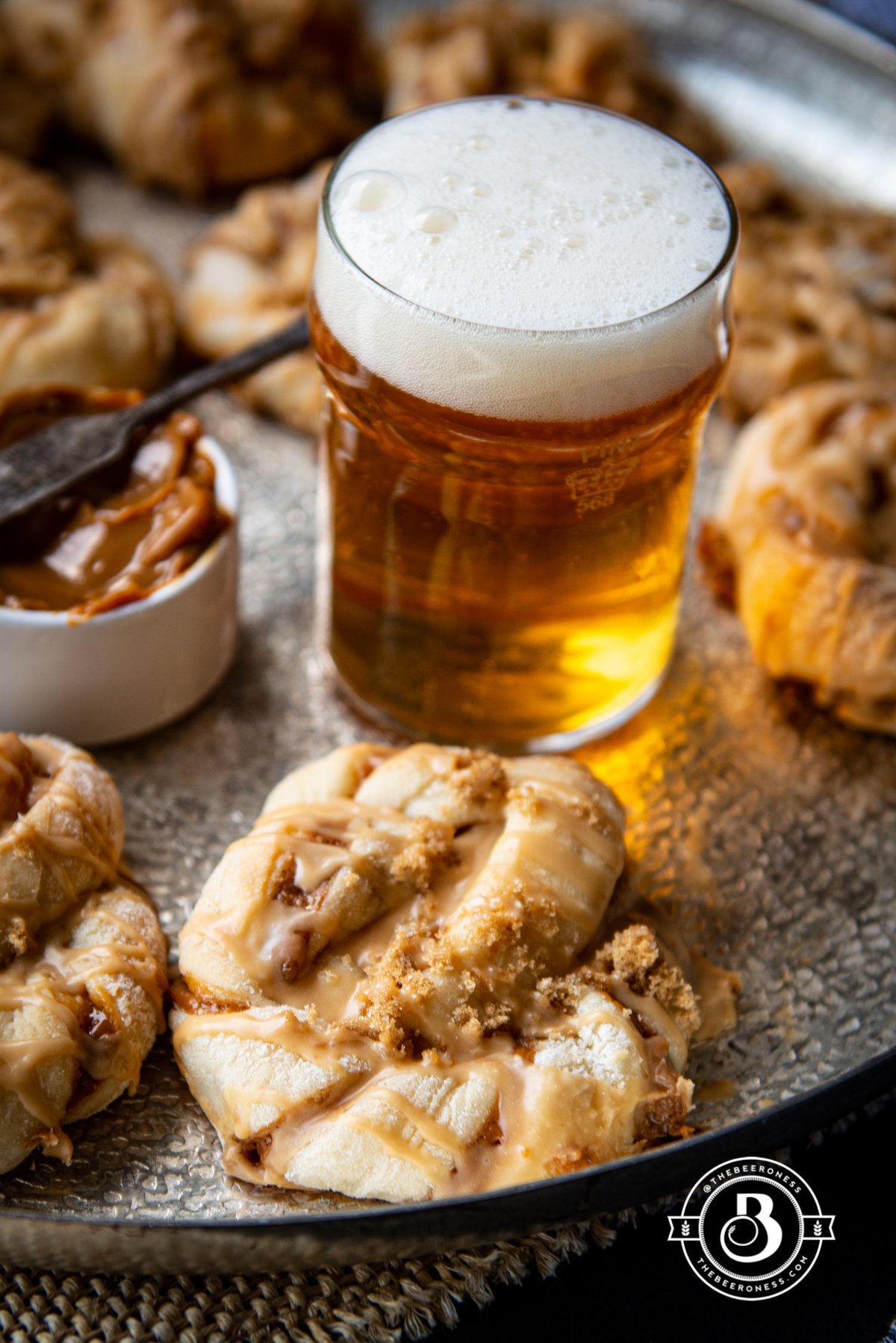 I know, I KNOW! I am the actual worst. Here you are, trying to be healthy in the New Year and I do THIS to you. This is because I am a world-class enabler and I like people to be happy. And these make people happy. It's flawed logic, I know this as well, but I will continue along this path as if I don't know this. Please look away, nothing to see here.
You can also use these for inspiration, for "pin it and make it later", for "this is what I will make when I'm not as concerned with health and fitness". Which, let's be honest, will probably be in like 2.5 weeks.
I will tell you this, they are fantastic. Perfect for you to save for that day when you can have all your people over for brunch, and let's all hope that day is SOON.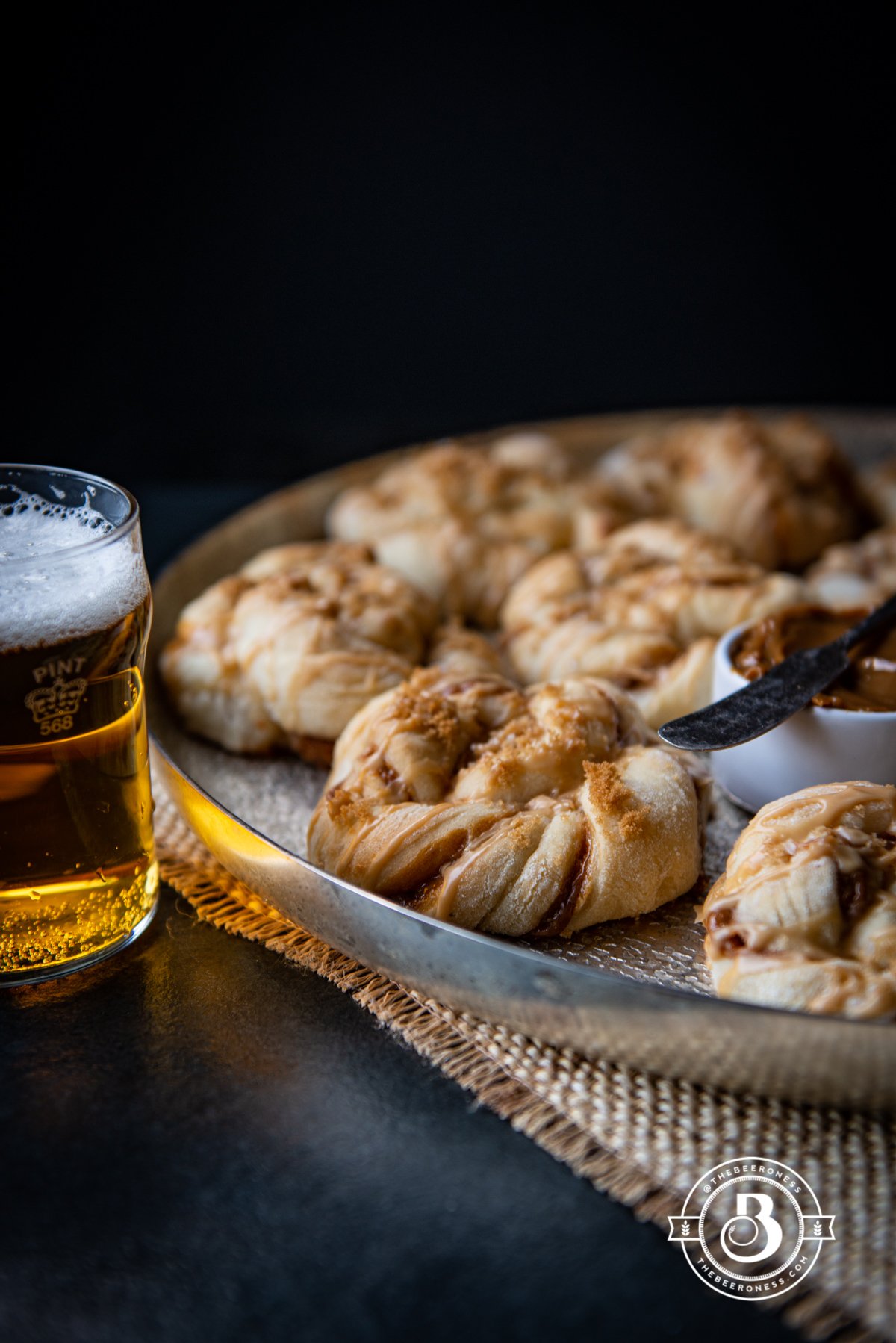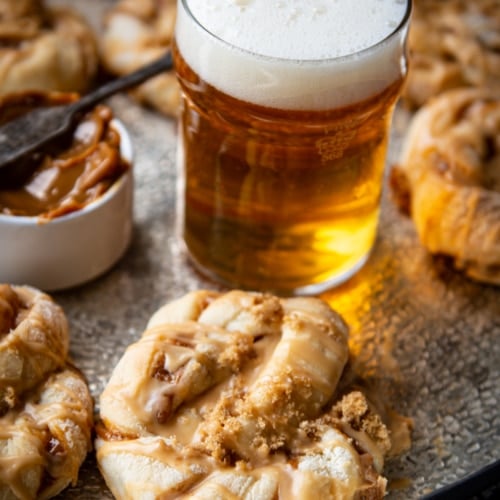 Dulce de Leche Beer Cinnamon Roll Knots
Ingredients
Dough:
2 ¾

cups

(330g) flour, plus more as needed

2

tablespoons

sugar

1

packet

2 ¼ teaspoons rapid rise yeast

1

cup

beer

pilsner, pale ale, wheat beer

6

tablespoons

(85.5g) melted butter

½

teaspoon

salt
Filling:
1

cup

(138g) dulce de leche

for homemade, see note below

1

tablespoon

cinnamon

Pinch

ground nutmeg

½

cup

(100g) brown sugar

divided
Icing:
1

cup

(120g) powdered sugar

2

tablespoons

dulce de leche

2

tablespoons

water
Instructions
Add the flour, sugar, and yeast to a stand mixer. Mix until just combined.

Heat the beer and melted butter to 120°-130°F (always defer to the liquid temperature listed on the package of yeast, regardless of what the recipe says. Your yeast package says 105°F? Heat the liquid to that temperature) add the beer to the stand mixer, mixing until all the flour has been moistened.

Add the salt, beat until the dough comes together and gathers around the blade. Transfer to a lightly oiled bowl, cover, and allow to rise until doubled in size.

Add the dough to a lightly floured surface, roll into a rectangle about 8 inches wide and 20-24 inches in length.

Cut in half.

Spread dulce de leche on half (warm if necessary to make it more spreadable) sprinkle with cinnamon, nutmeg, and ¼ cup brown sugar.

Place the other dough half on top of the dulce de leche half to sandwich the filling between the two pieces of dough.

Cut into 10-12 strips.

Twist the strips.

Form into a loose loop.

Place one end over the top with the end in the center of the loop.

Place the other end underneath the loop to meet up with the first end.

Place knots on a baking sheet covered with parchment.

Sprinkle with brown sugar.

Allow knots to rest while you heat the oven to 350°F, about 20 minutes. Bake for 22-25 minutes or until golden brown. 

Stir together all the icing ingredients. Drizzle knots with icing, allow to cool until the icing has set. 
Notes
*I made dulce de leche in a pressure cooker, it just takes one ingredient (or three if you want to add salt and vanilla but that's optional) and about 3 minutes of active time. You can also make it on the stovetop. For full instructions see this post:
Chocolate Stout Cookies with Salted Dulce De Leche Filling