Duck Confit on IPA Potato Cakes with Stout Pomegranate Sauce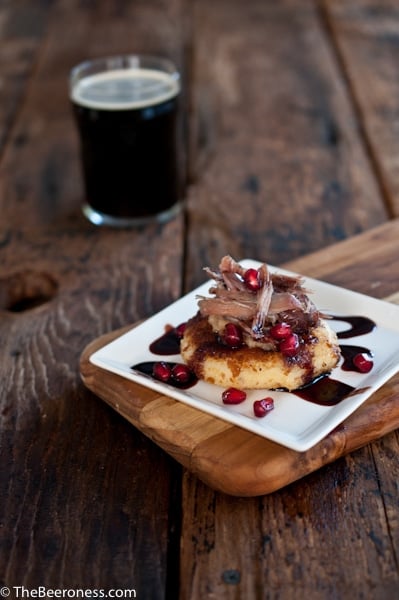 What the hell does Confit mean, anyway?
The culinary world is full of high brow words that can be used to dazzle and confuse the mainstream masses, that in reality just define simple principles.
Charcuterie? Just a meat plate.
Crutites? Just raw vegetables.
Braise? Sear in hot pan then cook slow and low in liquid.
Canapé? Any type of finger food.
And that brings us to confit. Sounds difficult and intimidating but it just means to cook in oil or fat at a low temperature for a long time. It was originally invented as a way to preserve meat and chefs quickly found that it worked wonders on duck and goose. The greatest gift that the Confit Inventor gave to the modern day busy entertainer is that it can be made a week (some say months) ahead of time. The flavors just keep getting better.  It's an easy and nearly foolproof way of cooking like a Culinary Superhero even if you only have a few successful meals under your cookin' belt.
I made this twice, the second time I just served the duck over a pile IPA mashed potatoes (rather than making the cakes) with the stout pomegranate sauce and a sprinkle of pomegranate seeds, turned out beautifully. It was so good I'm already planning on making it again. It's my new Go-To fancy dinner party meal.
Don't let the deluxe title fool you, use it as a way to dazzle and impress others. Just don't let them know how easy it was.
Duck Confit on IPA Potato Cakes with Stout Pomegranate Sauce
Ingredients
For the Duck:
8

duck legs

¼

cup

kosher salt

6

garlic cloves

peeled

2

tbs

fresh thyme

chopped

3

cups

duck fat

¼

cup

olive oil
For the Stout Pomegranate Sauce:
16

fl oz pomegranate juice

1

cup

imperial stout

¼

cup

balsamic

½

cup

pomegranate seeds
For the Potato Cakes:
4

lbs

potatoes

peeled, sliced

8

tbs

butter

cut into cubes

1/3

cup

cream

1/3

cup

IPA beer

½

tsp

salt

½

tsp

pepper

1

egg

1

cup

milk

½

cup

flour

2

cups

Challah bread crumbs

see note

3

tbs

olive oil
Instructions
To make the duck:
Sprinkle a thin layer of kosher salt in a baking pan. Arrange the duck legs in an even layer over the salt. Sprinkle with chopped thyme, press the garlic cloves onto the duck legs. Sprinkle with remaining salt. Cover and chill for 24 hours.

Preheat oven to 275.

Remove duck from pan, rinse well, return to a clean, salt free pan.

Cover with duck fat and olive oil.

Cook at 275 until duck is falling off the bone, about 3 hours.

Cover and chill for 24 hours and up to a week (some chefs state that duck confit can last up to two month chilled in fat, and flavor gets better over time. However, there is a slight increased risk of food born illness after 8 days).

When ready to serve, return to 300 degree oven until warmed through. Gently shred, remove from oil to drain.
To make the Sauce:
Add the pomegranate juice, stout and balsamic to a saucepan over medium high heat. Bring to a boil. Reduce heat to a simmer and cook, stirring occasionally until thickened and reduced, about 15 minutes. (Can be made a week ahead of time. Chill until ready to use, heat slightly under warm running water before drizzling. I store this in a plastic squeeze bottle).
To make the potato cakes:
Cook the potatoes in lightly salted boiling water until fork tender. Drain and add potatoes to a stand mixer along with butter, cream, IPA, salt and pepper, mix on medium speed until well combined.

Form into 4 inch wide by one inch high cakes, place on a baking sheet covered with wax paper. Chill for one hour and up to 24.

In a small bowl Wisk together the egg and milk. In a separate bowl add the flour. In a third bowl add the breadcrumbs.

Heat the olive oil in a large pan over medium high heat. One at a time dredge the cakes in flour, then dip in milk mixture, then coat with breadcrumbs.

Fry in hot olive oil until golden brown, 2 to 3 minutes per side. Remove from pan, allow to drain on a stack of paper towels.

To plate add the cakes to serving plates, top with duck meat, drizzle with stout pomegranate sauce, sprinkle with pomegranate seeds.
Notes
To make Challah breadcrumbs, add ½ a challah loaf to a food processor and process until just crumbs. Pour crumbs in on a baking sheet in an even layer. Bake at 350 until golden brown, about 6 minutes.
I use the Duck Fat
  you can also find it at Sur La Table and it also works wonders with potatoes. (Affiliate Link)