Drunk Ramen Carbonara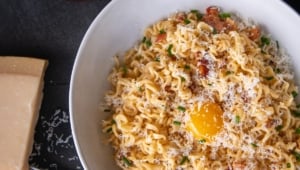 Drunk Ramen Carbonara, the ultimate pantry meal!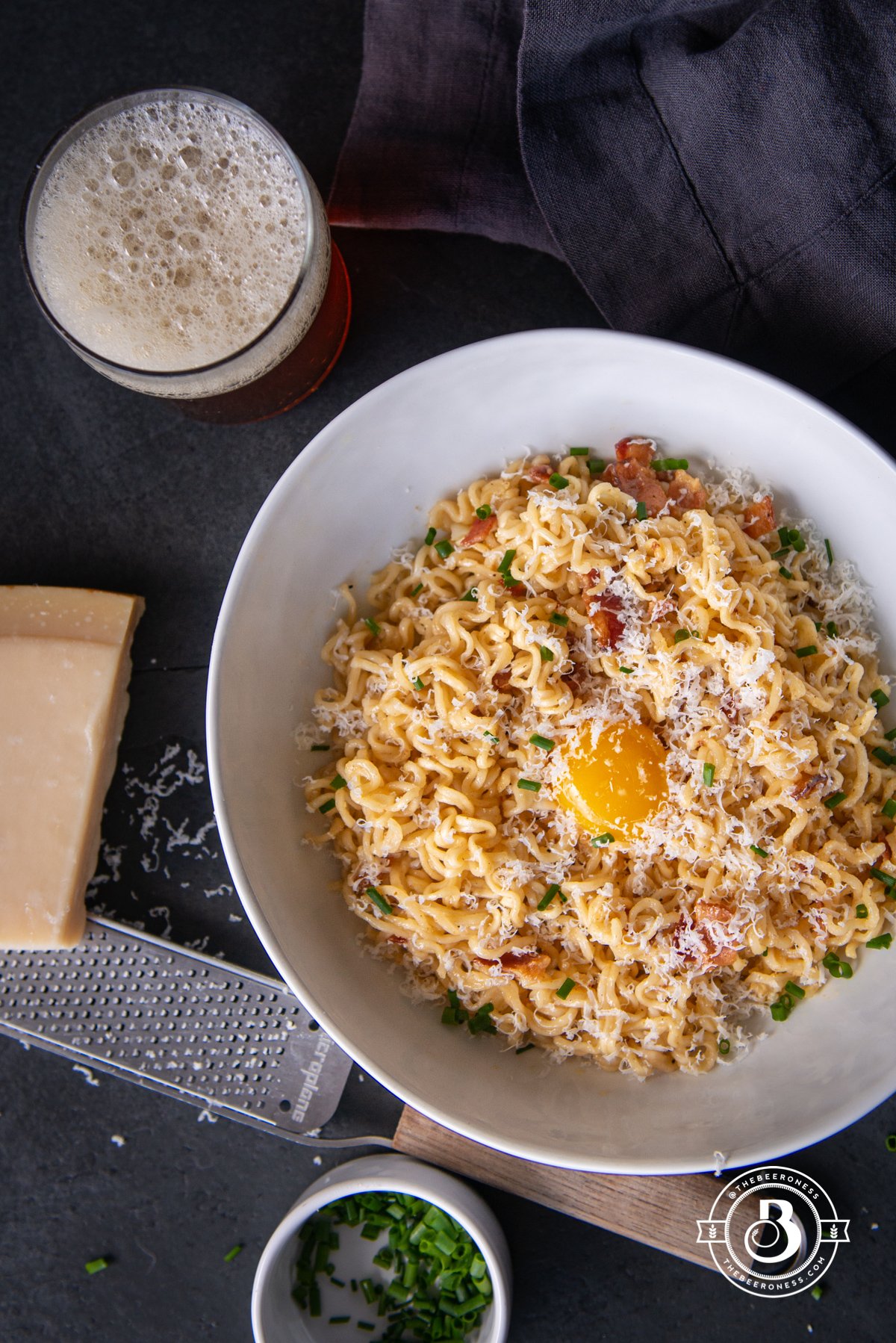 I don't want to tell you how to live your quarantine life, but you should make this. It's a huge step up from just eating a package of store-bought ramen, which, let's be honest, we all want to do right now. It makes you feel like you've actually accomplished something, you made carbonara! You so fancy!
But in reality, it only takes about 20 minutes. It's the positive news we all need right now. Are you gravitating towards the good news these days or the bad? It seems as though we are all either bad-news-seekers or give-me-the-good-stuff-readers. I'm in the second camp.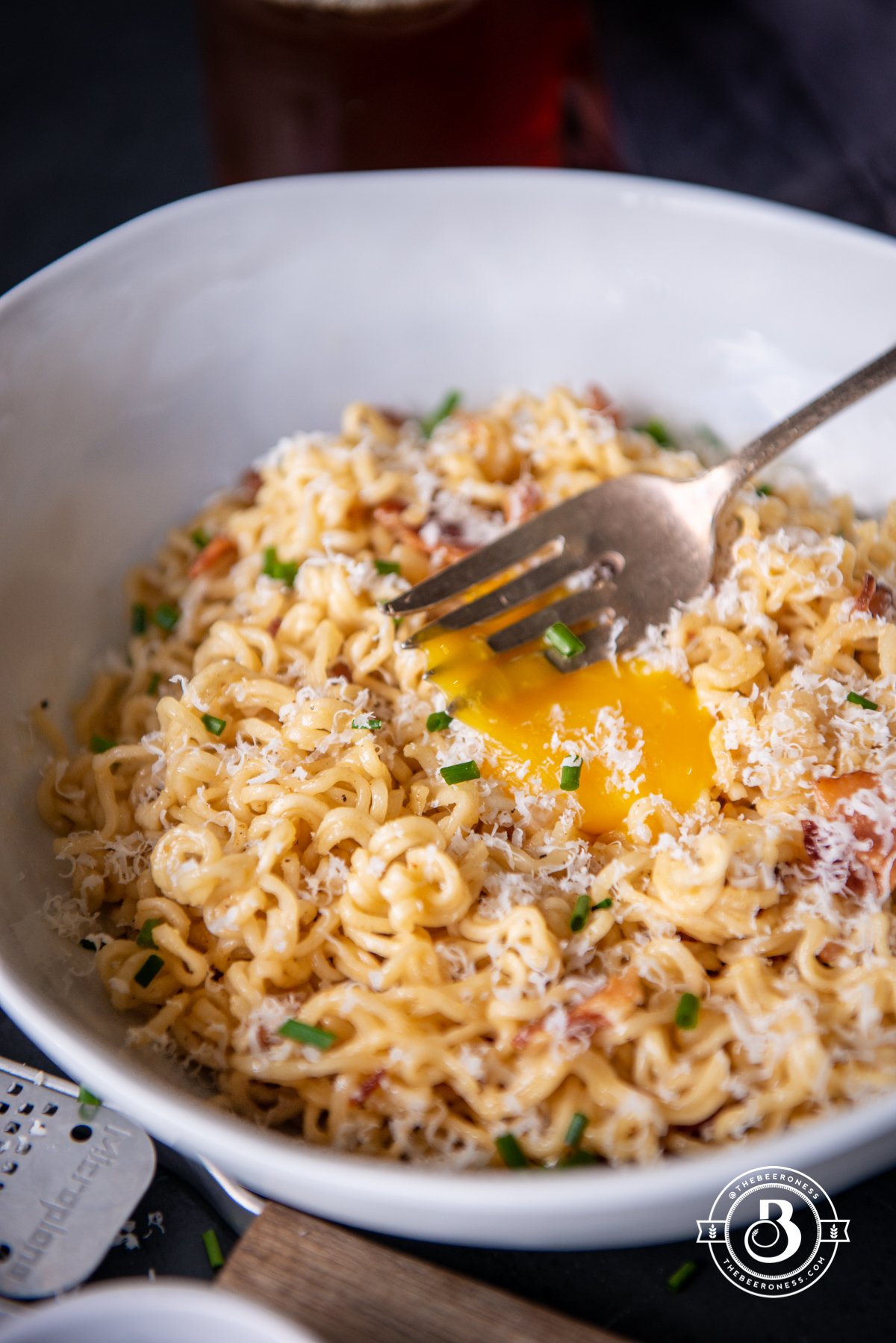 Knowing how bad things are, or could potentially get, is too hard of a burden to carry on a daily basis. But hearing about how people are helping, caring, and coping, lifts the weight just a little. It reminds me that we are all in this together, that although we have spent the better part of the last few years more divided than ever, this reminds us that we are all human, we are all more good than bad, we mostly all want the same things. Most people are basically good and we will get through this. Maybe just have a beer and some fancy ramen and wait it out with me.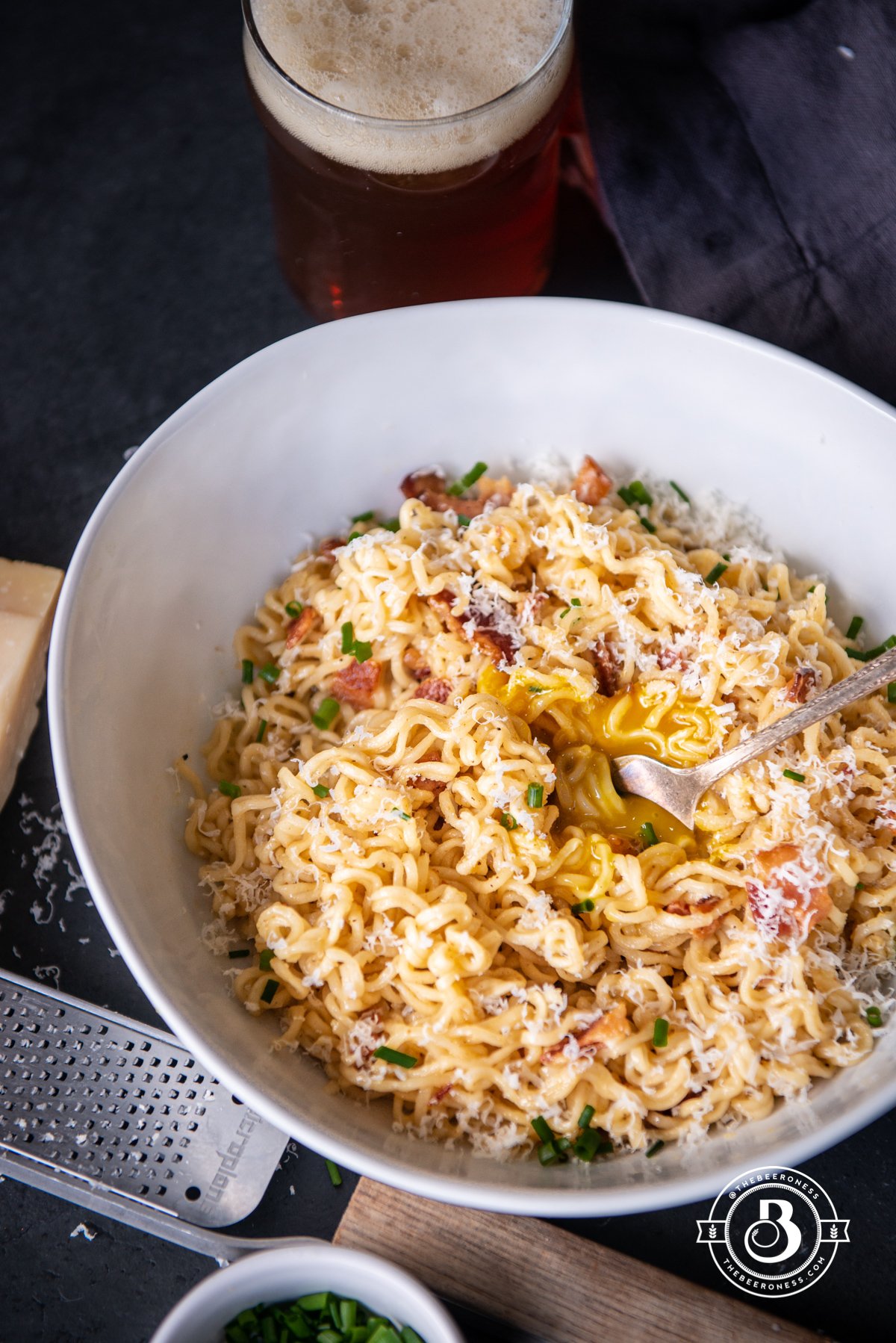 Drunk Ramen Carbonara
Ingredients
½

lbs

bacon

4

cloves

garlic

minced

1

large egg plus 6 egg yolks

divided

½

cup

room temperature pale ale beer

½

cup

(1oz) pecorino cheese

grated with a microplane

1

teaspoon

fresh cracked pepper

9

ounces

(3 (3oz) packages) ramen noodles

2

tablespoons

chopped chives

optional
Instructions
Chop the bacon and add to a large skillet off heat. Add to a pan over medium heat, cooking until the bacon has crisped and the fat has rendered (putting the bacon in a cold pan, then cooking over medium heat takes longer but renders fat much better ).

While the bacon cooks, cook the noodles. Add the ramen to a pot of heavily salted, boiling water. Cook for one minute or until just before al dente (almost cooked but still a little crunchy) drain but reserve ¼ cup of pasta cooking water. Add noodles to a colander or strainer to allow to dry (sauce clings better to noodles that are not wet).

In a bowl whisk together the egg plus 2 yolks (if not plating each bowl with its own yolk, use all 6 yolks for this step), beer, cheese, and pepper.

Once the bacon has crisped, remove from heat, and scoop out or pour off about half of the bacon grease. Add the garlic to the pan, stirring until the garlic is fragrant (this should be able to be done off-heat, the bacon grease should still be hot enough to cook the garlic, if not add the pan back to heat for a few seconds).

Add the noodles to the bacon pan (off heat), stirring until the noodles are coated in the bacon and garlic grease.

Add the egg sauce, stirring to coat the noodles. Add the reserved pasta water a tablespoon at a time to thin if the mixture is too thick (you may only need a little bit).

Divide the noodles between four bowls, top each bowl with an egg yolk.

Garnish with additional cheese and chives if desired.