Drunk Pasta Carbonara with Pomegranates
Drunk Pasta Carbonara
In the guts of Sam Adams I sat in the back of a room filled with beer people. Julia Herz stood at the front, addressing the crowd of beer writers, just thirty minutes before the bottles of Utopias were to be popped by Jim Koch, and we could think of little else. "Raise your hand if you drink beer," Julia said with the perfect touch of sarcasm. Every hand was enthusiastically raised as a small giggle spread across the room. "Keep 'em up. Raise the other hand if you also drink wine." Nearly every hand raised. "Good, me too. Now cross your arms over if you also, at least occasionally, drink liquor." I look towards her as a sea of beer drinking limbs form X's in front of me.
We drink beer. We drink wine. We drink liquor. Of course we do.
Outsiders always draw parallels between beer and wine, assuming a rivalry that has yet to be realized. Wine is wine, beer is beer. Both are consumable alcoholic beverages, both take skill, dedication, fermentation, and yeast to produce, but for us, there isn't a conflict. Do you ask Italian chefs if they eat Japanese food? Do you ask if there is a threat to pasta because of sushi? Of course not.
Cooking with wine is a long-respected practice and beer is just starting to enter into the scene in a legitimate way. Wine and food pairings seem natural, while there still seems to be a need to explain the importance and value of pairing beer and food. Beer has a spectrum of flavors that wine can't even imagine, the application for cooking with beer far exceed those for wine, and reminding the masses that craft beer is not at all the same substance as that stuff they beer ponged with in college is a fight still being won.
We know the value of beer, and we see where we need to go, but beer is in no way "the new wine." As we expand the knowledge base for craft beer, showcase the flavors and ingredients being presented, we created a bigger space for it rather than devour the space that wine is already in. We won't stop drinking wine, we don't need to. There is space at the table for well-made beverages of all sorts, we're just looking to join the party on an equal footing and we're getting there.
Just a few months ago Beer Pairing: The Essential Guide To Pairing From The Pros by Julia Herz and Gwen Conley was released. Essential is the right word to describe it, it's a book that clearly illustrates the value and possibilities that exist when it comes to the relationship between beer and food. It's a manifesto on the celebration of the flavors of beer, the importance of glassware and how to bring beer and food to it's full potential. I took the majority of the photos in the book, with the exception of a few portrait shots, and was able to experience first hand the staggering knowledge these two women possess as well as the full impact of well-paired food and beer. It's a book that I've reached for in the past few months more so than any other beer resource I own. I highly recommend it.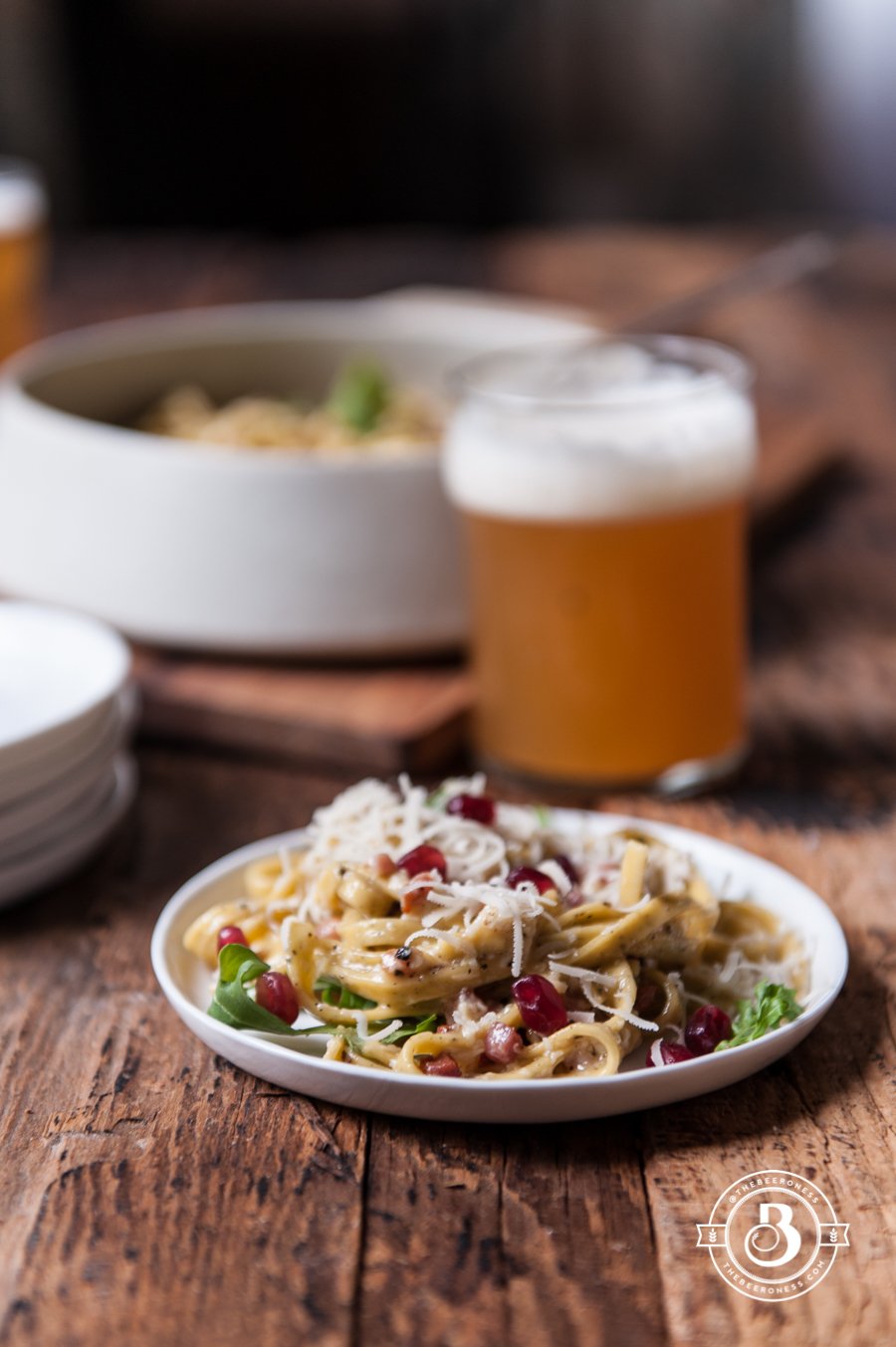 Drunk Pasta Carbonara with Pomegranates
Ingredients
12 oz wheat beer*
1 ½ cups chicken broth
12 wt oz linguini
4 wt oz diced pancetta
3 egg yolks
3 wt oz shaved parmesan
½ tsp salt
1 tsp pepper
1 cup baby arugula leaves
½ cup pomegranate seeds
Instructions
Add the beer and broth to a pot over medium high heat, bring to a simmer. Add the pasta and cook until just before al dente. Drain pasta, reserving about ¼ cup cooking liquid, add noodles to a serving bowl.
In a pan over medium high heat add the pancetta, cooking until crispy.
In a mixing bowl whisk together the egg yolks, parmesan, salt pepper and the reserved cooking liquid, pour mixture over the pasta, toss to coat. Sprinkle with pancetta, arugula and pomegranate seeds.
Notes
*For a more assertive beer flavor, replace the chicken broth with beer. Be careful to use a low IBU beer or the end flavor will be overly bitter and intense.
https://domesticfits.com/drunk-pasta-carbonara/
I do not make any money from the sales of Beer Pairings, I was not compensated in any way for this post. All opinions are my own.