Dive Bars: Beer, Chocolate, Pretzel, and Potato Chip Cookie Bars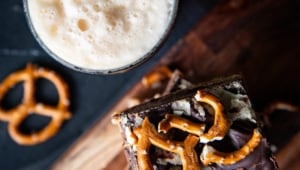 Dive Bars: Beer, Chocolate, Pretzel, and Potato Chip Cookie Bars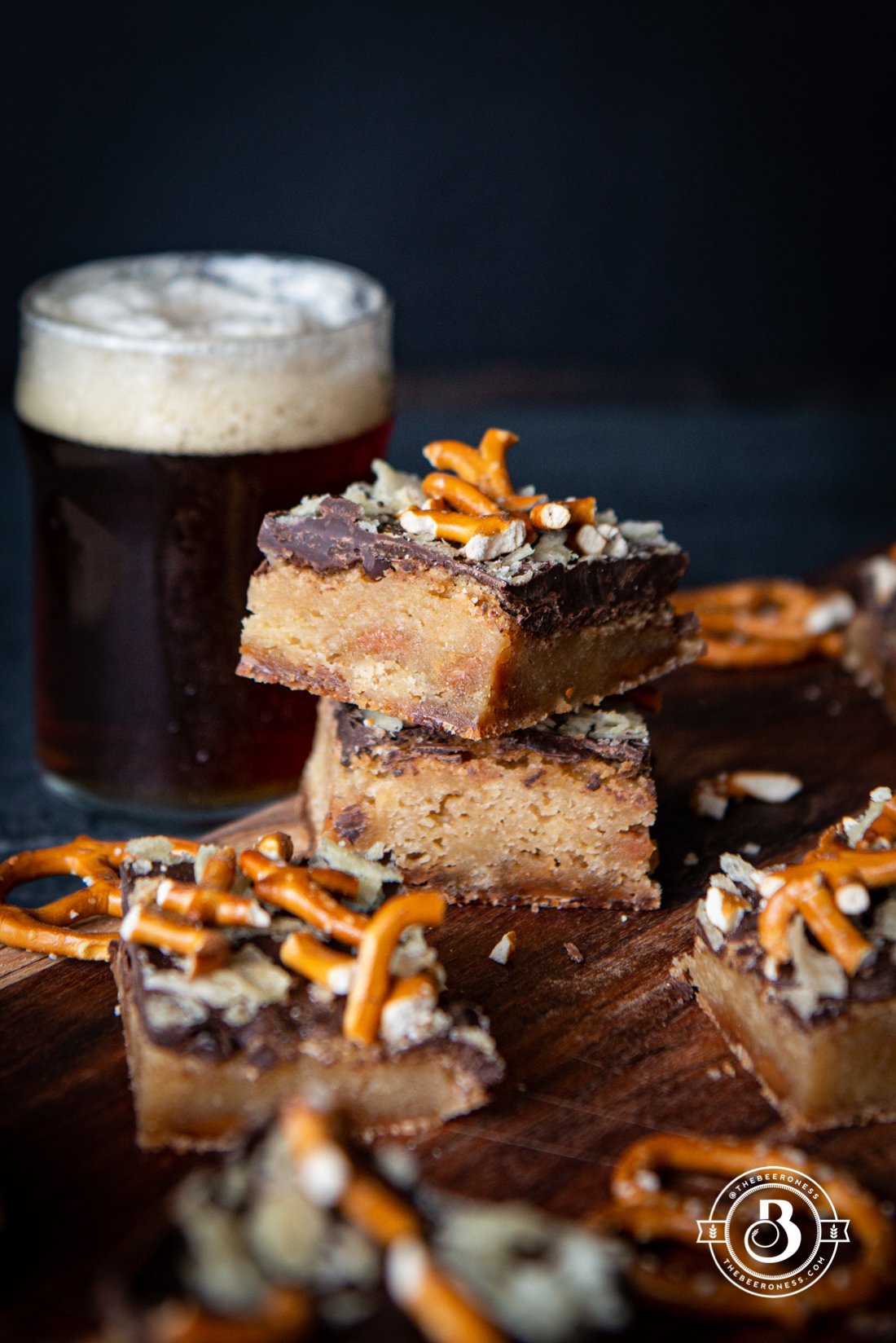 We need this right now, the self-care of treats. The idea that although we are home, and a little sick with worry, we still need to live. We need to be present, more now that ever.
Before I started this adventure of cooking with beer and making it a weird job, I worked in mental health. I actually have a Master's degree in feelings, or psychology, whatever. One of the truly valuable lessons I've learned is how to manage anxiety.
It's overwhelming at times, the thoughts that pull you under, the things that aren't actually happening but being forced to live in a brain and a body that's convincing you that it IS happening.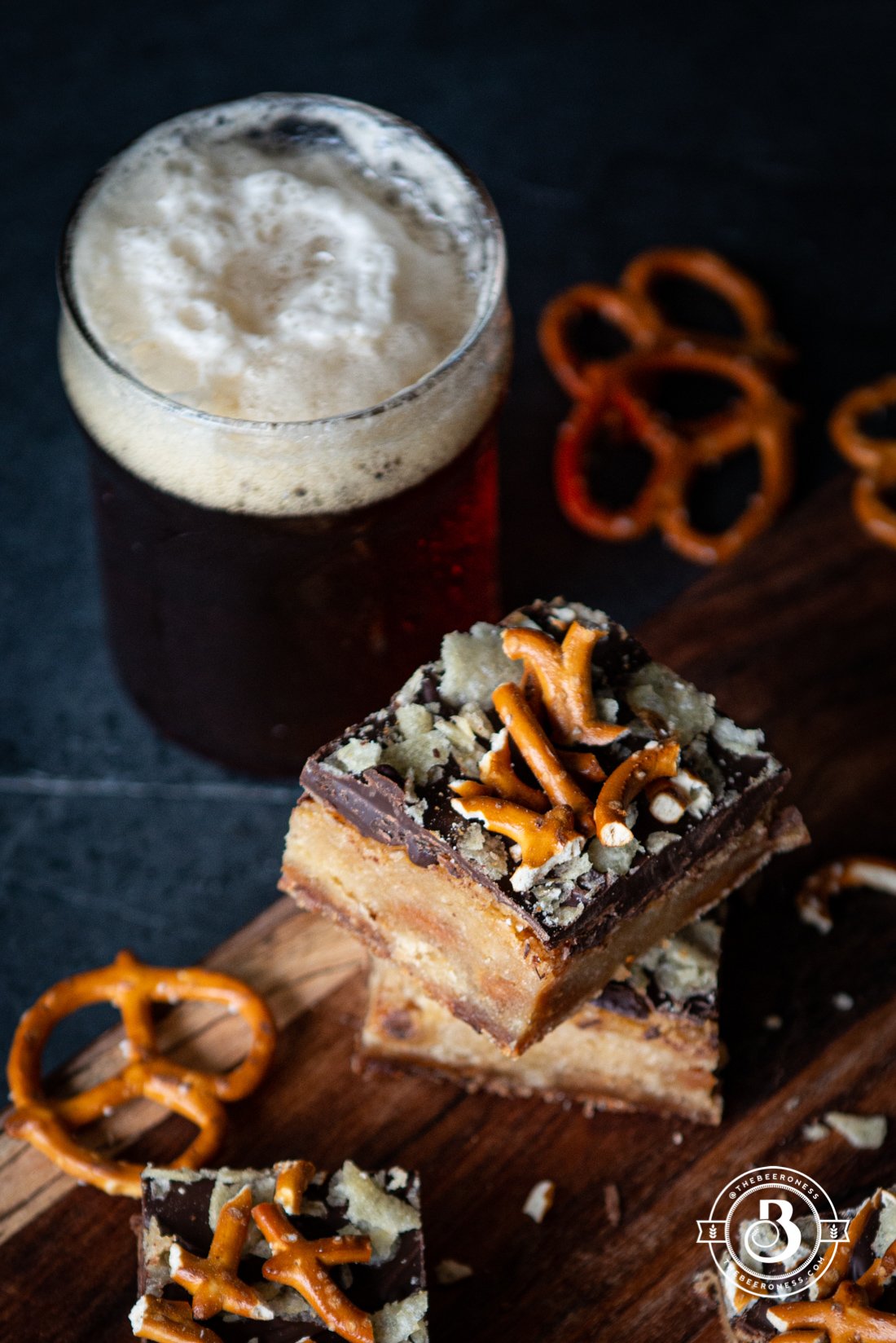 This is the trick, and it sounds so stupid, so silly, but it works: be present. Stay in the moment you are in, the room you are in, be there. Find something to keep you anchored to this moment. "Right now, I'm OK," and "Right now, nothing is happening. I'm warm and safe and healthy and I have food in the fridge." I once had a client who would count ceiling tiles to stay present, it works.
It's called core mindfulness, but really it's just a way to quiet the storm. The "what ifs" that are threatening to pull you apart. Because the truth is, the things that your brain is asking you to worry about, the problems that you can't solve that seem insurmountable, haven't happened and most likely will never happen and as a result, you're ruining the moments that could be still and quiet.
Pull yourself back, be here, be now, and remind yourself that you're ok.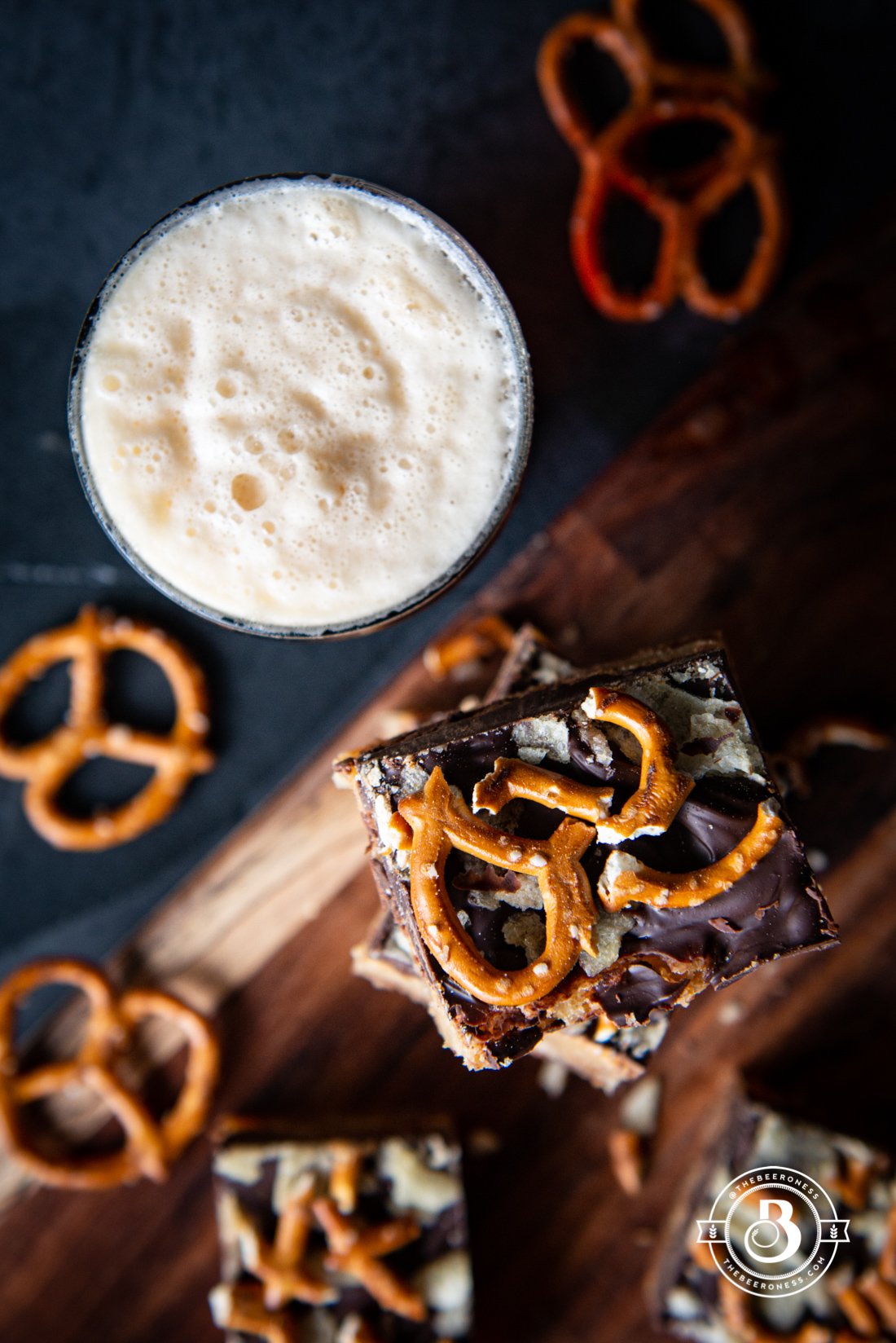 I'm not sure that I will ever have the courage to tell you about the time when this trick quite literally saved my life. It's hard to think about and it's hard to talk about. But I will tell you that it works. You need to be your own lighthouse sometimes and pull yourself back to dry land. Right now you are OK. Right now you are safe. And we all just have to "one day at a time" this thing.
Baking helps me, cooking helps me. It helps me stay in the moment and solve small problems like "I want cookies," or "I need to make dinner," and that accomplishment can go a long way.
I know it's been a hard few weeks for all of us, and we may be in the eye of the storm, but for the most part, most of us are safe. We are OK, and we will all get to the other side.
Dive Bars: Beer, Chocolate, Pretzel, and Potato Chip Cookie Bars
Ingredients
¾

cups

(150g) white sugar

½

cup

(100g) brown sugar

½

cup

(114g) butter softened

1

large egg

¼

cup

(2oz) beer pale ale, pilsner, wheat beer

1

teaspoon

vanilla extract

1 1/3

cups

(160g) all-purpose flour

1

teaspoons

baking powder

½

teaspoons

salt

½

cup

(85g) caramel chips

or butterscotch chips

1

cup

(170g) chocolate chips

any will work, I used dark chocolate

¼

cup

crumbled potato chips

¼

cup

crumbled pretzels
Instructions
Preheat the oven to 350°F.

Add the white and brown sugar, and butter to a stand mixer. Beat on medium-high until well combined and creamy.

Add the egg, beating until well combined and resembles frosting, about 5 minutes (beat this longer than you think you need to, it helps add structure to the bars).

Stir in the beer and vanilla. The mixture may look a little curdled, this is fine.

Stir in the flour, baking powder, caramel or butterscotch chips and salt until just combined.

Line an 8x8 baking pan with parchment so that it comes up and over the sides (this makes for easy removal).

Spread the batter into the prepared pan in an even layer (it will be about the consistency of peanut butter). Bake for 40-45 minutes or until the edges just start to turn golden brown.

While the bars are still hot, sprinkle with chocolate chips then put back into the oven for 1 to 2 minutes or until the chips have just melted. Use the back of a spoon to gently spread the chocolate in an even layer.

Immediately sprinkle with pretzels and potato chips. Allow to cool until set and the chocolate has hardened.