Deep Dish Apple Streusel Pie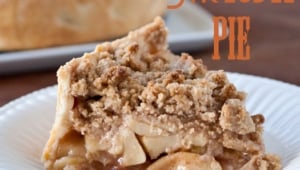 This was the big winner at Thanksgiving.
It was the first to be devoured, even before the impromptu poker game ended. And, I'm not gonna lie, having every guest who ate it say, "Oh my GOD. This is so good" is really awesome.
When you are trying (fairly desperately) to wedge your way into the food world, there are certain expectations that people have when you make a dish.
The bar is pretty high.
And to be honest, I'm always nervous. Just like the feeling I get when a friend of mine says, "I'm going to make one of the recipes off your blog!"
I was so relieved when Thanksgiving turned out great. These rolls were so good they were second to be polished off, and this Beer Brined Turkey was the best I've ever made. Even though it was the same recipe I used last year, it was even better this year.
And the secret to the best potatoes ever is using an ungodly amount of butter. Like, several sticks. And some sour cream.
But this pie. THIS pie will now be the way I make apple pie. And making it in a spring form pan just makes it look incredibly impressive.
Chipotle Stout and Chorizo Chili Topped with Pork Rinds
Ingredients
2 tbs olive oil
½ white onion, chopped (about 1 cup)
1 red bell pepper, chopped, stem and seeds removed
6 oz chorizo, raw, removed from casing
1 lb ground beef chuck (80/20 lean to fat)
4 cloves garlic, minced
1 cup Chipotle Stout
14 oz stewed diced tomatoes (canned is fine)
1 chipotle pepper in adobo (from can), minced plus more if desired
1 tsp adobo sauce
½ tsp smoked paprika
1 tsp black pepper
1 tsp cumin
2 tbs Worcestershire sauce

Toppings:

1 cup cheddar cheese, shredded
½ cup cilantro, chopped
2 cups Chicharrones (pork rinds), lightly crushed
(Makes 4-6 servings)
Directions
In a large pot or Dutch oven, heat the olive oil. Add the onion and bell pepper and cook until onion softens but isn't browned, about 5 minutes.
Add the chorizo and beef, cook until meat starts to brown. Add the garlic and stir.
Add the beer, diced tomatoes, one chipotle pepper, adobo sauce, smoked paprika, pepper, cumin and Worcestershire sauce. Allow to simmer for about 30 minutes, until thickened. Add additional chipotle peppers as desired to raise heat level.
Pour into bowls, top with cilantro, cheddar and Chicharrones.
https://domesticfits.com/deep-dish-apple-streusel-pie/
Copyright �© TheBeeroness.com