Creme Brulee Topped Chocolate Stout Brownies & Some Big News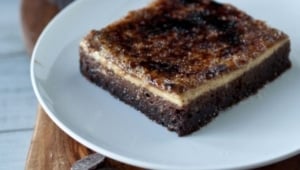 I have some news.
If you Follow me on Twitter, you probably already know the Big News.
I signed a book deal on Thursday. A publisher has actually decided to pay me to write a cookbook.
How amazing is that?
Writing a cookbook has long been on my list of goals, and as I somewhat naively and idealistically jump into this process, I am reminded that it is you I have to thank for this milestone. The ones who share my posts, tell their friends about my little blog, believe in what I'm doing here,  the ones who read every silly word I write, and yes, even those of you who write creepy comments about wanting to wake up in my bed and email me about how you google stalk me on a weekly basis. I am grateful for all of you.
This isn't just my book, it's yours too. The ideas you give me, the way I'm inspire by your questions and humbled by being seen as a source of knowledge and beer-cooking wisdom.
I wish I could properly thank you all, over a beer and some possibly inappropriate conversation.  But for now, we'll have to settle for some Creme Brulee Brownies made with two different types of beer. Which seems to be fitting, since chocolate stout was the first beer I ever cooked with and creme brulee was the subject of my first post. It's an homage to my beer cooking beginnings, hope you like it.
If you are at all interested in helping me with this book, as an un-paid but thoroughly appreciated, recipe tester, for which you will receive my undying love and affection, a mention in the book, a sneak peek at never-before-seen-recipes, and possibly more, stay tuned. Once we get to that place, I'll let you know how you can be my beer cooking partner in crime.
Creme Brulee Topped Chocolate Stout Brownies
Ingredients
For the Brownie Layer:
3

eggs

1

cup

white sugar

1/2

cup

brown sugar

1

tsp

vanilla

1/2

cup

flour

1/2

cup

cocoa powder

1

tsp

espresso powder

1/4

tsp

salt

1

stick butter

7

oz

dark chocolate

60%

2/3

cup

chocolate stout
For The Creme Brulee Layer
1

cup

heavy cream

3/4

cup

low-hop pale ale beer

1

vanilla bean

split and scraped or 1/4 tsp vanilla bean paste

3

eggs plus 2 yolks

1/2

cup

sugar

2

tbs

corn starch

Plus 1/4 cup sugar for the brulee topping
Instructions
Preheat oven to 350.

In the bowl of a stand mixer, beat the 3 eggs, white sugar, brown sugar and vanilla on high for at least ten minutes. You need a meringue type consistency in order to create a crust on top of the brownies to insure the layers stay separate. In a separate bowl, add the flour, cocoa powder, espresso powder and salt, stir to combine.

In a microwave safe bowl, add the butter and the chocolate. Microwave on high for 30 seconds, stir and repeat until melted.

While the stand mixer is on medium speed, slowly add the chocolate until mostly combined. Add the beer and stir. Add the flour mixture and stir until just combined.

Grease and flour a 9x13 inch baking dish. Pour batter into dish and smooth out the top. Bake at 350 for 25 minutes or until the top is matte and a bit cracked. Don't over bake.

Allow to cool to room temperature.

For the creme brulee layer:

In a sauce pan over medium heat, bring the cream, beer and vanilla to a slight simmer, removing from heat when bubbles start to form around the edges. Remove from heat and allow to cool to room temperature.

In a separate bowl, whisk the 1/2 cup sugar, eggs and yolk, and cornstarch until well combined and slightly frothy.

While continuing to whisk the egg mixture, slowly add the cream and whisk until well combined. Make sure the cream has cool or you will just have created vanilla scrambled eggs.

Return the cream to the stove and stir over medium heat until it comes to a low simmer. Continue to whisk until thickened, between 5 and 10 minutes. The cream should leave a track when you drag the whisk through it. Allow to cool to about room temperature.

Pour over the brownies, cover tightly with plastic wrap and chill until set, about 1 hour.

Just prior to serving, cut into squares, cover with a light layer of white sugar and brulee the top with a kitchen torch until the sugar has melted and turned a dark amber color.