Cream Puffs with Browned Butter Pastry Cream and Espresso Stout Chocolate Sauce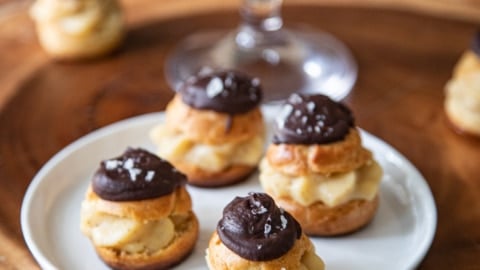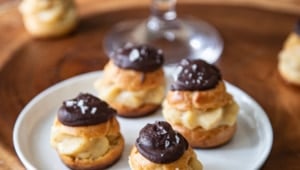 Cream Puffs with Browned Butter Pastry Cream and Espresso Stout Chocolate Sauce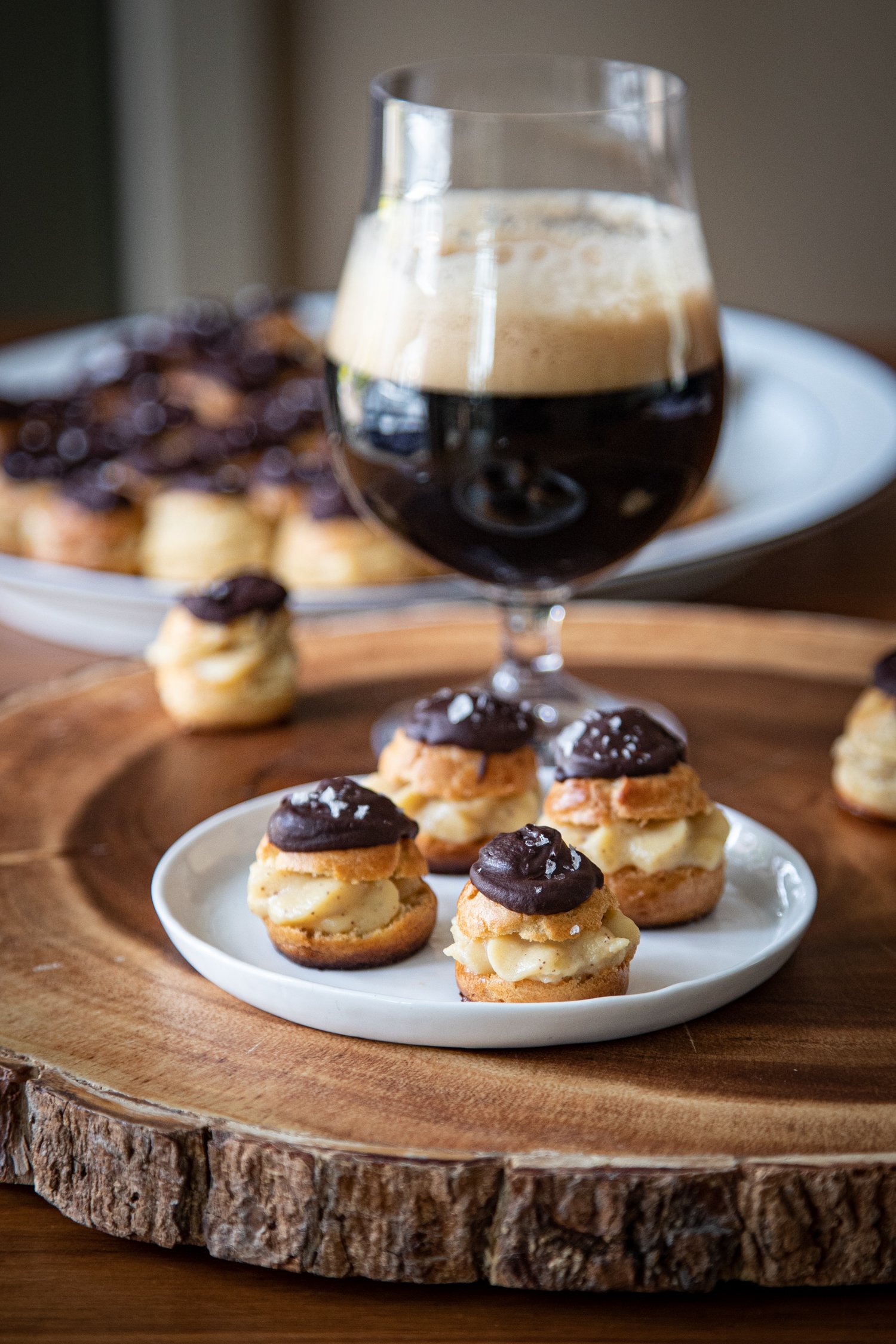 So, we're eating our feelings this week, yes? Yes. Three-day weekends are built for long cooking projects and this week is built for emotional eating. I do this sometimes, bake really complicated things because it gives me a solid win when I need one. It also makes it hard for my mind to wonder when I have to worry about dough and baking times and if my pastry cream will set (it will, promise).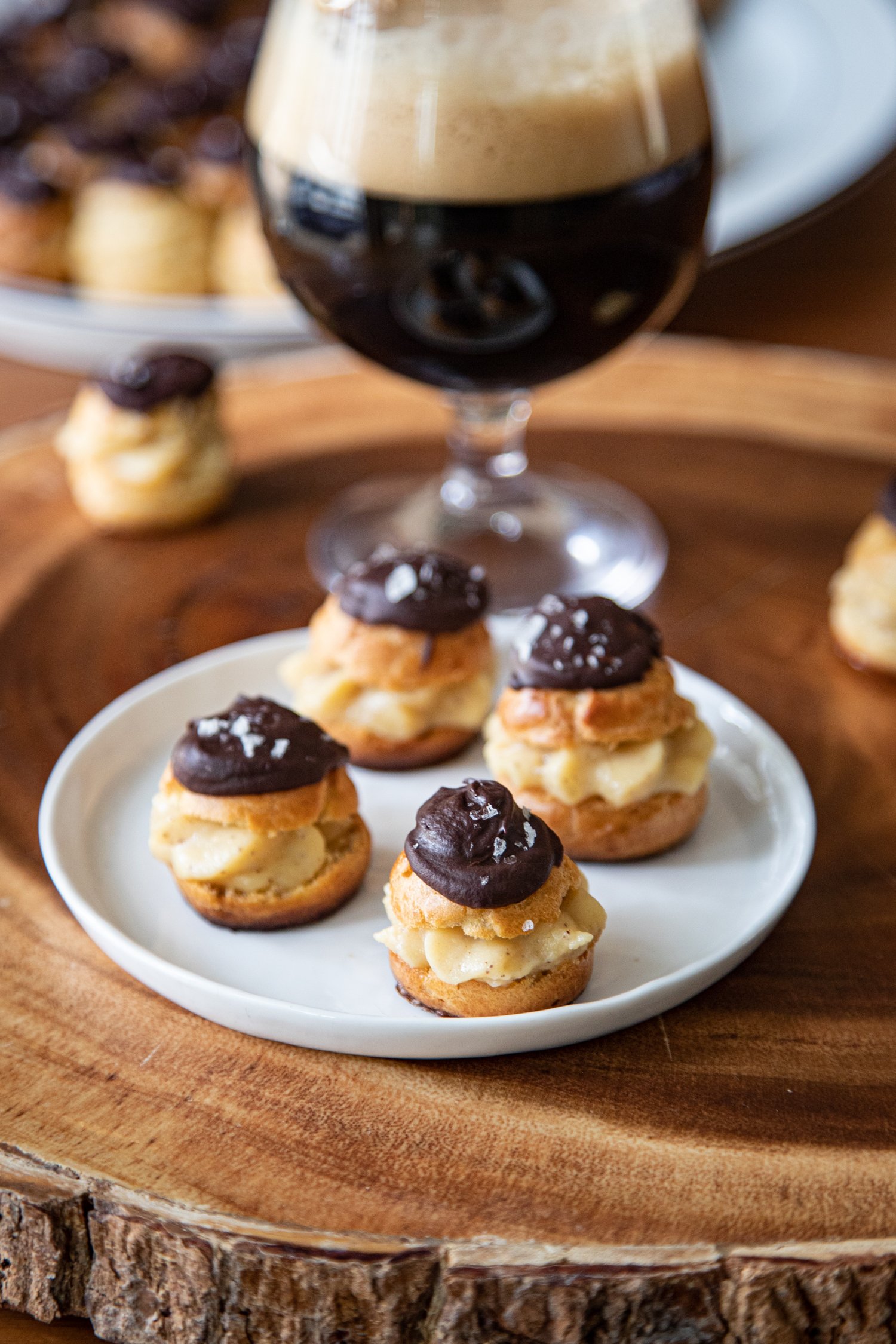 It's like this little secret that I hide behind my "I like to bring the most impressive treats to the party" persona, it's more that I like to know that I have something that I can control that will make people happy. Beer and food make people happy, even if just for a moment. So put down the doom scrolling and just spend some time in your kitchen and make something that will bring some joy to this really messed up world.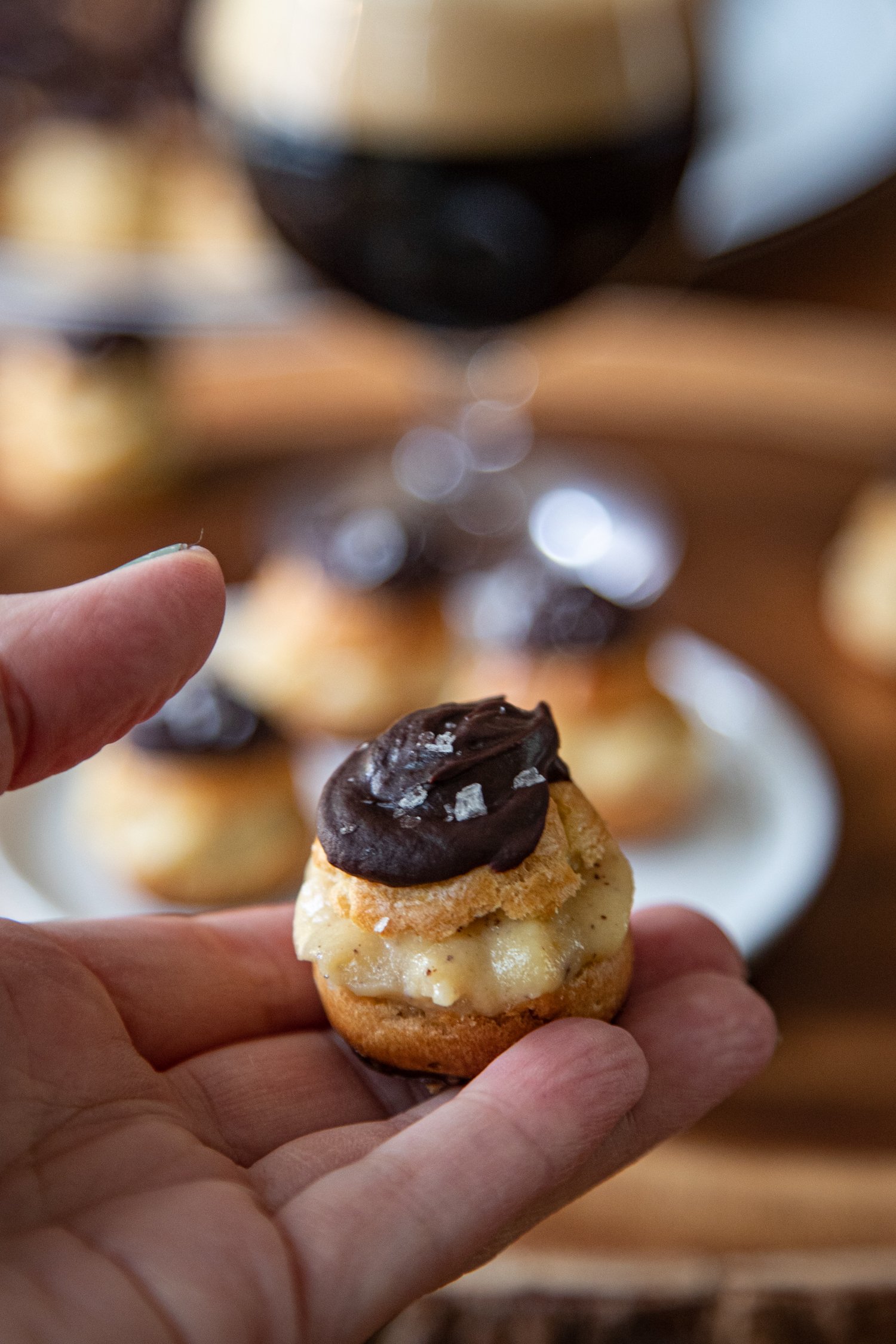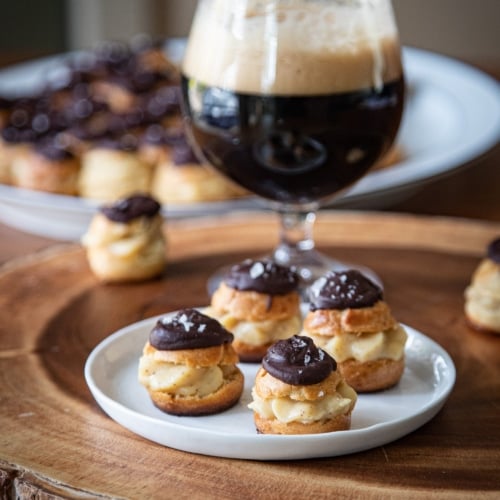 Cream Puffs with Browned Butter Pastry Cream and Espresso Stout Chocolate Sauce
Ingredients
Pastry Cream:
½

cup

(114g) unsalted butter

1 ½

cups

(16oz) whole milk

1

tablespoon

vanilla extract

3

tablespoons

cornstarch

4

egg yolks

1

cup

(200g) granulated sugar

1

teaspoon

salt
Cream Puff Dough:
1

cup

(228g) pale ale beer

½

cup

(114g) butter, room temperature

1

teaspoon

salt

1 ¼

cups

(175g) flour

2

tablespoons

sugar

4

large eggs

Egg wash

optional
Chocolate Sauce:
10

oz

dark chocolate

62%

¾

cup

(6oz) stout beer

1

tablespoon

espresso powder

1

teaspoon

salt

Flaky sea salt for finishing
Instructions
Make the pastry cream:
Add the butter to a saucepan over medium-low heat. Allow to melt and become foamy, stirring frequently.

After about ten minutes the foam will subside, and the liquid will become more translucent and you will be able to see the bottom of the saucepan and small bits on the bottom. Whisk continuously until it smells nutty and the bits have browned, remove from heat. Stir in the milk, add back to heat until bubbles start to form around the edges of the saucepan.

In a medium bowl, whisk together the vanilla, cornstarch, egg yolks, sugar, and salt until well combined.

Whisk the egg mixture continually while slowly poring the warm liquid into the bowl.

Add the mixture to the saucepan over medium heat, whisking until thicken. Remove from heat, add to a storage container and refrigerate until chilled, about 1 hour.
Make the cream puff dough:
Add the beer and butter to a saucepan. Cook over medium heat until the butter is melted and just starting to boil.

Remove from heat, add the salt, flour, and sugar.

Add back to medium heat, stirring with a wooden spoon constantly until mixture becomes one large ball and clings to the spoon (this should only take a minute and the pan may be hot enough that you don't need to reintroduce heat).

Add to a stand mixer with a paddle attachment, allow to cool for ten minutes.

Preheat the oven the 450° F.

Add the eggs one at a time, mixing until the dough starts to come back together (after looking as if it may be breaking) before adding another egg.

Mix for at least 2 minutes after the last egg until the mixture looks creamy, and when you pull the mixer paddle up, it leaves a trail that looks like a bird's beak where the dough slides back down but still clings to the paddle.

The dough should be smooth and sticky. Add to a piping bag with a star tip.

Cover a baking sheet with parchment paper. Pipe circles of dough onto the parchment, about 1 ½ inches wide.

With the tip of a wet finger, press the tip down so it doesn't look like a sorting hat. Brush with egg wash.

Bake for 5 minutes and then reduce heat to 350°F without opening the oven. Bake for an additional 15-20 minutes or until the cream puffs are golden brown, allow to cool.

Use a bread knife to slice the top off the cream puffs.
Make the chocolate sauce:
Add all of the chocolate sauce ingredients to the top of a double boiler over gently simmering water. Stir continually until just melted, remove from heat.
Assemble the cream puffs:
Pipe pastry cream into the center.

Replace the top.

Top with chocolate sauce, sprinkle with sea salt.

Serve room temperate or chilled.