Crab Stuffed Baked Avocado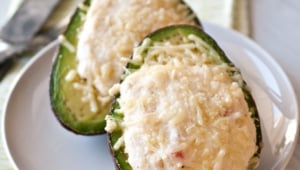 There is something about the raw exposure that blogging brings that forces you to face and deal with emotional handicaps that you didn't even know that you have.
It may be the contrast between complete strangers showering you with compliments and adorations, and other complete strangers raining down harsh criticism. When in reality, neither is wholly accurate. You are, to one degree or another, somewhere in the middle.
And as harsh and those nasty comments can be, the overly positive ones have always been more difficult for me to deal with. Those readers who send compliment saturated emails about how much they love my recipes, or how great my life must be, are with no doubt a highlight of blogging. But I am always left with the fear that the pedestal will crumble and I will be exposed as the ordinary person that I truly am.
Self worth is supposed to be an isolated container, unaffected by the thoughts of others. But I'm not sure anyone has really figure out how to do that, and if he does, I'm not sure I want to meet that guy.
The truth is, sometimes we need a mirror of honesty to see how great we are, and place that value in our container of worth. And to really start to believe it.
Take a second to think back on your life and write down all the best compliments that you have ever received.
And then take the rest of your life to truly believe them.
Crab Stuffed Baked Avocado
4 oz cream cheese, softened
6 oz crab meat (drain well if using canned meat)
1/4 cup tomatoes, chopped
1 tbs scallions
1/4 tsp salt
1/4 tsp pepper
pinch cayenne pepper
3 large ripe avocados,cut in half, pits removed
1/2 cup parmesan cheese
Preheat oven to 400.
In a bowl, combine all the ingredients except the avocados and the parmesan, mix until well combined.
Fit the hole in the avocado with crab mixture, top with generous amounts of cheese. Place avocados in the wells of a muffin tin, bake at 400 until the cheese has melted about 8-10 minutes.
Like Domestic Fits on Facebook