Coconut Porter Tres Leche Cake (dairy + egg free)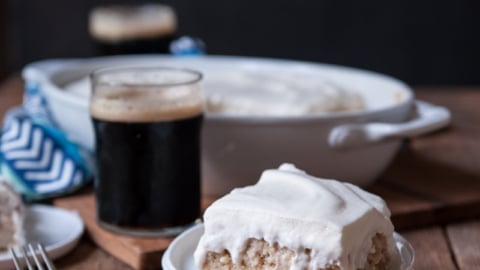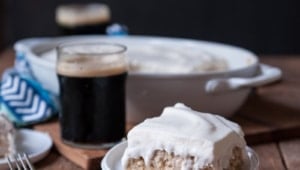 Coconut Porter Tres Leche Cake (dairy + egg free)
I can't stay.
I'm in a hotel in Copenhagen and I just found an open-air farmers market nearby and although it's been about 22 hours since I've slept, I have to go see it. But I wanted to give this recipe to you first and tell you what I was doing 5-years ago today.
5-years ago today I was a social worker. It was good work, work I liked and, for the most part, was good at. Inexplicably, it also made me breathtakingly unhappy. My life, although I fought to pretend otherwise, made me miserable.
5-years ago I sat at a desk, thinking about how much I wanted to be a photographer, a writer. How much I wanted to have a job that involved being creative and also necessitated travel. I sat at a desk and thought "Who am I to want that?" I figured everyone wanted that, who was I?
Then one day, I stopped that shit. I stopped thinking "Who am I to want that?" and I started thinking, "Why not me?" If other people got to do it, why not me, too?
So then I fought, 80-hours a week doing both the social work thing that paid the bills and the photography-beer-cooking-writing thing that filled my soul and gave me hope. When I was told "no," I just heard, "Some day I'll wish I'd said yes to you," and I kept going.
Two years later it was my full time gig.
So here I am, in a hotel in Denmark fresh off a red eye from the other side of the world, and I'm telling you the same thing about that dream you've always had: Why not you?
Coconut Porter Tres Leche Cake (dairy + egg free)
Ingredients
2

cans

400mL each full fat coconut milk, refrigerated overnight

2

cups

240g flour

1

cup

200g sugar

½

tsp

2g baking soda

1

tsp

4g baking powder

1

tsp

6g salt

¾

cup

175mL almond milk, plus one cup (240mL), divided

½

cup

4 wt oz coconut porter beer, plus ½ cup, divided

1

tsp

3g vanilla extract

¼

cup

56g coconut oil, melted

2

teaspoons

6g apple cider vinegar

1/4

cup

powdered sugar
Instructions
Preheat oven to 350F.

Carefully remove the cans from the fridge without shaking. Open carefully and remove the top layer of fat that has collected at the top, taking care not to include any of the liquid that is at the bottom, placing the coconut fat in a small bowl and reserving the liquid in the cans.

Cover the bowl of coconut fat and chill in the refrigerator until ready to use.

in a large bowl stir together the flour, sugar, baking soda, baking powder, and salt.

Stir in 3/4 cup almond milk, 1/2 cup coconut porter beer, vanilla extract, coconut oil and apple cider vinegar until just combined.

Grease and flour a 9x13 pan, pour the batter into the prepared pan.

Bake at 350 for 22-25 minutes of until the top springs back when lightly touched.

Allow to cool completely.

Once cooled, poke the cake all over with a fork, skewer or the handle of a wooden spoon.

In a small bowl stir together the remaining one cup almond milk, 1/2 cup of coconut porter and 1 cup of the remaining liquid form the coconut milk cans. Pour over the cake (it will look like too much milk, but it will absorb into the cake).

Cover and refrigerate until ready to serve, at least 3 hours.

Retrieve the chilled coconut fat, beat with a hand mixer until light, fluffy and well combined. Beat in the powdered sugar.

Top cake with coconut whipped cream. Chill until ready to serve, cake should be served cold.
Coconut whipped cream can only be made with full fat cans of coconut milk that have been chilled for at least 24 hours (store in the fridge for ease of use). For a tutorial, see: Coconut Whipped Cream, Gimmme Some Oven. 
Trader Joe's sells coconut cream that will work perfectly for the whipped cream as well.