Coconut Curry Beer Chicken Soup
Coconut Curry Beer Chicken Soup. 20 minutes, one pot, so good. 
The best chicken curry I've ever had was in a seedy part of Van Nuys, just north of Los Angles. This was also the setting of the most awkward conversation I've ever had with a stranger.
The restaurant resembles a by-the-hour hotel with a history of CSI activity, flanked by a parking lot that hosts a regular rotation of drug dealers and prostitutes. It's in a part of LA that you probably shouldn't go to unless you have to, or really want to get a good deal on a used car or some questionable weed. I went there for the chicken panang, it was that good. Inside the place was sweet, resembling a tea house, run by a quiet family from Thailand and populated by other brave lunch time travelers, several suit and tie types that drove in from local studios.
The entire restaurant had about 11 tables, six booths and five 4 tops in the center.  I sat close to the kitchen, watching what little I could see of my glorious coconut curry and sticky rice lunch come together, feeling grateful that I'd made the drive and braved the neighborhood. A few minutes after my floral ceramic dishes filled with my much anticipated lunch was set down in front of me, the agreed upon silence of the place was broken. I look up to see who is assaulting my refuge.
"Hi, I'm Pete," he looked even more smarmy than his shiny suit and slicked back hair wanted him to be, "I'm rich and I'm wondering if you're single."
The entire restaurant stopped their quiet conversations and turned in our direction. Even the cooks stepped out of their small spaces to witness my reaction.
"Ummm….congratulations on all the cash, Pete, but I'm not available."
He gave me a confused look, as if I'd just told him that it's actually macro beer that's brewed "the hard way."
"Wait…but I want to take you out." He was so confused as to why exactly my panties hadn't flow off my body at the mere mention of all his millions.
"Yeah, that's really nice of you to offer. But I'm going to have to decline. Thank you, It's always flattering to be asked out." I'm trying to be nice, but my "let him down easy, don't hurt his feelings, he's putting himself out there," knee jerk reaction to these situation was starting to wane in favor of a "who do you think you are, asshole?" sentiment.
"I have a Bentley!" He throws his hands up in frustration.
I realize at this point that the elderly woman behind me was still holding her breath and I'm fairly certain that she hadn't blinked in several minutes.
"That's great. But, my answer is still no."
He rolls his eyes and heads for the door. A moustached hipster in the far booth starts to laugh in a way that sounds half ironic, half nervous, and gives me an enthusiastic double thumbs up. I laugh, also nervous and ironic in nature.
I look down at my bowl of coconut curry chicken and decide that I need to learn how to make this at home, I can handle the prostitutes and drug dealers but the arrogant Bentley drivers make me uneasy.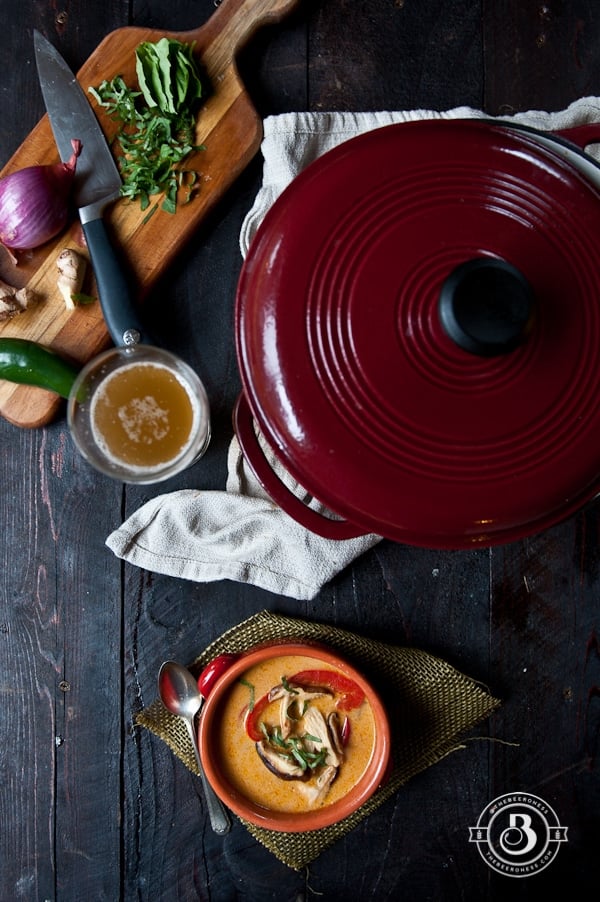 Coconut Curry Beer Chicken Soup
Ingredients
1 lbs chicken breasts, cubed
salt and pepper
3 tbs olive oil
1 red bell pepper, sliced
1 large shallot, diced (about ¼ cup)
1 jalapeno, chopped
2 cups shitake mushrooms, sliced (not dried)
3 cloves garlic, minced
¼ tsp fresh ginger, grated with a microplane
1 cup wheat beer (hefeweizen, white ale)
1 1/2 cups chicken broth (or vegetable broth)
2 tbs red curry paste
2 (14 oz) cans full fat coconut milk
1 tsp brown sugar
1 tbs fresh basil, thinly sliced
Instructions
Sprinkle the chicken cube on all sides with generous amounts of salt and pepper.
Heat the oil in a large pot or Dutch oven. Add the chicken, cooking until browned on all sides, remove chicken from the pot.
Add the bell pepper, shallots, jalapeno, and mushrooms, cooking until the vegetables have softened, about ten minutes.
Stir in the garlic and ginger.
Add the beer, scraping to deglaze the pan. Add the broth, curry paste, coconut milk, chicken, and brown sugar. Allow to simmer for about ten minutes. Salt and pepper to taste.
Ladle into bowls, top with fresh basil.
https://domesticfits.com/coconut-curry-beer-chicken-soup/