Coconut Beer Steamer Clam Chowder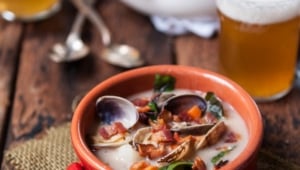 Coconut Beer Steamer Clam Chowder
I remember the walls were dirty. Before he tried to push the glass table through my torso, I could only focus on the stains spread like a grease constellation across the Navajo White walls of the government subsidized apartment I was trapped in. His mom's girlfriend wrapped her dark, sinewy arms around him, pinning his arms to his sides. Their tandem screams, dulled by the shock that had numbed my brain, tumbled together like puppies rolling down a hill…
I have these narratives rolling around inside me, fighting to get to the surface. They wake me up at night. Sentences form out of nowhere that take me back to a forgotten time and place.
Mostly, it's repressed memories from my days in Hollywood, and the times I worked with gang members in South Central Los Angeles. It's parts, mostly, of experiences I can't remember entirely. Feelings searching for words. But the thing is, experiences are made up of an amalgamation of your senses. It's a big ball of touch, smell, taste, sight, and sound. Words don't fit well in that sensation cocktail. Even when the words leave me, I know they are so small, so inadequate. But it's all I have. It has me, more than I have it. I'll never claim that editing and technical writing is my calling in life, it's always been a struggle.  But creative expressions via words and images has sucked me into it's undertow.
So, please. Give me a pass when the verbs and tenses don't stand in a perfect line, and typos come en masse. I'm trying to turn feelings into words, and there is only one part of that I can do at a time.
Coconut Beer Steamer Clam Chowder
Ingredients
4

wt oz

114g pancetta, diced

1

large

43g shallot, diced

1

large

110g carrot, diced

3

tbs

22g flour

1

cup

236g wheat beer

1 ½

cup

360 mL chicken broth

13.5

fl oz

400 mL coconut milk

½

tsp

4g salt

½

tsp

1.3g black pepper

½

tsp

1.3g garlic powder

½

tsp

1.3g smoked paprika

3

medium sized

300g red potatoes, diced

1

lbs

manila clams

2

cups

44g sliced Swiss chard (or spinach)
Instructions
Add the pancetta to a large pot or Dutch oven (add pancetta to a cold pan, it will render better than if you add it to a hot pan). Cook over medium high heat until crispy, remove with a slotted spoon.

Pour off about half of the fat in the pot, leaving about 2 tablespoons.

Return to medium heat, add the shallots and carrots, cooking until very soft and slightly caramelized, about 15 minutes (if the pan dries too much, add a bit of olive oil).

Sprinkle flour on top, whisking until the flour turns slightly brown.

Add the beer, scraping to deglaze the bottom of the pot.

Stir in the broth, coconut milk, potatoes, salt, black pepper, garlic powder, smoked paprika and red potatoes. Simmer until slightly thickened and potatoes have softened, about 15 minutes.

Reduce heat to low, add the clams and chard, cover and allow to cook for 6 minutes. Discard any clams that have not opened. Serve immediately.