Chorizo Egg Breakfast Skillet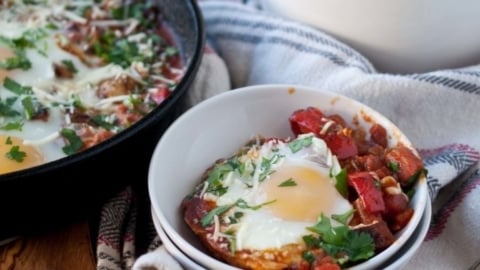 There is something about lingering over a long breakfast with those I love that just makes me feel like I did something right. Everyone eats dinner, most of us have a few minutes for lunch, but it's when we take time to sit and spend "valuable, productive" hours of the day actually tasting our food, chatting with those people whose company often gets taken for granted, that the day really become special.
This may be a habit I picked up while traveling in those countries that wouldn't think of letting a hotel guest check out without being fed, even if you only spent $5 on a bed in a shared room. I think maybe a hotel owner and his wife insisting that the 19 year old American who spoke no Italian MUST sit for a cup of espresso and a some bread before departing had a huge impact on me, especially given that I was broke and had paid less for the room than I would have paid for the breakfast in the States. Some how breakfast and hospitality have since been linked in my brain. I feed my guests. A lot.
This is a great Family style breakfast that takes very little skill to throw together. Tons of flavor, little effort.
Chorizo Egg Breakfast Skillet
Ingredients
2

tbs

olive oil

1

cup

red potatoes peeled and diced

small dice

½

tsp

salt

½

tsp

pepper

1

large shallot

chopped

1

bell pepper

sliced julienne, stem and seeds removed

6

oz

chorizo sausage

removed from casing

½

cup

pale ale beer

I used Scrimshaw

14

oz

crushed stewed tomates

in juices

4

eggs

¼

cup

fresh grated parmesan cheese

1

large avocado

sliced

¼

cup

cilantro
Instructions
preheat oven to 350.

In a cast iron skillet, heat the olive oil. Sprinkle the potatoes with salt and pepper, cook over medium high heat until potatoes are fork tender, remove potatoes from skillet.

Return skillet to heat, adding additional olive oil if the pan is dry and cook the shallots and red peppers until soft. Add the chorizo, stir and break up while cooking. Once the chorizo is mostly cooked, add the beer, scraping to deglaze the pan.

Add the tomatoes and cook until slightly reduced, about 5 minutes. Return potatoes to the pan.

Crack the eggs on the skillet, evenly spaced.

Cook in a 350 oven until the whites have set, about 10 minutes.

Top with cilantro, parmesan and avocado prior to serving.