Salted Chocolate Stout Truffles
This is totally easy. I promise.
At a beer event a few weeks ago, I had a guy call my recipes, "Foodie but accessible. They sounds hard and impressive, but once you read the recipe it's actually really easy."
I like that.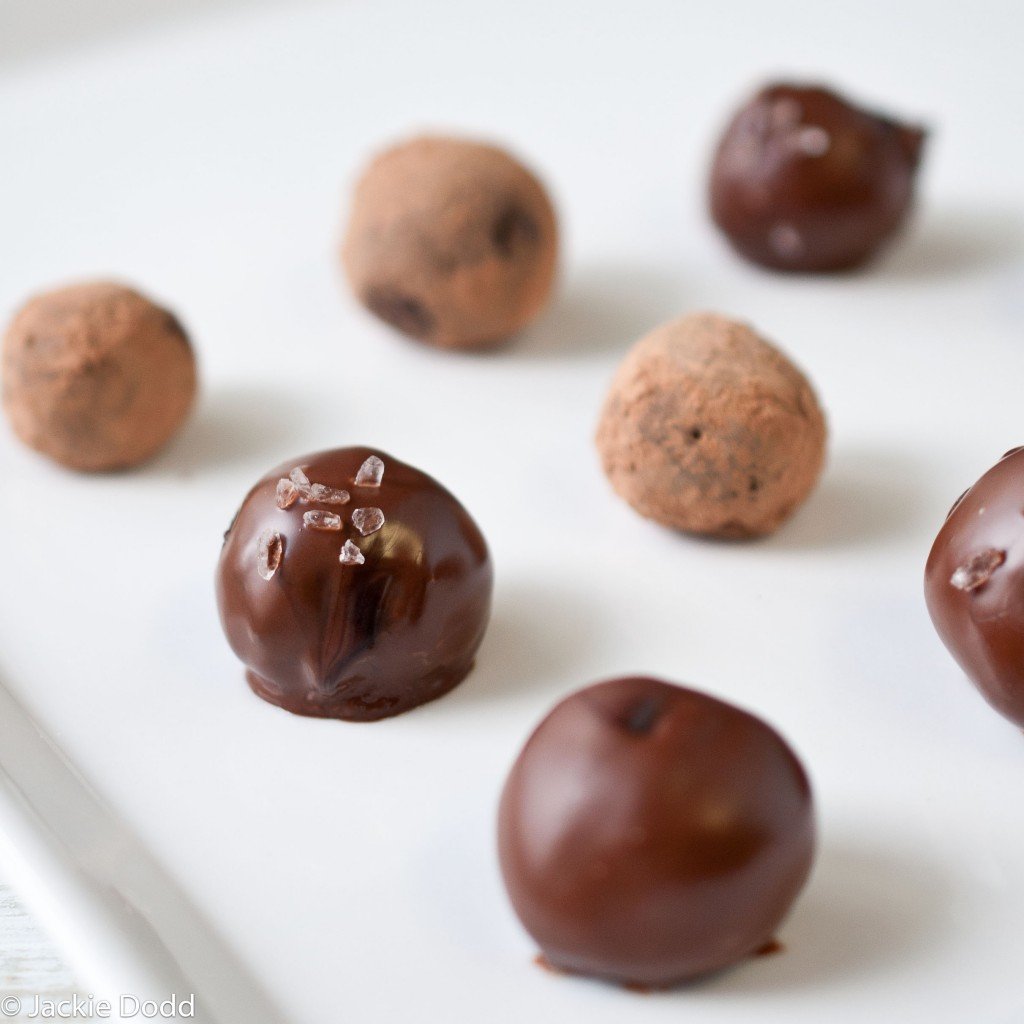 This recipe is the same way. It sounds really hard, making truffles from scratch. And really, that's the best part. It sounds hard, and impressive, and it has beer in it, which makes you a Christmas Party Superhero, but it's really easy. And since so few people have ever made truffles from scratch, they won't even know how easy it was.
I made these for the first time a few years ago to bring to a Thanksgiving party. A friend of mine, an artist from France, ate one. Without even knowing that I was the one who had brought them, he looked at me and said, "It's like Paris at Christmas time."
That pretty much made my year.
There are a few things to keep in mind when making these. Although your active time is pretty minimal, it takes about 2 1/2 hours start to finish because of the chilling time.
Also, this is no place to skimp when it comes to chocolate. Use the good stuff. Don't use chocolate chips, they contain additives that prevent them from melting together in the package and that could be problematic.
For the coating, you can go crazy. Roll them in anything that goes with chocolate, and make a bunch of different flavors and figure out which ones you like the best.
Some ideas:
Cocoa powder (the old standard)
Crushed Pretzels
Coconut shavings
Chopped nuts
Chopped bacon (yep, you should totally do that)
Crushed candy cane
Sprinkles
Crushed graham crackers
Crushed toffee
Seriously, anything that you think might taste good on chocolate, give it a try.
You can also try tempering chocolate to give them a nice, smooth, shinny chocolate shell with a satisfying snap when you bite into them. I would strongly encourage you to do this. It isn't difficult and it gives you a really professional tasting final product.
For the filling:
1 cup stout beer
8 weight ounces (225 g) good quality chocolate (60% cocoa content)
For the coating:
8oz (225 g) good quality chocolate (from a shiny bar, this means it has previously been tempered) can be milk, dark or white chocolate
and/or
Cocoa powder, coconut shavings, chopped nuts, chopped bacon, etc.
1 tsp good quality coarse sea salt (I used Himalayan Pink Salt)
Add the beer to a pot over high heat. Reduce by half (about 1/2 cup remaining), stirring frequently. Remove from heat, break the 8 wt ounce of chocolate into chunks, stir until smooth and melted.
Allow to cool to room temperature. Cover and refrigerate until set, about 2 hours.
Use a melon baller to scoop out a small amount of chocolate.
Roll into a ball with your hands, add to a plate and chill for 20 minutes to an hour.
To temper chocolate for the coating:
Chop the good quality chocolate into small pieces. Add about half of it to the top of a double boiler over medium heat (If you don't have a double boiler, place a glass or metal bowl over a pot of water making sure the bottom of the bowl does not touch the water).
Stir until the chocolate reaches 115 for dark chocolate, 110 for milk or white chocolate.
Remove from heat. Stir continuously, adding a bit of the reserved chocolate at a time until the chocolate reaches 90 degrees (88 for milk or white chocolate). Stir, stir, stir like crazy.
Add the chocolate truffle balls, roll around with a fork until coated.
Remove from chocolate and place on parchment paper, sprinkle with a small amount of sea salt. Chill until ready to serve.
If you don't want to temper chocolate, just place the coating in a small bowl, add the chocolate truffle and turn until coated.