Chocolate Stout Muffin Bread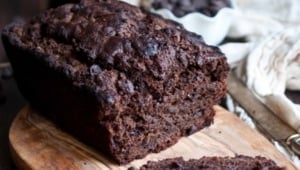 Let's talk about chocolate stouts for a minute.
If you aren't aquatinted with these Dark Knights, you might be under the impression that your beer will be like a tall glass of malty chocolate milk. For the most part, that isn't the case. While I was at Hanger 24, those awesome guys let me taste some of the grains they use in their Chocolate Porter.
(By the way, neither of those hands are mine, I'm taking the photo)
It tastes, even pre-brew, more along the lines of unadulterated raw cocoa rather than a giant slice of cake. For me, this is great news. The flavors of cocoa (before the butter, cream and sugar are added) are dry and even bitter, making a great addition to the flavors of a stout. If you're afraid of a beer flavored Yoo-Hoo, you're in luck. For the most part, chocolate stouts grab those great dry flavors of that cocoa bean without that cloying sweetness of a dessert that you don't really need in your pint glass.
Here are some of my favorite chocolate stouts and porters, please let me know if you have a favorite of your one:
Bison Chocolate Stout
Ken Schmidt / Iron Fist / Stone Chocolate Mint Stout
Souther Tier Choklat (I have yet to get my hands on this on the West Coast, but it's on my Must Drink list)
Chocolate Stout Muffin Bread
Ingredients
2

cups

all purpose flour

1/2

tsp

salt

2/3

cup

coca powder

1

cup

white sugar

1

tbs

baking powder

1

tbs

cornstarch

2/3

cup

chocolate chips

10

ounces

stout

2

tbs

vegetable oil

¼

cup

melted butter

divided in half
Instructions
Preheat oven to 350.

Add the flour, salt, cocoa powder, sugar, baking powder, cornstarch, and chocolate chips stir to combine.

Pour in the stout, oil and 2 tbs of the melted butter, stir until just combined, some lumps are expected.

Pour into a loaf pan that has been sprayed with cooking spray. Pour the remaining butter over the top.

Bake at 350 for 40 to 45 minutes or until a tooth pick inserted in the center comes out with just a few crumbs on it. Allow to cool before slicing.