Chocolate Stout Freak Shake
Chocolate Stout Freak Shake Freakshake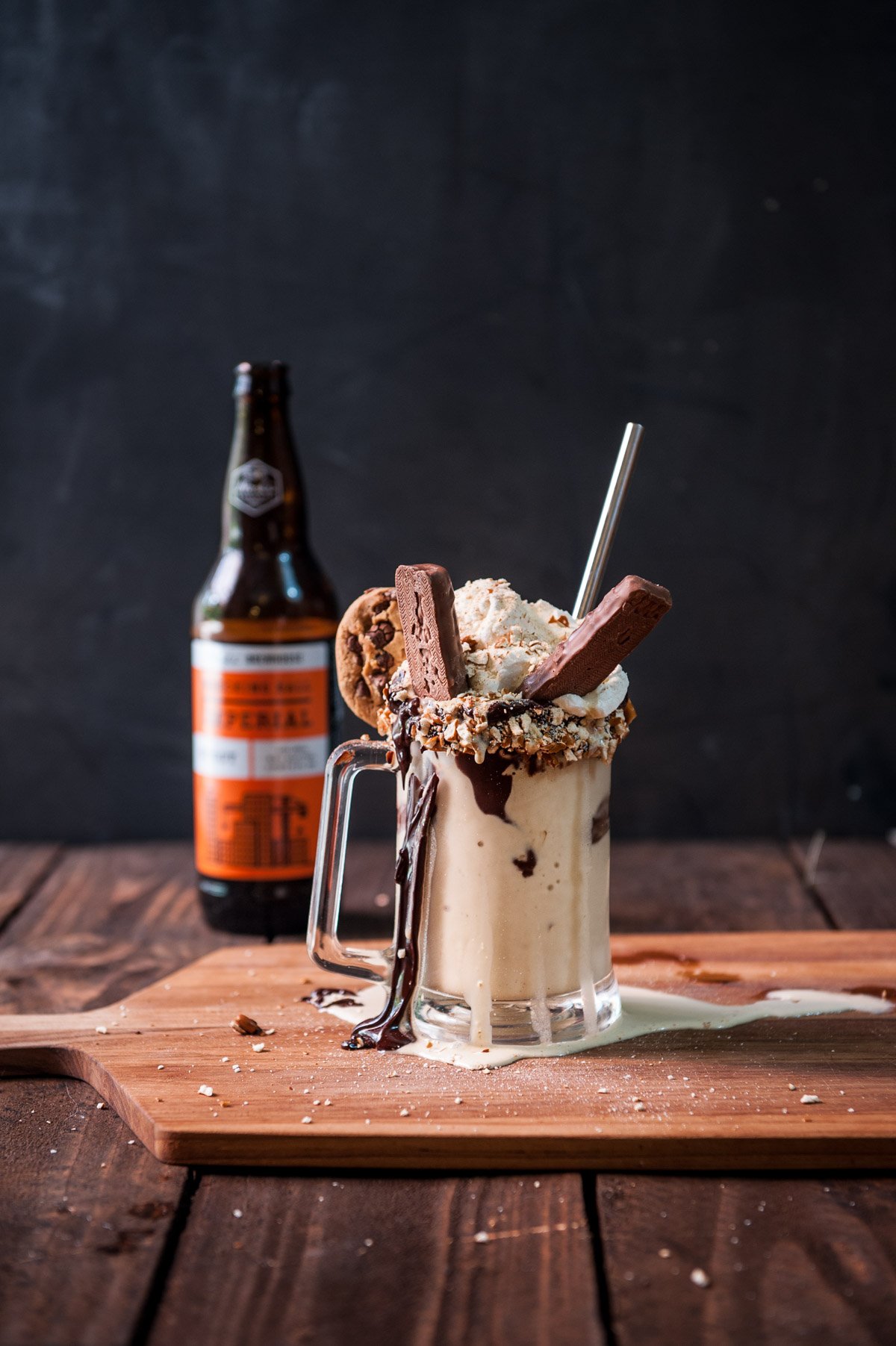 In college I worked with a guy named Freak.
Large and imposing with a heart of gold under layers of ink and steel. I refused to call him Freak, making up new names for him. Finally, he stopped me, asked me why I was so opposed to using that name. "But you're not a freak. You're normal." In my white-girl-from-the-farm logic, this was a compliment. Once it hit his ears, it was anything but.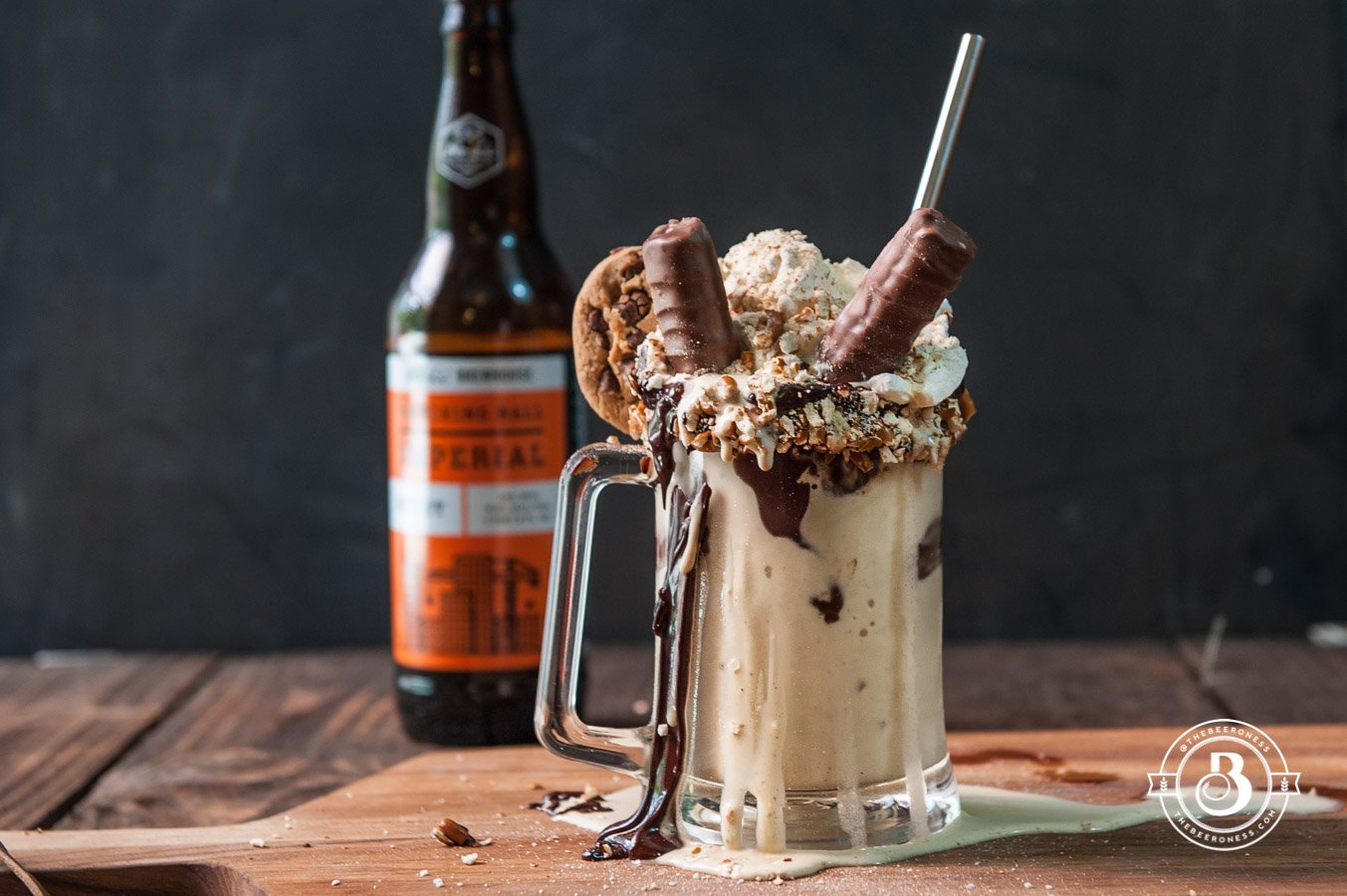 "No I'm not. Stop thinking normal is good, and abnormal is bad. Do you think I want to be like everyone else? The word freak means: 'a person who is unusual' and that's me. I WANT to be a freak, I don't want to be normal."
That was the end of it. I understood, and it changed the way I saw things. I embraced my weird in new ways. I'd never really wanted to be typical, average, or normal, but I hadn't ever held my weird up over my head like a boombox in a John Hughes movie until that day. Weird is good, freaks are awesome, non-conforming is liberating.
Long live the freaks of the world. Milkshakes, people, places.
I beer'd up a phenomenon that is sweeping Australia from a little cafe with a long line called Patissez. Freaks of the world are uniting over the over-the-top, and anything but usual, ice cream concoctions. I, of course, felt like anything that excessive needed beer. A big beer with beautifully bold flavors that can stand up to all the noise in that glass. I chose a stout from Washington called Wrecking Ball from No-Li Brewhouse. Fantastic all on it's own, but this recipe is about excess and Wrecking Ball kept up.
Chocolate Stout Freak Shake
Ingredients
10

wt ounces 60% cacao chocolate chips

2/3

cup

Imperial stout or barrel aged stout

divided

1

tablespoon

butter

1

pint

ice cream

1

cups

pretzels

crushed

1

cup

whipped cream

cookies and candy for garnish
Instructions
Add the chocolate chips, 1/3 cups stout (reserve the other 1/3 cup of stout for the milkshake), and the butter in the top of a double boiler over medium heat.

Stir until the chocolate has melted and combined with the beer and butter (if the sauce separates, use an immersion blender to bring it back to life). Set aside.

Add the crushed pretzels to a bowl.

Dip a serving glass in the chocolate, then the pretzels to rim the glasses.

Add the ice cream plus the remaining 1/3 cup stout to a blender, blend until smooth.

Pour the milkshake into the glass until about half way full, add a few scoops of chocolate sauce on top of the ice cream, then fill the glass with the ice cream mixture.

Top with generous amounts of chocolate sauce, whipped cream, crushed pretzels, cookies and candy.