Chocolate Stout Cookies with Salted Dulce De Leche Filling (pressure cooker or stove top)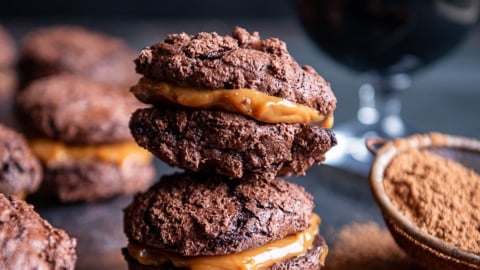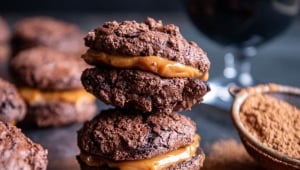 Chocolate Stout Cookies with Salted Dulce De Leche Filling (pressure cooker or stovetop) the filling is TOO easy to make it's almost not fair!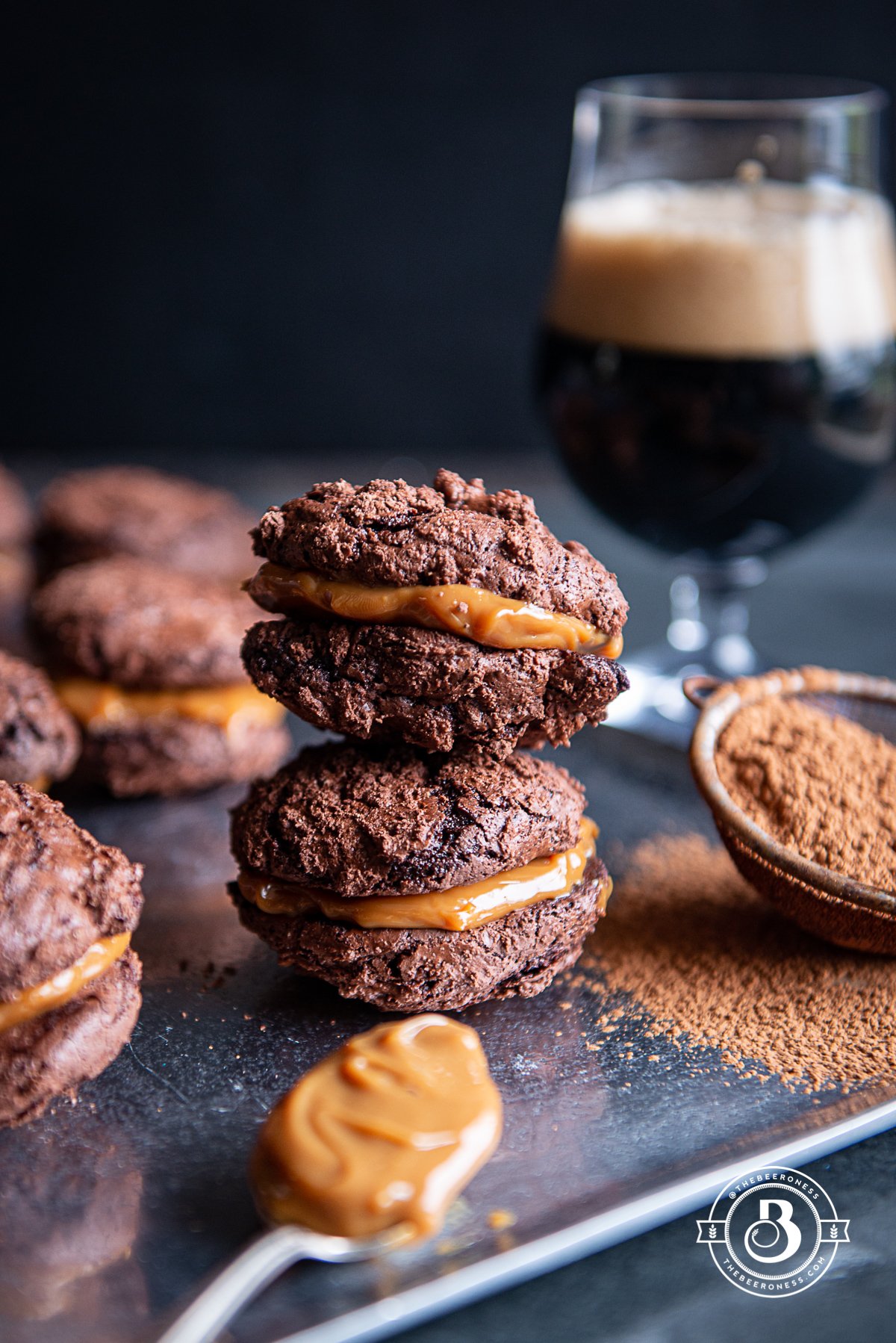 Don't make these. Seriously, turn back now while you still can!! Because once you make them and realize how easy it is to make SALTED Dulce de Leche sandwiched between two fudgy-but-crispy-and-chewy ridiculously good cookies you will be ruined. RUINED for all other cookies. You will never forget them and they will haunt your days and nights.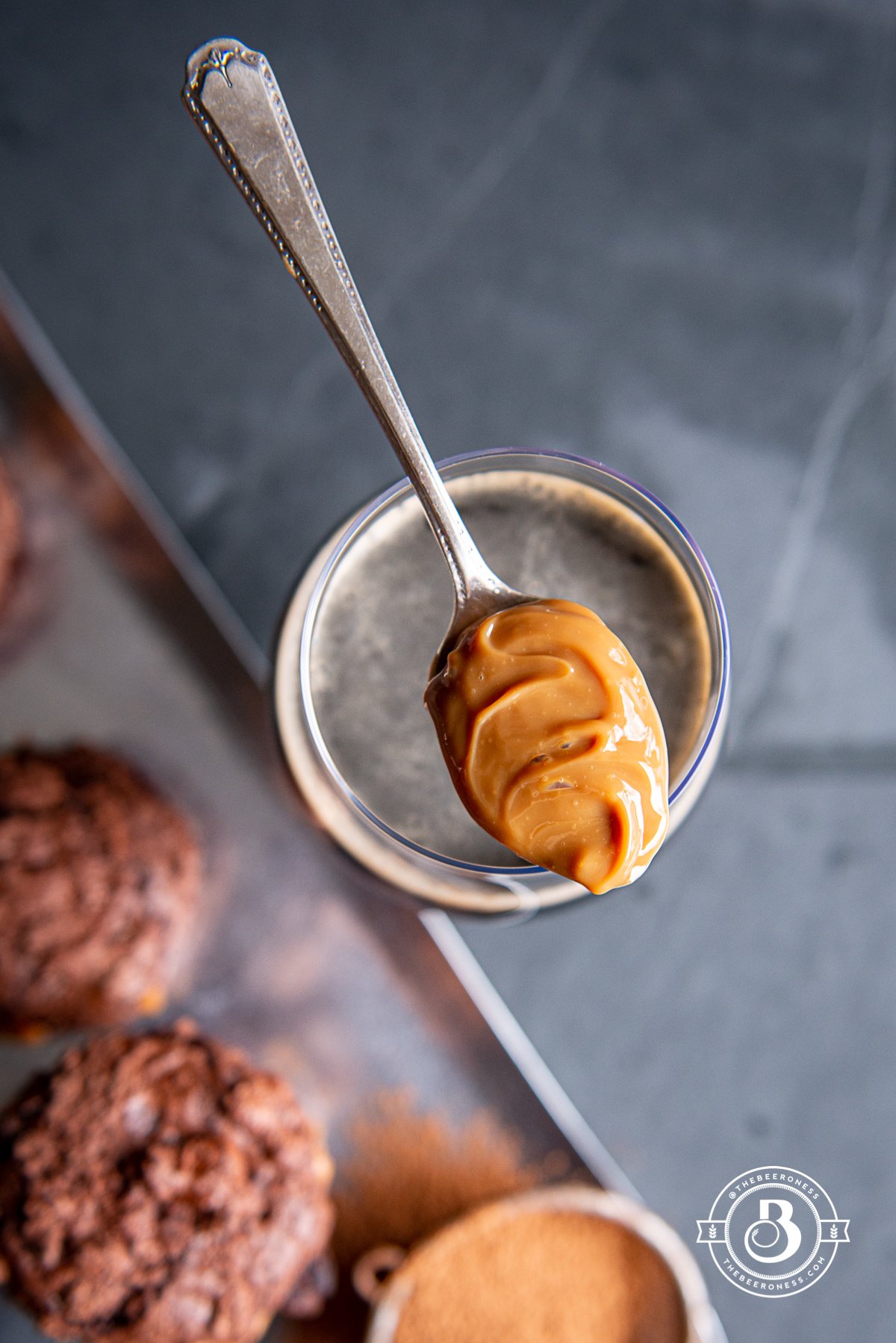 Why are you still here?! I told you to turn back. But, I know you. You're like me and the second someone tells you not to do a thing, you want to do the thing even more. So you're going to do the thing. These cookies are the thing. Fine. There is nothing I can do.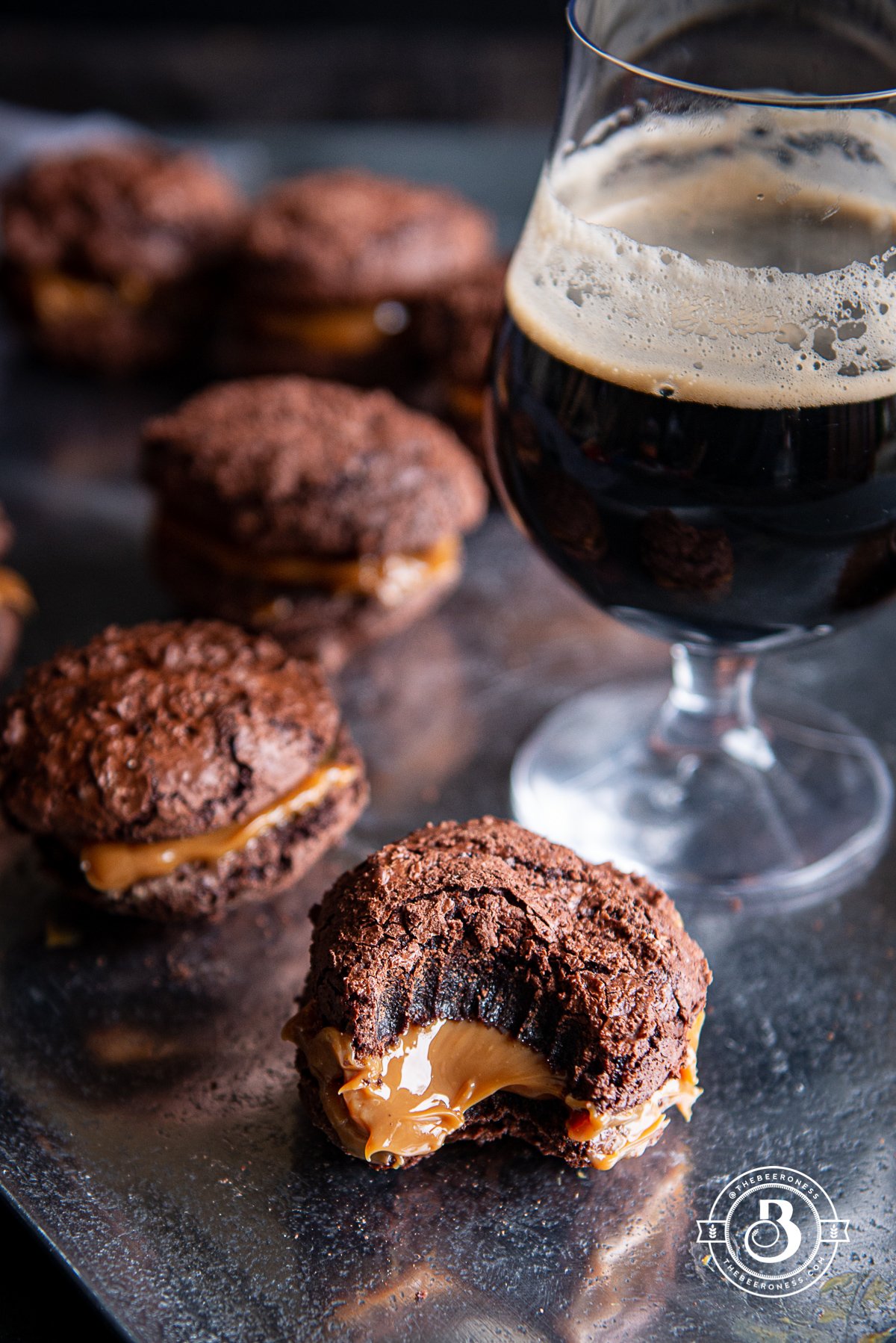 BUT I will make a suggestion because it's what I'm going to do. You should buy a bunch of those Weck jars we love so much and make that Dulce de Leche in large batches and give it out as Christmas gifts as an excuse to make this filling again and lick all the spoons.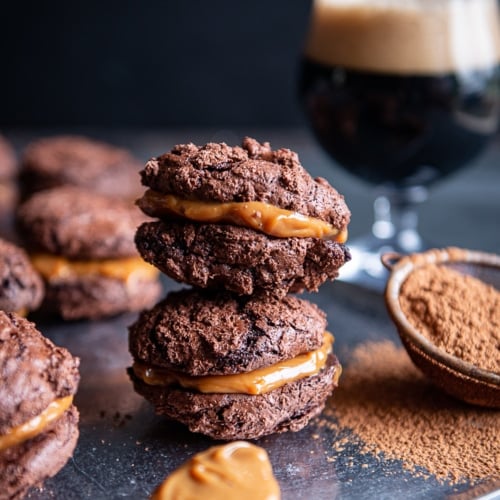 Chocolate Stout Cookies with Salted Dulce De Leche Filling
Ingredients
Filling:
1

(14oz) can sweetened condensed milk

¼

teaspoon

sea salt

I used Maldon

½

teaspoon

vanilla extract
Cookies:
2

large eggs

1

teaspoon

salt

1 lbs

(about 4 cups)

powdered sugar

1

scant cup

(105g) unsweetened cocoa powder

2

teaspoons

(5g) vanilla extract

2

tablespoons

stout beer
Instructions
Make the Dulce de Leche
Pressure cooker method: Remove the top of the can of sweetened condensed milk. Cover with aluminum foil.

Add the cooking rack to the bottom of a pressure cooker or Instant Pot. Add the prepared can. Pour water in the pressure cooker until about halfway up the side of the can. (for stovetop method, see note*)

Cover tightly, making sure the steam vent is closed.

Cook on high for 60 minutes. Allow the steam to vent naturally. Once the can has cooled, remove from the pressure cooker.

Stir in the vanilla and salt, refrigerate until ready to use.
Make the Cookies
Preheat the oven to 375° F.

Separate the eggs. Add the salt to the whites and beat the whites until light and frothy.

While beating the whites add ½ cup powdered sugar to the whites a little at a time, beat until firm, as if making meringue.**

Add the remaining powdered sugar and cocoa powder, stir until combined.

Stir in the vanilla, beer, and egg yolks until well combined.

Line a baking sheet with parchment paper. Use a cookie scoop to mound cookies onto the parchment.

Bake for 14 minutes. Pull the parchment onto the counter to allow the cookies to cool.

Spread the filling between two cookies. Refrigerate until ready to serve.
Notes
*To make Dulce de Leche on the stovetop, peel the label off the can but do not open. Add the can to a large pot of water and bring to a boil. Reduce heat to a simmer checking every 30-minutes that the water is still above the can, adding more when it gets low. Simmer for 3 hours. Remove can with tongs or slotted spoon, allow to cool to room temperature (contents are are under pressure, do not open until cooled). Or you can add the cans to a slow cooker, cover with water and cook on low for 8 hours, allow to cool naturally before opening. Continue with step 5.
**It is essential to whip the egg whites until firm. If not, the cookies will have too much moisture and spread. If you aren't sure if you have whipped them enough, just freeze the cookies for 15 minutes prior to baking (after you have scooped them into balls), and bake for 16 minutes.