Chocolate Fudge Bourbon and Whipped Cream Sandwich Cookies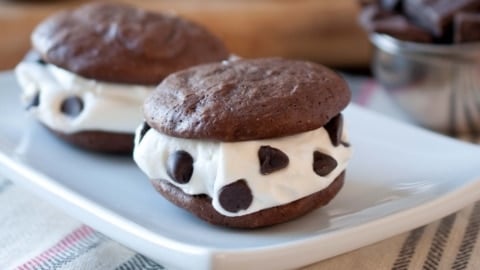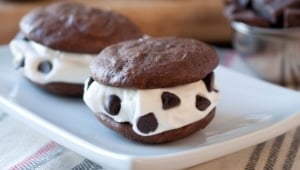 I had this really Idealistic feeling that once the election was over, and the Binders had spoken, we would all go back to love and cookie baking. Seems like this morning, waking up and reading Facebook, the world is more divided than it was yesterday.
Anger, hate, social media mud slinging, has never given anyone a better quality of life or made them happier. But it has destroyed friendships and divided families.
I understand the urge to express feelings of disappointment, and more than that, a feeling that you are "forced" into a decision that you didn't make. It's important to feel like your voice is heard, whether it be a victory cry or sobs of distain. But, please, bear in mind that expressing those feelings on social media will inevitably cause division between you and, statistically speaking, half of your friends. Is it worth it?
We need to take a step back, appreciate that no matter what outcome you expected, we had two great men fight to lead this Nation. We had a higher than expected voter turnout of engaged and passionate voters. We are lucky to live in a country that approved marriage equality in four states last night. We live in a place where we are free to post ignorant and hateful rants online, and the government protects that freedom. No matter who is president, we live in a great nation, run by leaders we get to vote for.
No one ever changes an opinion because of an angry Facebook status. But nearly every time someone posts a rant fueled update, someone loses respect for the poster, especially when half of the country dissagrees with you.
My suggestions on how to cope is find a space where like minded people dwell. Because, for the most part, what you really want is camaraderie, and people who agree with you and understand the feelings you have. Most people (in general) aren't looking for a fight.
Instead of posting that angry status to Facebook, text it to a friend to get it out of your system, find a message board or Facebook group of people who feel like you do, or just take a cyber hiatus.
If you do need to post something controversial, take a moment before you hit send. Walk away from the computer, think about a person you love who will disagree with what you are about to post and speak in a way that is respectful to that persons feelings. Take at least one pass at it, to make it more diplomatic. The more you seek to understand the other side, the more likely they are to listen to you.
Anyone have any thoughts on how to tame the impulsive cyber rants we all seem to be close to from time to time?
Any perspective you can offer?
Or, just make some cookies. Because no matter what, we are headed into the Holiday Season and cookie swaps are almost here!
And those always have bipartisan support.
Chocolate Fudge Bourbon and Whipped Cream Sandwich Cookies
Ingredients
For the Cookies
2 eggs
1 tsp vanilla
1/3 cup brown sugar
1/3 cup white sugar
1/4 cup flour
1/4 cup unsweetened cocoa powder
1 tsp espresso powder (this intensifies chocolate, it does not make it taste like coffee)
1/8 tsp salt
4 tbs unsalted butter
3.5 oz chocolate, broken into chunks
2tbs bourbon
For the whipped cream filling
2 cups heavy cream
2/3 cup powdered sugar
1 tsp vanilla
1/2 cup mini chocolate chips
Instructions
In the bowl of a stand mixer, add the eggs, vanilla and both kinds of sugar. Whip on high for ten minutes to create a frothy meringue like texture.
In a separate bowl, add the flour, cocoa powder, espresso powder and salt. Stir until combined.
In a microwave safe bowl, add the chocolate and the butter. Microwave on high for 30 seconds, stir and repeat until melted.
Gently fold the chocolate and the bourbon into the eggs until mostly combined (some streaks are fine).
Sprinkle the dry ingredients over the chocolate/egg mixture, stir until just combined. Place in the fridge and allow to chill until set up enough to scoop, about 30 minutes. Preheat oven to 375
Line baking sheets with parchment paper. Using a cookie scoop, drop equal amounts of dough evenly space on the cookie sheet.
Bake for 9-11 minutes, don't over bake. Allow to cool.
In the bowl of a stand mixer add the whipped cream, powdered sugar and vanilla. Beat on high set up, about 3-5 minutes. Gently fold in the chocolate chips.
Assemble sandwich cookies. Makes 12-16