Chocolate Covered Strawberry Stout Brownies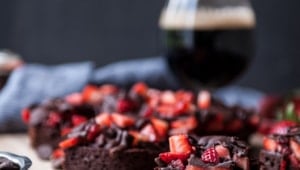 Chocolate Covered Strawberry Stout Brownies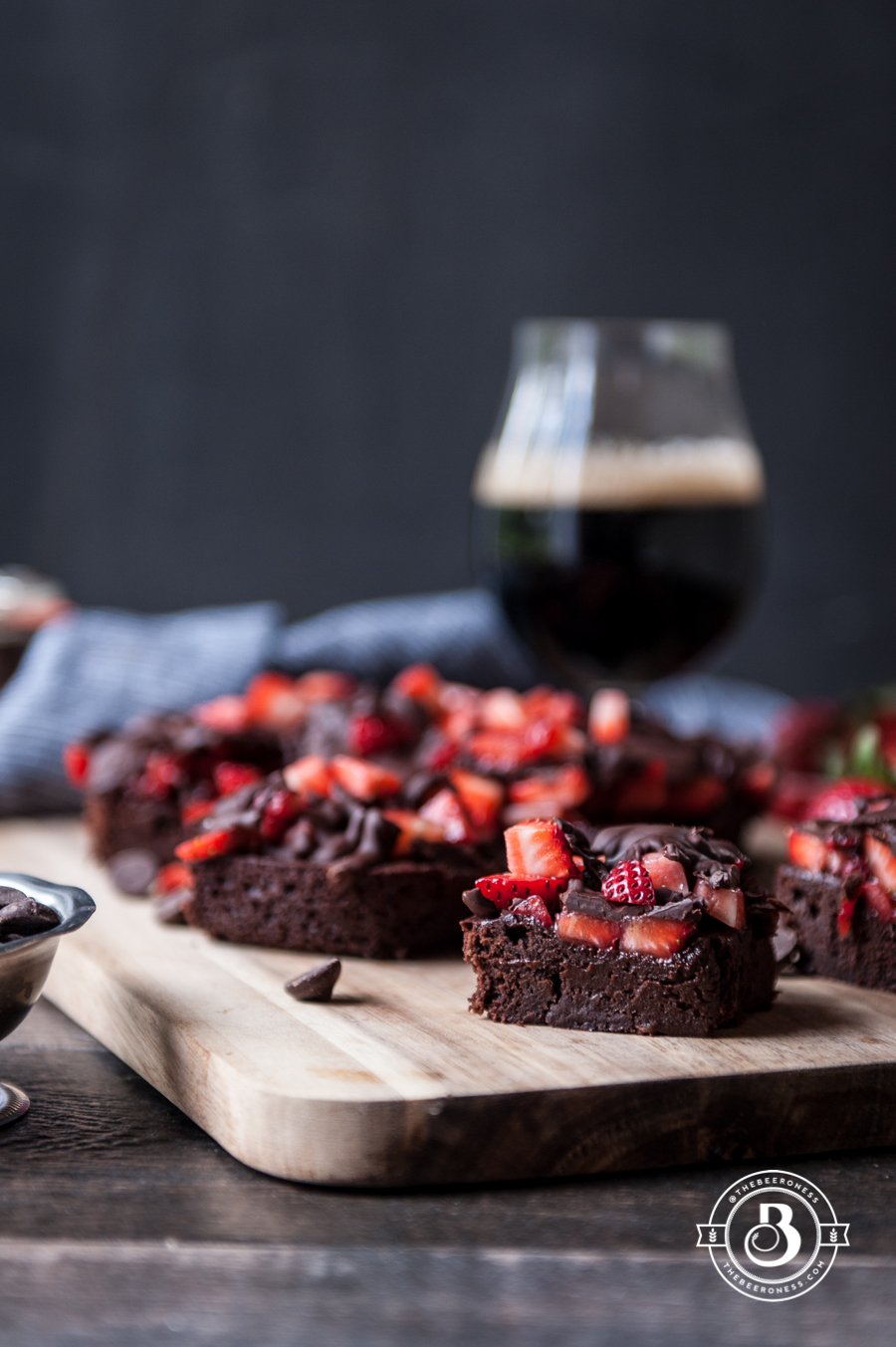 I was on a train, somewhere near midnight, traveling south trough Italy. I was 20-years-old, traveling with another girl my age who was hardly bigger than a middle schooler. We found a sleeping car, closed the door and latched it shut. These are the things you do when you're a small girl, traveling by train in the recesses of a foreign country, you lock all doors with all available locks.
While boarding we'd seen the guys who loudly claimed the car next to ours and seemed to be throwing an Italian frat party inches from the beds we'd claimed for the night. We hear them quiet down, chatter in hushed Italian, laugh, whisper again. Then they start to bang on the adjoining wall. Their shouts get louder. We hear the door open,  two of them start to bang on our flimsy door secured with an equally flimsy lock. We tell them to go away, we don't want to party, but this somehow is perceived as encouragement. They don't understand English, and their reply is just as unintelligible to us. They retreat.
Throughout the night, and the various stops along the route between Venice and Bari, we hear them attempt to make contact again. We hardly sleep, scared that the lock will give out and we will finally find out what a pack of mid-20's Italian men want with the two American girls. Somewhere near dawn, we pull into a small train station in a remote part of Southern Italy and we hear them file out of the door and into the small train hallway, clearly they've reached their destination. Just before the car next to us is finally quiet we hear a loud, aggressive knock on the pocket door that's served as our bouncer and safeguard for the night. We both sit bolt upright.
As the train pulls out of the station and resumes it's course we bravely peek our heads out. On the ground is a small brown box and a note written in Italian on lined notebook paper. We open the box, it's six small artisan chocolate candies. We both smile, somehow relieved by what we've found, no matter what the note actually says. Later we ask a conductor to translate the note for us, "We wanted to give you some chocolate. We are culinary students and wanted to share. Hope we didn't disturb you too much. Safe travels."
Maybe someone else would have felt guilty for shunning what ended up being decent people, maybe I should have. I was touched by the gesture, even though the safeguard of an appropriate red flag in that situation kept me from enjoying what may have been some pleasant company. The chocolate was great, as chocolate at dawn always is. Perfect with espresso and laughing about what happened, what could have happened, and how glad we were that the trip ended the way it did.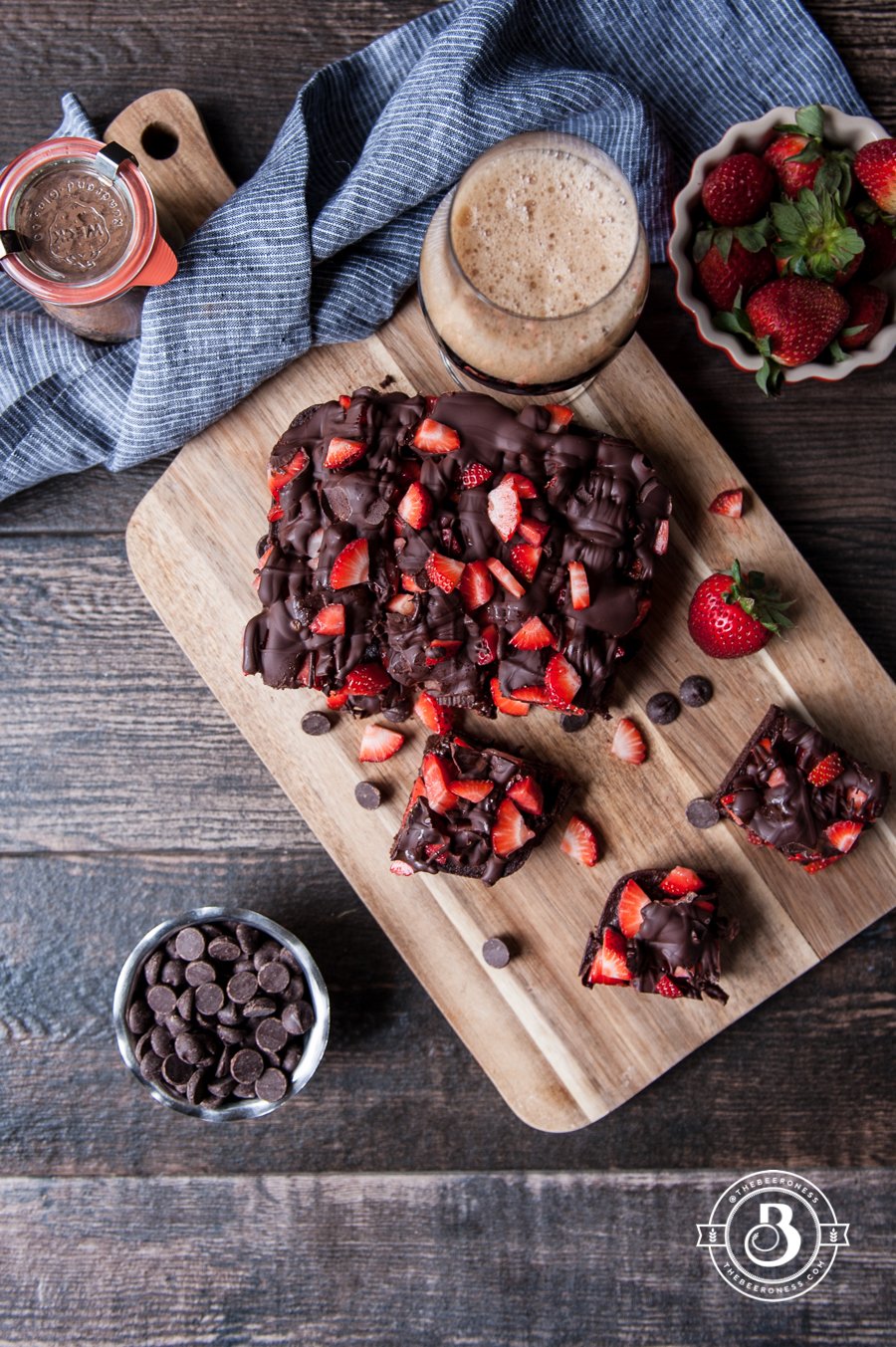 Chocolate Covered Strawberry Stout Brownies
Ingredients
Brownies:
½

cup

melted butter

1 ¼

cup

sugar

¾

cup

unsweetened cocoa powder

1

tsp

espresso powder

½

tsp

salt

2

large eggs

½

cup

stout beer

¾

cup

all purpose flour
Topping:
1 ½

cups

fresh strawberries

chopped

¾

cup

dark chocolate

melted
Instructions
Preheat oven to 325.

Add melted butter, sugar, cocoa power, espresso powder and salt to bowl. Stir to combine.

Add the eggs and beer, stir until well combined.

Sprinkle with flour, stir until just combined.

Pour into an 8X8 baking dish that has been greased.

Bake at 325 for 32-35 minutes or until the top is slightly firm to the touch. Allow to cool completely.

Add strawberries in an even layer. Drizzle with melted chocolate, allow chocolate to harden before cutting and serving.